Everyone is on a budget these days. Even if you have the extra money in savings, you don't want to overspend on necessary household items such as Tide laundry detergent.
If you want to save some serious coin on your next shopping trip, just go to BrandSaver.com. On the site, you will find printable coupons on a variety of household products. These deals are offered by Procter & Gamble and your family can start saving money on their products such as BrandSaver Tide coupons and much more. 
---
Our BrandSaver P&G Coupon Guide
You can save money thanks to these special offers. Most of them include everyday products like the Tide or other popular brands like Downy or Gain. 
Selecting the offer you're interested in, loading it to your basket and printing it is fast and easy. However, before you get started there are a few things you should know: 
Only one coupon per purchase available

Only one usage per household per day

Limit per purchase based on quantities stated 

Not authorized if the product is for resale

Void if sold, transferred, reproduced or altered

The purchaser is responsible for any applicable sales tax

The cash value of these are 1/100 of 1 cent

Offer not valid in Canada
---
Step-By-Step Guide to Getting Your BrandSaver Printable Coupons
Are you searching for Procter and Gamble coupons before you're shopping trip? Using this site is fast and easy. Follow these instructions below to start saving today!
Step 1: Using your computer or smartphone, type www.BrandSaver.com in the internet browser.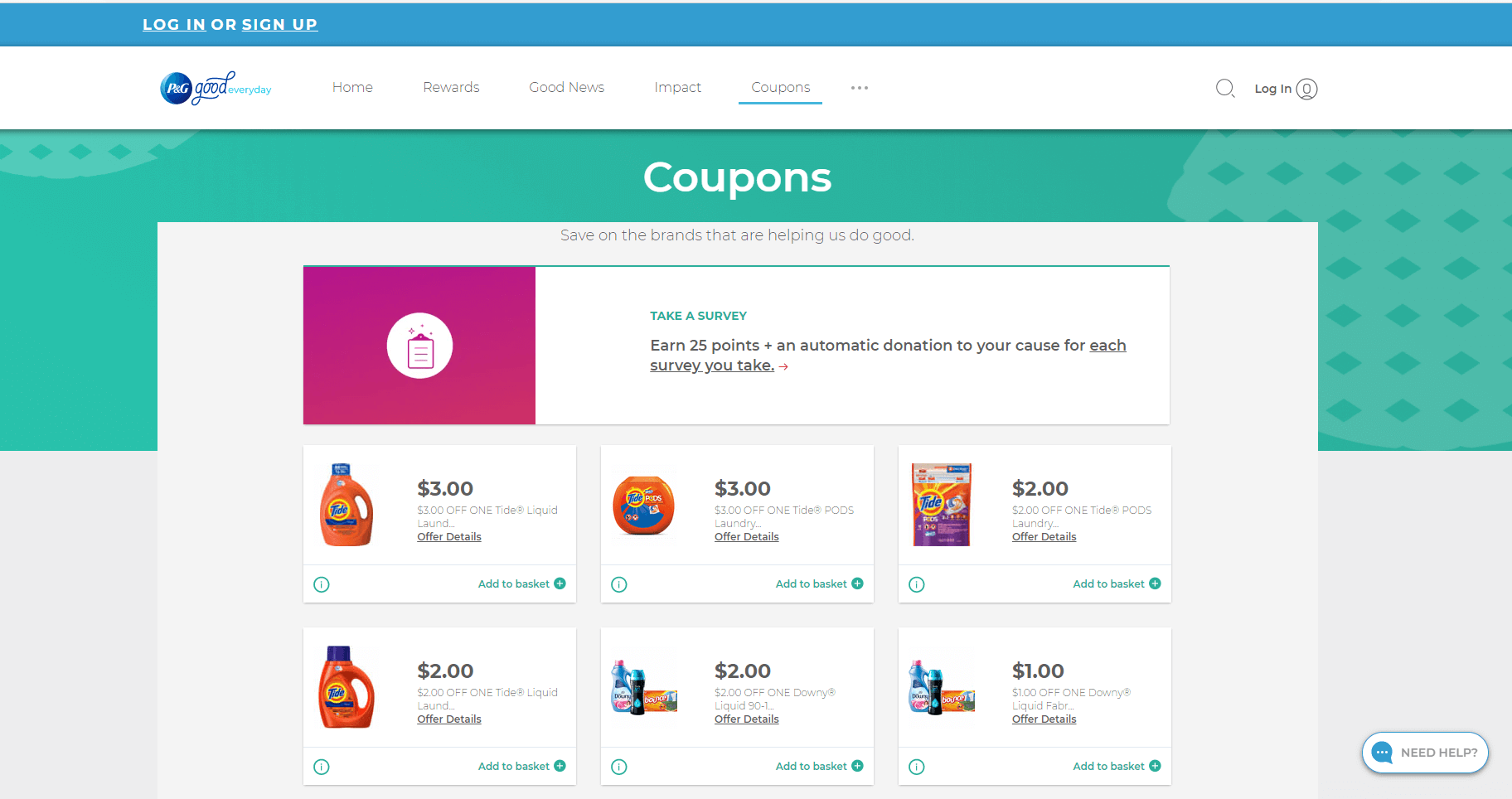 Note: The page will automatically load to the coupons tab where you can see Tide coupons and other savings displayed on the screen. 
Step 2: Browse the various offers on the page. You can read the offer details and more Information about each coupon. 
Step 3: Click the Add to Basket plus button to keep a coupon you want.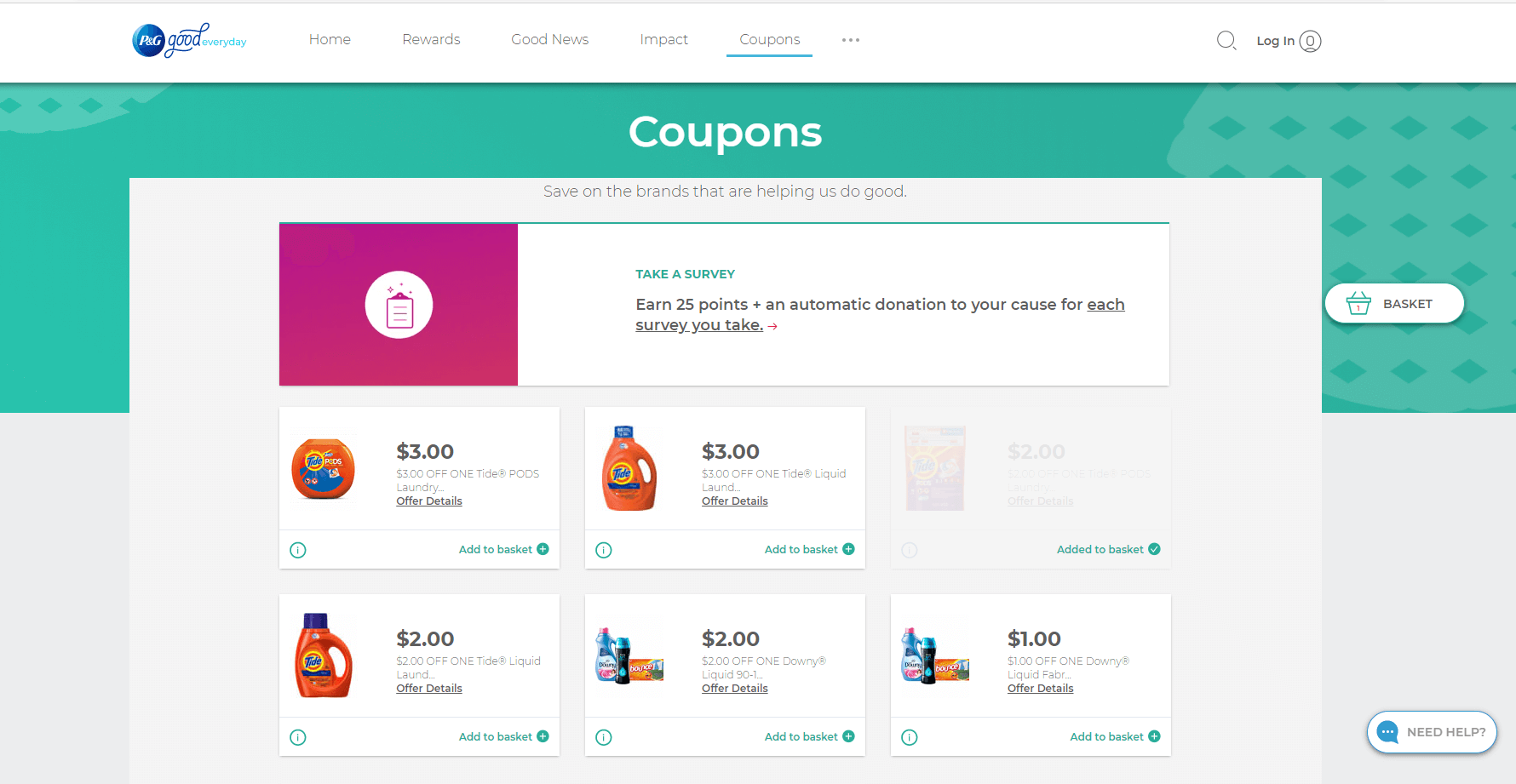 Step 4: After you add all of the coupons to the basket, click the Basket tab, located in the mid to upper right side of the page. 
Step 5: Click Print Coupons at the bottom of the pop-up basket window.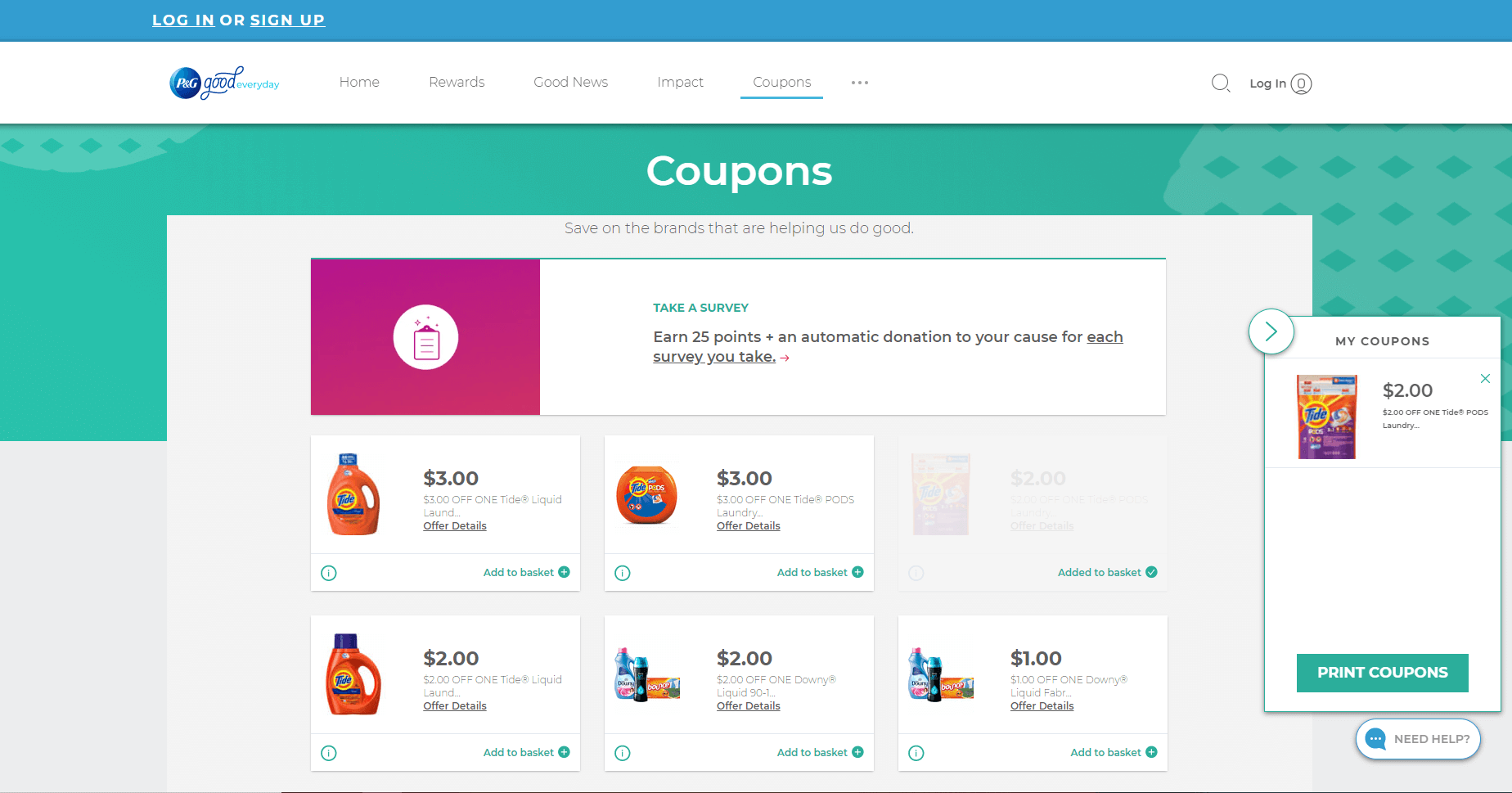 Note: You must be logged into your account to print. 
Step 6: Make sure your printer is powered on and connected to your computer. Follow the directions to print your coupons. 
That's it! You will be able to use start saving money in no time. 
---
How To Sign Up & Login?
To print, you must sign up for an account and log in. Like printing, creating an account, and logging in is fast and easy.
Step 1: Click the Log In button, located on the upper right hand of the screen.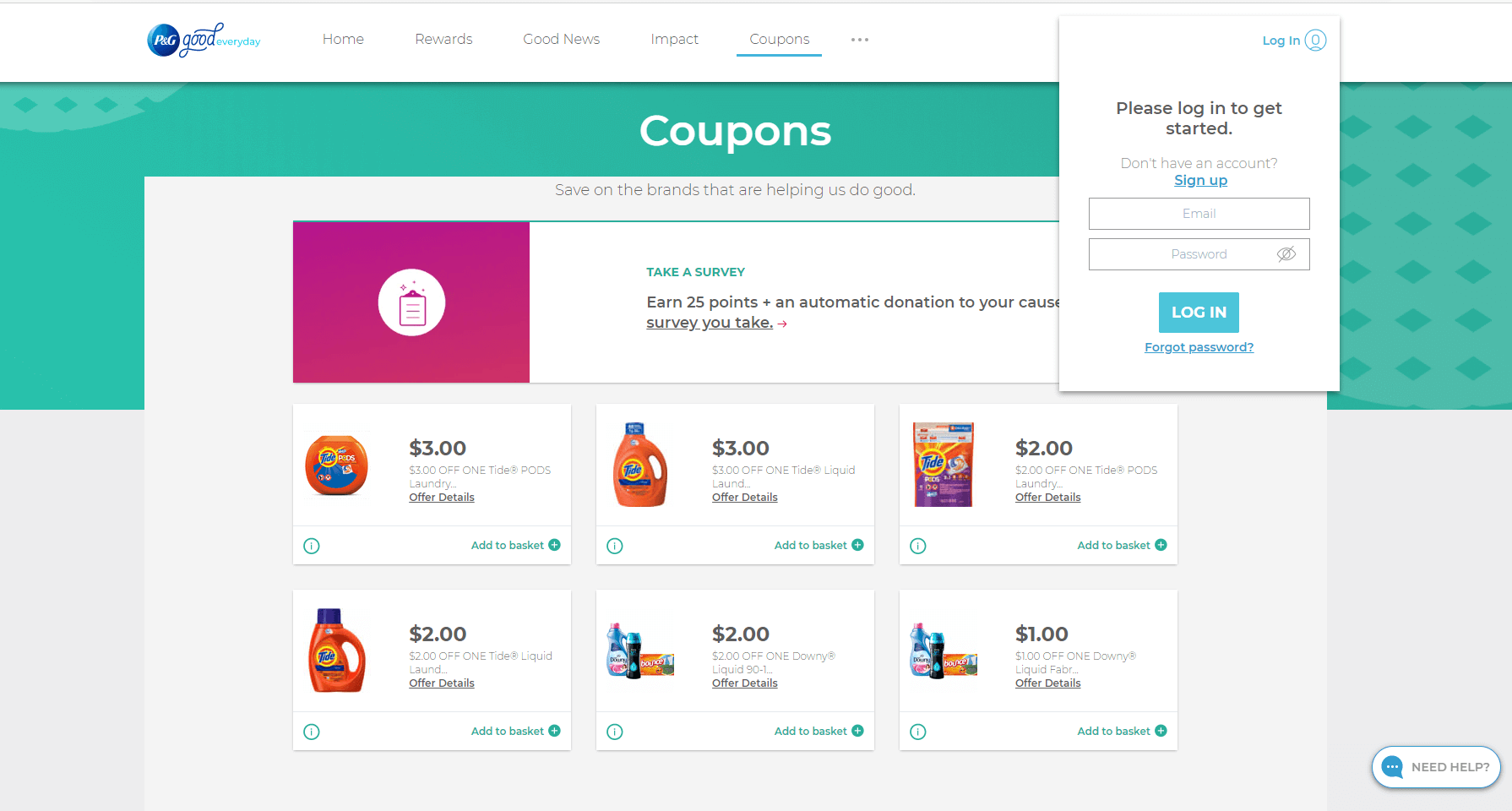 Note: If you do not have a BrandSaver account yet, you still need to click this link. If you already have an account, enter your email and password you signed up with previously; click enter. 
Step 2: Click the Sign Up link if you need to create a new account. 
Step 3: Enter your name, email, and password to make an account. Follow any other directions, such as confirming your account through the email you provided. 
Step 4: Under the Log In button, type in your confirmed email address and password. Click enter to log in and print your coupons. 
---
BrandSaver / P&G Rewards
Besides just saving money with coupons on this amazing site you also have the option to earn rewards points and redeem them for gifts. 
Here are some ways to earn points:
Take quizzes

Complete surveys

Scan shopping receipts 
You can also support causes and donate to charities. Rewards points are redeemable for other things like digital subscriptions, gift cards, jackpot sweepstakes entries, and more.
---
About Procter and Gamble
Proctor & Gamble produces consumer goods under many popular household brands, and the multinational business is headquartered in Cincinnati, Ohio. William Procter & James Gamble created the corporation in 1837 with personal health and hygiene products. The successful company is home to major household labels. 
Popular P & G brands include:
Tide

Swiffer

Vicks

Dawn

Old Spice

Gain

Charmin

Pampers

Crest

And More!
The goal of P&G Good Everyday is to bring people together and do some good in the world. Doing good means using products that make everyday life a little bit easier. It also includes treating the environment right as well as helping friends and neighbors.  
Contact Information
You can contact PG Good Everyday Monday through Friday 9 AM – 6 PM EST at 1-866-412-4715 or visit https://www.pggoodeveryday.com/help/ for more information about chatting online with an agent, emailing the company, or browsing FAQs.