If you've recently applied for and received your new Citi Bank Best Buy credit card you'll need to activate your new card and signup through their online account portal in order to manage your new Best Buy card account online.
Once you've activate your card and created an online account, you'll be able to not only use your card but also monitor your account activity, make payments online, get priority email support and much more!
Our Guide to Activating Your Best Buy Credit Card Online or Over the Phone
The step-by-step guide below shows you exactly how to activate your Best Buy card and create your account at Activate.Bestbuy.AccountOnline.com after you've received your new Best Buy credit card. You can also find out more information on how to navigate your account and also how the rewards system works so you can maximize your savings and cash back!
How to Activate & Register Your Best Buy Card Online?
To start the process of activating your card online just visit activate.bestbuy.accountonline.com.
On the registration page, you'll see a section for "Best Buy Credit Card Registration" as seen in the image below.
Enter your full card number, your full name as it appears on the card, as well as the security code from the back of your card and last 4-digits of your social security number.
Then click "Verify" to continue.
After this, you'll need to created a username and password in order to access your online portal. Once this is finished your Best Buy credit card will be activated and your online account will be create.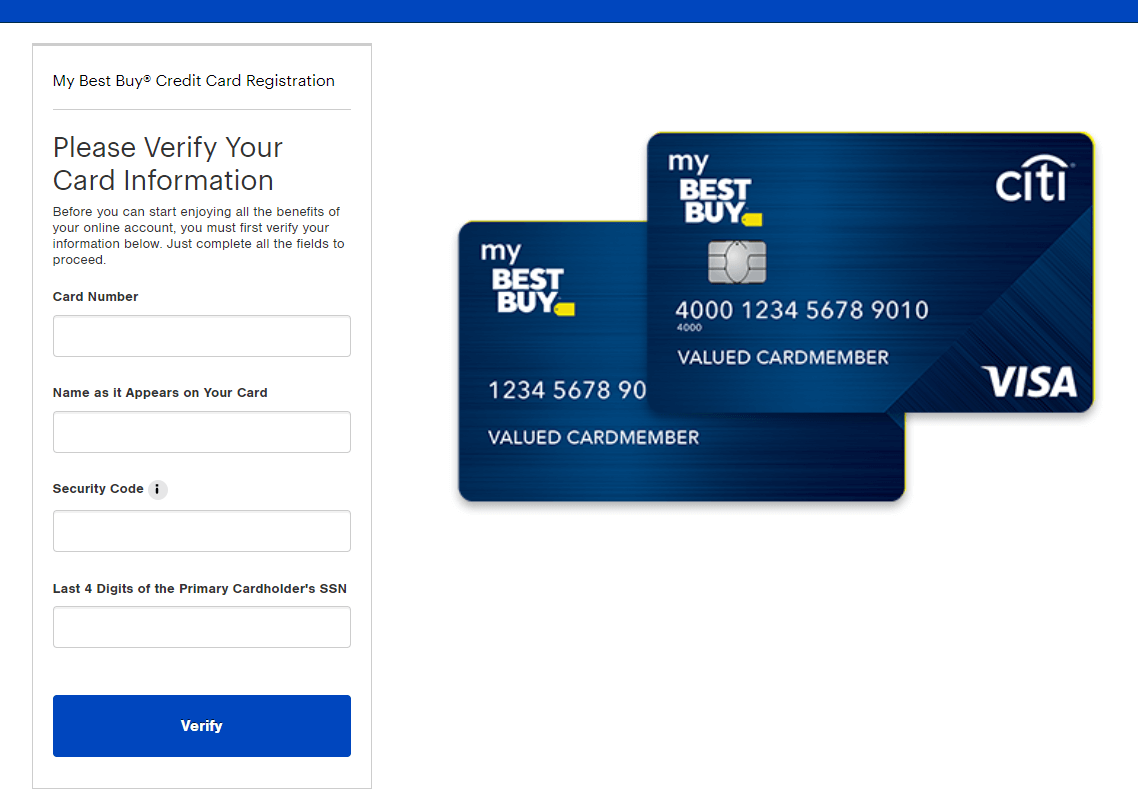 How to Activate Your Best Buy Credit Card Over the Phone?
You can also easily activate your new Best Buy credit card by calling 1-888-574-1301. You'll be taken through an automated system that lets you activate over the phone and start using your card immediately.
If you choose phone activation you will still need to go to welcome.bestbuy.accountonline.com in order to create a username and login in order to access and manage your account online.
How to Login Your Best Buy Credit Card Account?
In order to login to you Best Buy Credit Card account you'll first need to register for an online account which is done when you activate you card online. If you choose phone activation you'll still need to complete the online activation steps to register for an online account.
Once you have an online account login is simple. Just visit the Best Buy credit card login page and enter the credentials you chose when creating your online account.
*Note: If you forgot your username or password click the respective links to retrieve your username or reset your password.
How Do You Make Payments to Your Best Buy Account Online?
You can choose to make payments to your card online, over the phone, in-store, or through the mail.
When it comes to making a payment to your card online login to your account and go to the management section. You'll see a section that lets you make payments to your card. You'll need to add your bank account before making any payments.
To make a payment over the phone, follow these steps:
Make sure that you have a check from a US bank and your account number on hand. Call 1-888-574-1301 to get through to their automated system that will help you make the relevant payments.
To make a payment in-stores:
You can use cash or check to pay off your card when you're in-store.
To mail your payments sent them to the following address:
HSBC Group Credit Card Services
P.O. Box 49352
San Jose, California 95161-9352
If you need to make a quick payment you can send it overnight by mailing it to:
HSBC Group Credit Card Services
Attention: Exceptions Department
1301 East Tower Rd.
Schaumburg, Illinois 60173
What Are the Benefits Of Getting A Best Buy Account Online?
Once you've successfully created your account, you're free to login and use it at any time. Some of the benefits of using an your credit card and account include the following:
Simple bill pay
Check the balance on your card
Request account states
Update account info
Redeem rewards points for free stuff
Financing options on purchases of $199 or more
Elite Plus card holder get 6% rewards
3% rewards on all furniture and grocery purchases
2% rewards on dining
3% rewards on gas
1% rewards on all other purchases
More Information & Best Buy Credit Card Customer Service
If you can't find the answers that you need on this page, you can get in contact with customer service by calling 1-888-574-1301 if you're in the United States, Puerto Rico, or Canada. For those of you living elsewhere, you can call 1-423-467-6543.
You'll be connected with a member of the customer service team who can help you.
This line is available from 9 AM to 9 PM between Monday and Friday EST; Saturdays from 8 AM to 8 PM and Sundays from 8 AM to 6 PM.