Don't you wish you earned more for the money you are already spending on necessary purchases? We all need gas and groceries. A Shop Your Way Mastercard from Citi helps you make the most of your shopping. When you use this credit card, you gain loyalty points for Sears purchases. 
Go to Activate.SYW.AccountOnline.com to activate your card, create an account, or log in to see your profile.
---
Our www.Activate.SYW.AccountOnline.com Guide
Check out the following rules and regulations associated with this credit card:
Merit select points for fuel and grocery purchases; get unlimited points for purchases at Sears and Kmart stores. 

Spend rewards at participating Sears and Kmart locations.

Earn a $40 statement credit when you spend $50 or more on purchases within the first 30 days of signing up.

The number of points you can earn is divided by type and locations:

5% in points in fuel purchases

3% in points for groceries and restaurants

2% on purchases at Sears and Kmart stores (subject to eligibility)

1% on other individual eligible purchases

All points are eligible for the first $10,000 worth of purchases.

Points are valid for 12 months after they are rewarded.

SYW offers an app for you to keep track of your points and purchases conveniently.
If you want to give this rewards program a try, then you can sign up for your own card. The website allows you to select Español as Spanish as the preferred language over English.
---
How to Sign Up for the Shop Your Way Mastercard
To take advantage of these great benefits and offers, you have to first sign up for this specific card. Qualifying for a this Mastercard requires that you first apply and is subject to credit approval. 
Step 1: Go to https://www.shopyourway.com/card.
Step 2: Scroll down the SYW page to find the black Shop Your Way Mastercard photo.
Step 2: Click the orange button beside the card's photo that says, 'Apply Now.'
Step 3: Input the required information for the application (name, address, phone number, and other information needed).
If your credit card application is approved, you will then be a Mastercard member!
---
How to Register your Card
After you apply and it's approved, you'll receive an account number, then you can register your card. That way, you can review your profile and access online services. Here's how to activate your card:
Step 1: Go to www.Activate.SYW.AccountOnline.com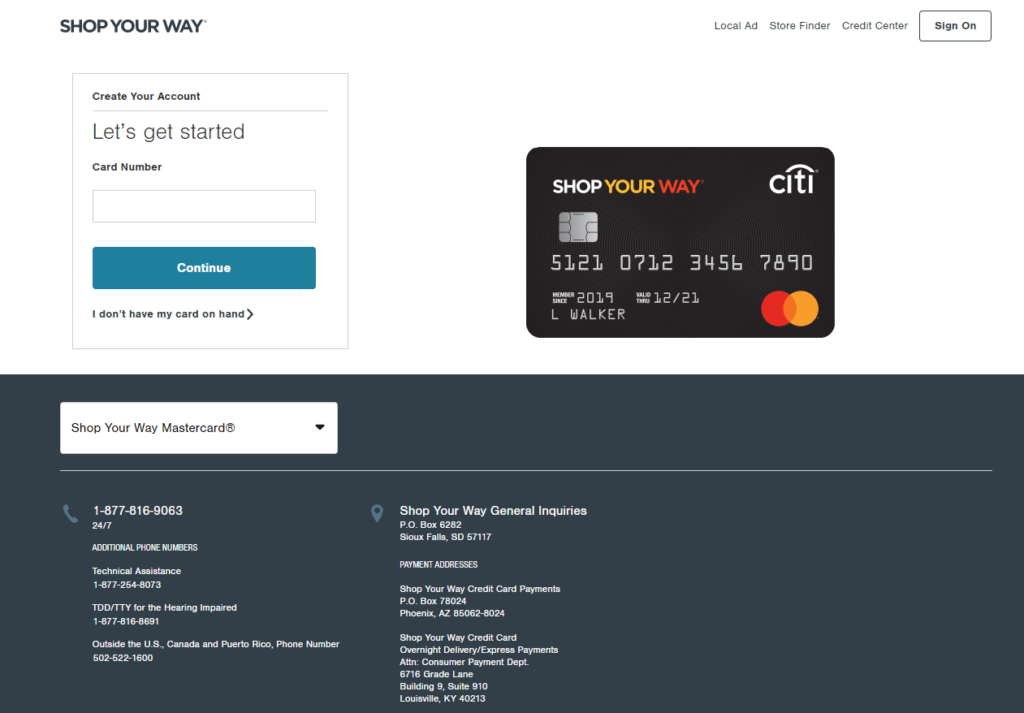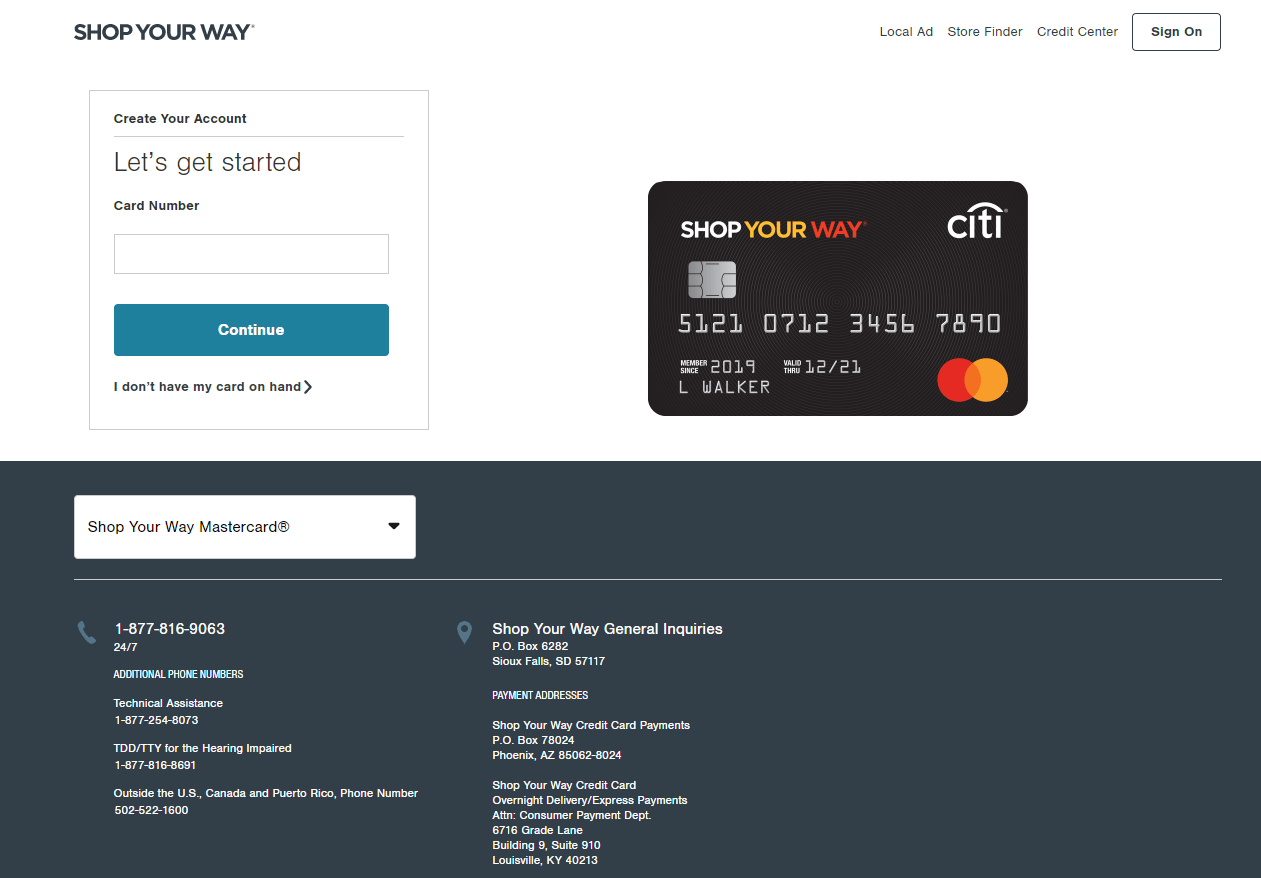 Step 2: Enter your card number in the box that says, 'Let's Get Started.' Click 'Continue.'
Note: If you do not have your SYW card, you can click on the link that says, 'I Don't Have My Card On Hand.' From there, you can fill out a form that will identify who you are and send you a text or email code to access your account. 
Step 3: Continue to follow the prompts to register your card and create your account. 
That's it! Now you can log into your SYW account and track your purchases as well as your points. You will be able to see how you can earn more points and cash in the ones you already have. The site is user-friendly and easy to access.
---
Shop Your Way Credit Card Login
After creating your SYW online account, you can log into your account using these simple steps:
Go to www.SYW.AccountOnline.com

Click the 'Sign On' box.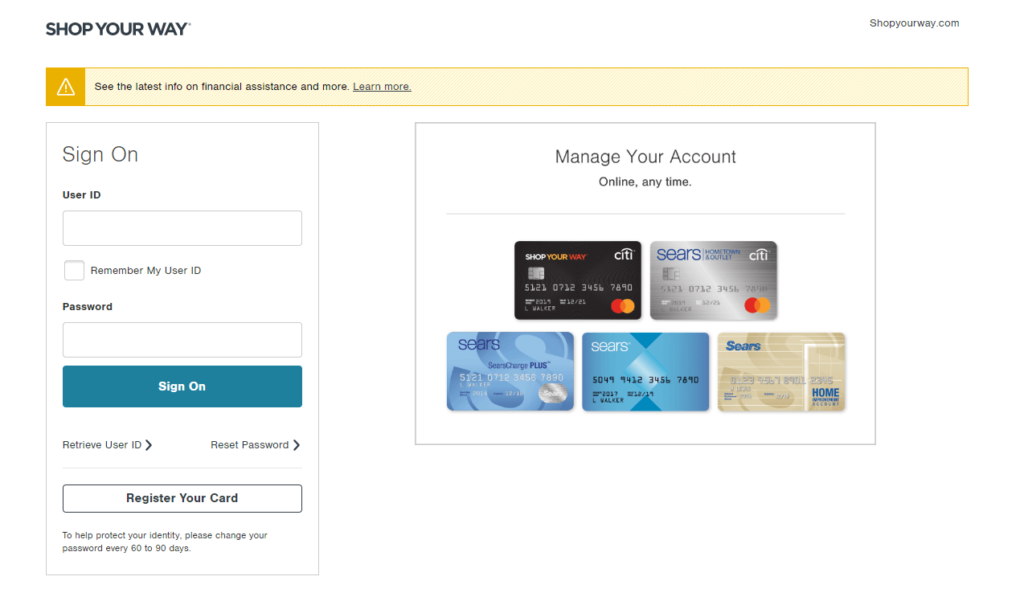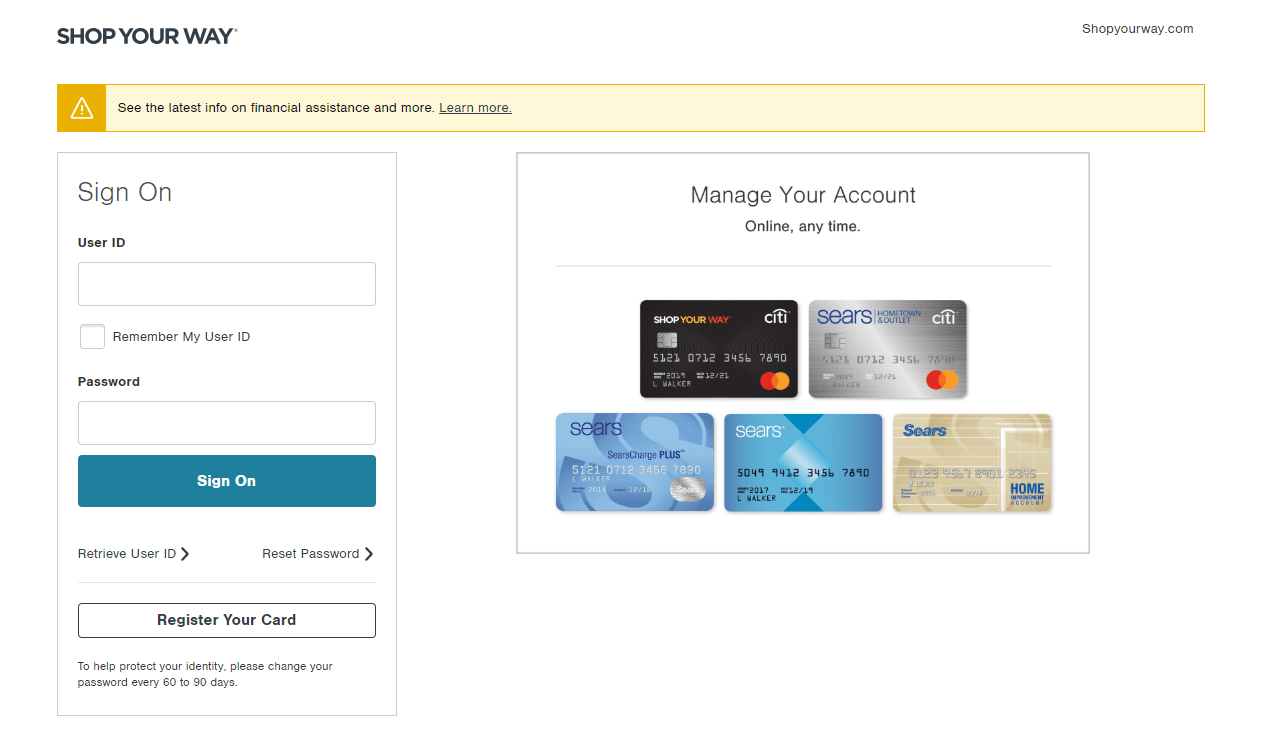 Enter your username ID and password that you selected when you created your account. 

Click the blue 'Sign On' button to finish the login process.
If you happen to forget the user ID or password, you can click 'Retrieve User ID' to be sent to your email on file. A 'Reset Password' link is available to reset your forgotten password.
At www.SYW.AccountOnline.com, you can also view profile information and contact details associated with other related accounts. You can select the drop-down menu and select for other things besides the SYW Mastercard. These options include accounts for Sears Hometown & Outlet, Sears Card, Sears Charge Plus, and Sears Home Improvement Account.
---
About Shop Your Way
Shop Your Way is a Mastercard rewards program that offers several different ways to earn points on purchases. Members can redeem the points to save money on future purchases. Points earned at eligible locations can then be used at reward partner stores to help keep more cash in your hands. The services offered by the company are free for Mastercard members on behave of Citibank.
Contact Information
Call: 1-877-816-9063

Mail: Shop Your Way General Inquiries, PO. Box 6282, Sioux Falls, SD 7117

Website: https://www.shopyourway.com/help/sywr/contact