Every card issuer or lender has rules and requirements for expanding a customer's credit line. The primary thing lenders consider when granting a loan or credit card is the likelihood of repayment. Naturally, lenders are prone to set higher limits for customers with an outstanding FICO score. Your credit line is the maximum amount of money you can borrow using a credit card. Chase has made it fast and easy for you to know your spending limit — and increase it. 
If you've recently gotten a special offer in the mail from Chase to increase your credit limit then you'll be happy to read our guide below where we go over the process in detail along with tips for improving your odds in the future if your request isn't approved.
---
Chase.com/IncreaseMyLine Review
Qualifying for a line of credit increase does require some basics, aside from your FICO score and payment history. Read the following before visiting www.Chase.com/IncreaseMyLine.
You must already have an account with them that is in good standing

There is no fee to request an increase

You have to submit your gross annual income details to determine eligibility for a line increase

You will get a notification for approval or denial immediately 
---
Step-by-Step Chase.com/IncreaseMyLine Instructions
Follow these instructions to apply for instant access to more funds.
Step 1: Visit www.Chase.com/IncreaseMyLine using your smartphone, tablet, or computer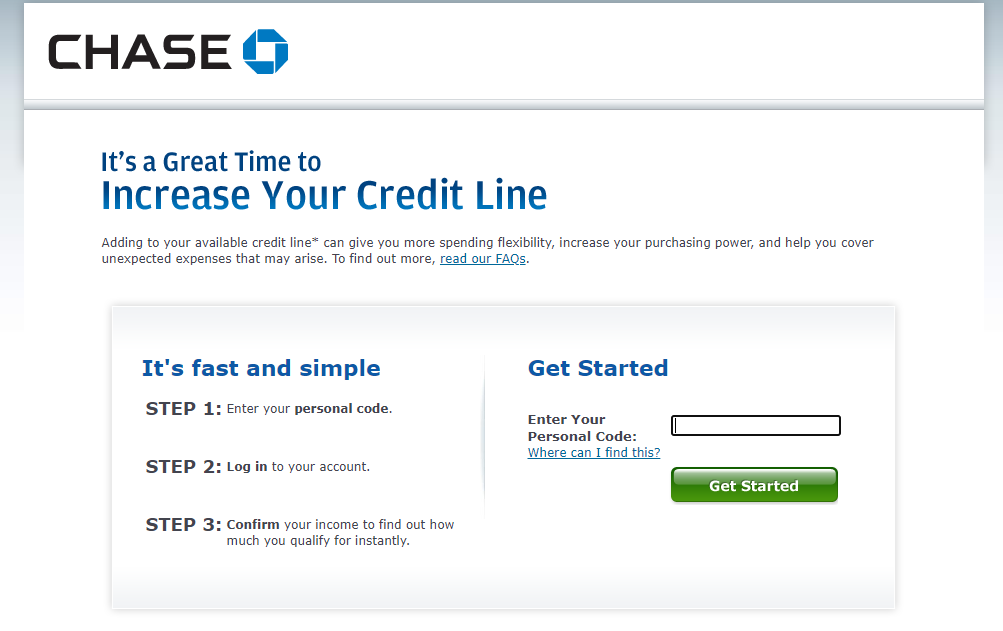 Step 2: Enter the 12-digit code in the blank box on the right side of the homepage. 
Note: You should have received a specific letter from the company, including the unique code
Step 3: Follow all other prompts as requested, including signing into your active Chase account.  
Step 4: Enter your income to determine if you qualify. 
You will be notified immediately if your increase is approved.
---
More Information About Requesting a Credit Line Increase With Chase
Were you denied a credit increase? Don't worry; there are steps you take to improve your chances next time. Monitoring your FICO score is the utmost step to increasing your limit. To be safe, endeavor to possess a limit that is so high that you only expend about 30% of your limit. Also, make sure that your limit is not so high that you will rack up debts you wouldn't be able to handle. 
Simple tips for improving your score include making payment when due and paying in full. Also, resist the urge to open too many accounts at once. Steer clear of debts (and pay off any you may have) to improve your chances of being approved for an increase.
Chase bank offers lines of credit beyond consumer needs. Maybe you require a business or commercial line of credit. Does your business need simple, quick access to money for payments, expenditures, supplies, or miscellaneous expenses? The commercial line of credit, on the other hand, is for your larger working capital necessities. Determine what best suits you by reaching out to a customer service representative seven days a week. 
---
www.getinkpreferred.com/invitation-number
---
About Chase
Chase Banks' official name is JPMorgan Chase Bank, N.A. This American multinational banking institution has headquarters in Manhattan. Servicing both consumers and commercial businesses, the company is a proud supplier of a wide range of financial aids, including checking and saving accounts, credit cards, mortgages, small business loans, investments, and more. Customers can easily access thousands of branches and ATMs across the nation. Mobile and online banking are also available. 
Contact Information
Phone: 1-800-935-9935

Mon. – Fri. 7 AM – 11 PM or Sat. – Sun. 10 AM – 7 PM ET

Twitter: @ChaseSupport