Are you in search of a prepaid card that could be your safety net? Using a Money Network card comes with numerous benefits. With this card, you are equipped with tools to set aside money for the future. Streamline your finances with the versatile prepaid debit card. Receive, spend, and manage your money today!
Read below for our review of the MoneyNetwork card to get started. You can learn how to activate your card, create an account, and more. 
---
Our www.BankofAmerica.com/MoneyNetwork Guide
MoneyNetwork cards can be used to make purchases anywhere Visa or Mastercard is acceptable with zero liability. You are also free to access your cash at almost any ATM operator that accepts these branded debit card. Moreover, you can withdraw free of charge when you use in-network ATMs. You can locate these ATMs at the BOA site or using the mobile app. 
By calling customer care, you are free to obtain information about your balance, transactions, and more. You might receive an additional charge by the ATM or any other network for the transaction. That includes a fee for balance inquiry or decline that may be deducted even if your money transfer was incomplete. Keep in mind that this cost is different from the expenses on the fee schedule. 
There is a limit to the transactions you can make on your card for security reasons and safety. These limitations commonly include the following:
Withdrawal restriction; you are permitted to withdraw up to $500 from an ATM and $1000 from a bank teller. This limit is per transaction and per day. 

Purchase restriction; you cannot purchase goods or services that exceed the value of $25,000 on your card in a day.
---
Step-by-Step

BankOfAmerica.com/MoneyNetwork

Activation Instructions
Step 1: Go to www.BankOfAmerica.com/MoneyNetwork using a smartphone, tablet, or computer with a reliable internet connection. 
Step 2: Click the red "Activate Your Service" link, which is located under the sign-in box.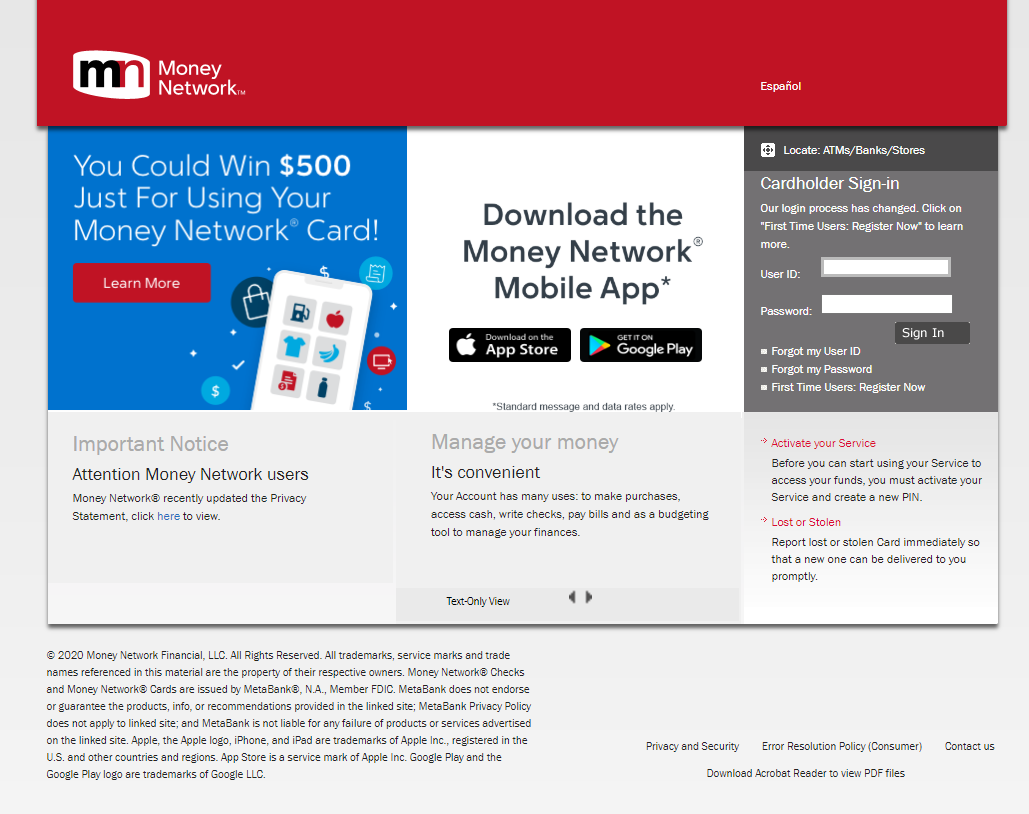 Step 3: Read the message that explains to call Bank of America customer service at 1-888-913-0900 to complete your activation. 
Step 4: Follow the phone prompts to create a PIN and activate your card.
---
Registration and Login Help
It is easy to sign in to your Bank of America profile.
Go to https://www.everywherepaycard.com/moneynetwork/

After you are redirected to the homepage, type in your username and password you signed up with during activation. Press Sign In, and you instantly have access to your account. 
If you are a new user, follow these simple steps:
Click the white First-Time Users: Register Now link under the sign-in box. 

Enter your 16-digit card number as well as the expiration date to register your account.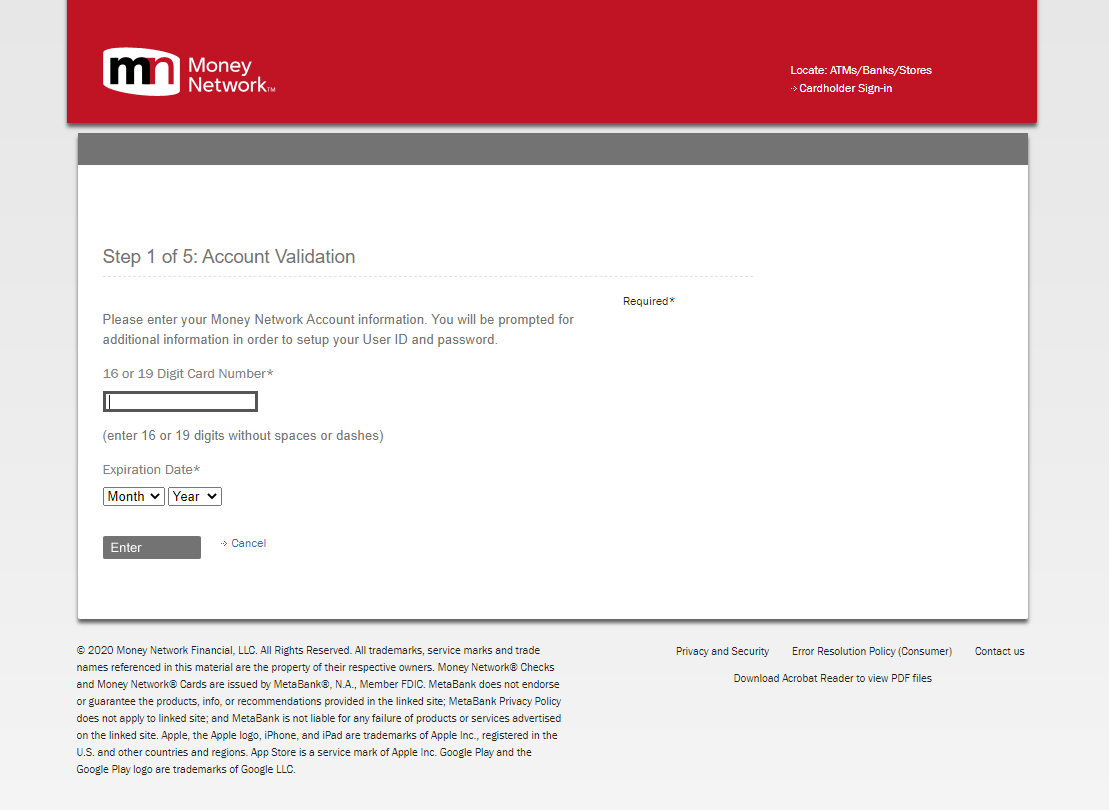 Follow the other registration prompts, including creating a username, entering your email, and more.  
---
Ab

out Money Network
Money Network Financial LLC was founded in 2001 with its headquarters in Greenwood Village, Colorado. MetaBank, the bank associated with the company, is an FDIC member, so you can be assured that your card is FDIC insured. These cards are issued by MetaBank, as of June 30, 2020.
Contact Information