You need a prepaid card so you can be in complete control of your finances. It is essential to know how many funds you have at any given time. Are you looking for a Mastercard that you can reload over and over? Maybe you need one for your direct deposit payments — and want to have access to your money a couple days before payday. To top it all off, you want to use your PayPal account to transfer your funds. 
You should sign up for a PayPal prepaid card today. It's fast and easy to order your card, activate it, and log into your account. Go to www.PayPal.com/prepaid to get started. 
---
Our PayPal Prepaid Mastercard Review
The PayPal prepaid card has multiple perks. However, before learning more about those features, please be aware of the following:
You must be at least 18 years to be eligible

You should have a valid home and email address to sign up.

You must pay a plan charge of $4.95
The PayPal debit card can be used anywhere Mastercard is accepted. That includes online purchases, over-the-phone transactions, and in-store sales! 
You can get a direct deposit up to two days earlier for those who qualify. Besides that, you can avoid check-cashing fees. Not only that, but you can have tax refunds and government benefits be sent directly to your debit card. 
Besides direct deposit, it's easy to load and reload money. Alternatively, transfer funds from your PayPal account directly to your card at no cost. There are also over 130,000 locations for money loading, such as grocery stores, gas stations, etc. Easily manage your money, including deposits and transactions, thanks to the PayPal mobile app.
You have the option to receive special offers from the company and its partners, as well as cashback rewards. Join over 250 million members today! 
---
Step-by-Step 

PayPal Prepaid Mastercard Order Instructions
Step 1: Go to www.PayPal.com/prepaid using your preferred internet browser and reliable internet connection.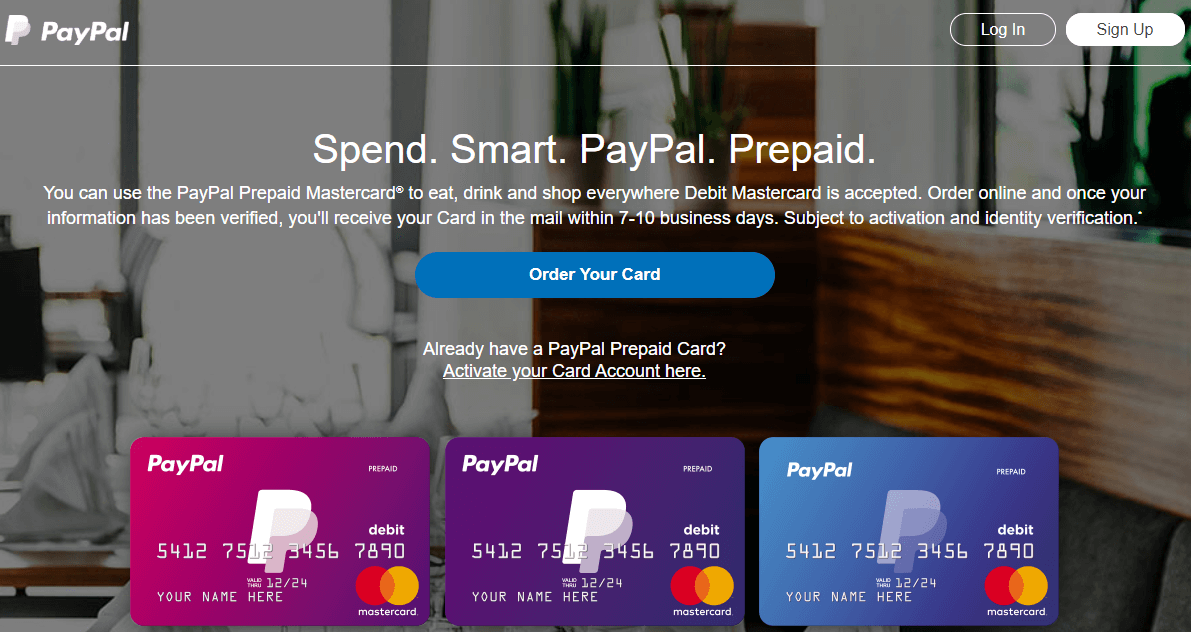 Step 2:  Click the blue tab that says "Order My Card."
Note: You can also click the "Sign Up" link next to the login in the homepage's upper right-hand corner. 
Step 3: Enter your personal information, including name, home address, and email.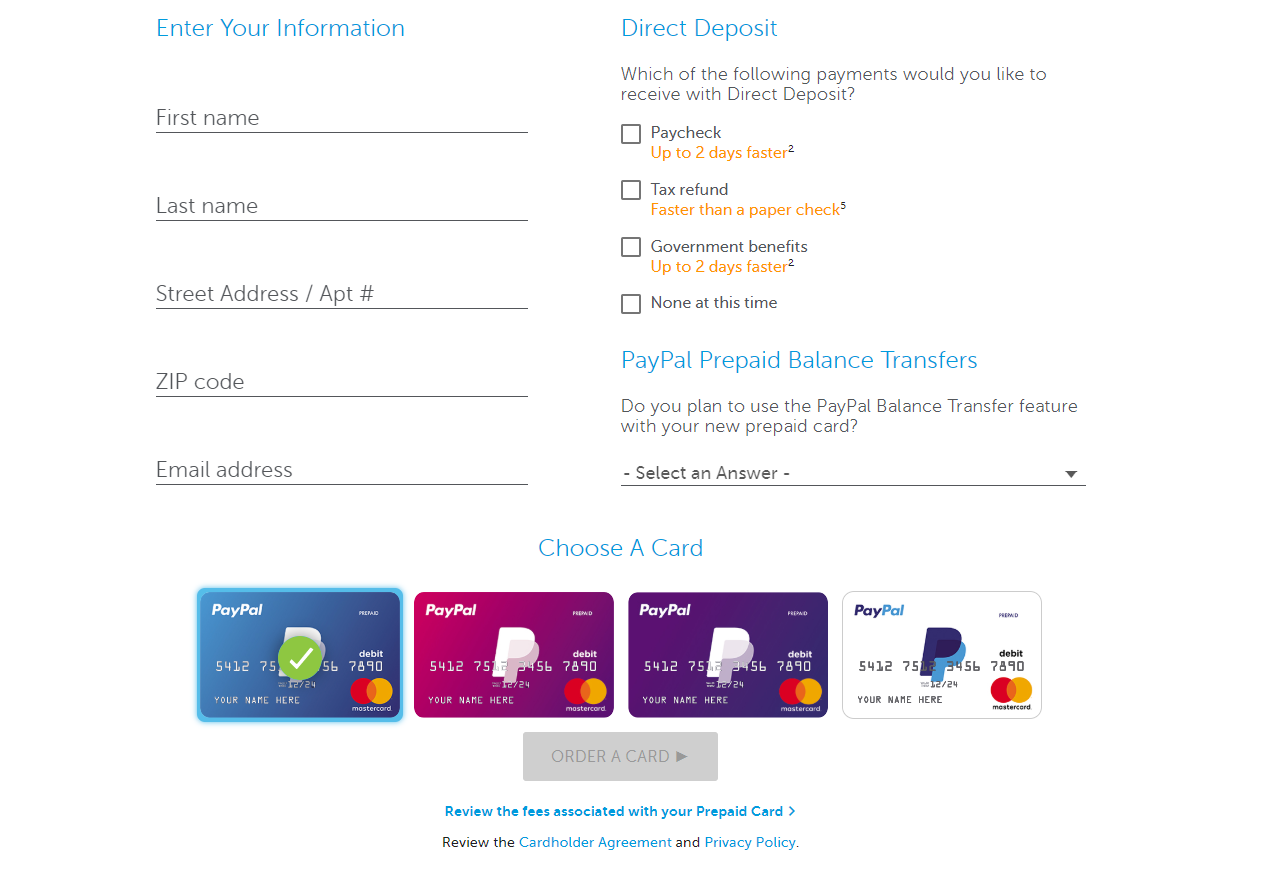 Step 4: Select your direct deposit preferences, transfer options, and card design. Click 'Order Card.'
Step 5: Follow any other prompts to submit your order for your new prepaid Mastercard. 
That's it! You should receive an email regarding your order. 
---
PayPal Prepaid Debit Mastercard Activate Instructions
Please be aware it takes 7-10 business days for your card to arrive in the mail at the address provided. After you get your card, you must activate it. Just like ordering one, it only takes minutes. Follow these directions:
Step 1: Go to www.PayPal.com/prepaid and click the link that says, "Activate your Card Account here."
Step 2: Enter your card number and security code. Click "Continue."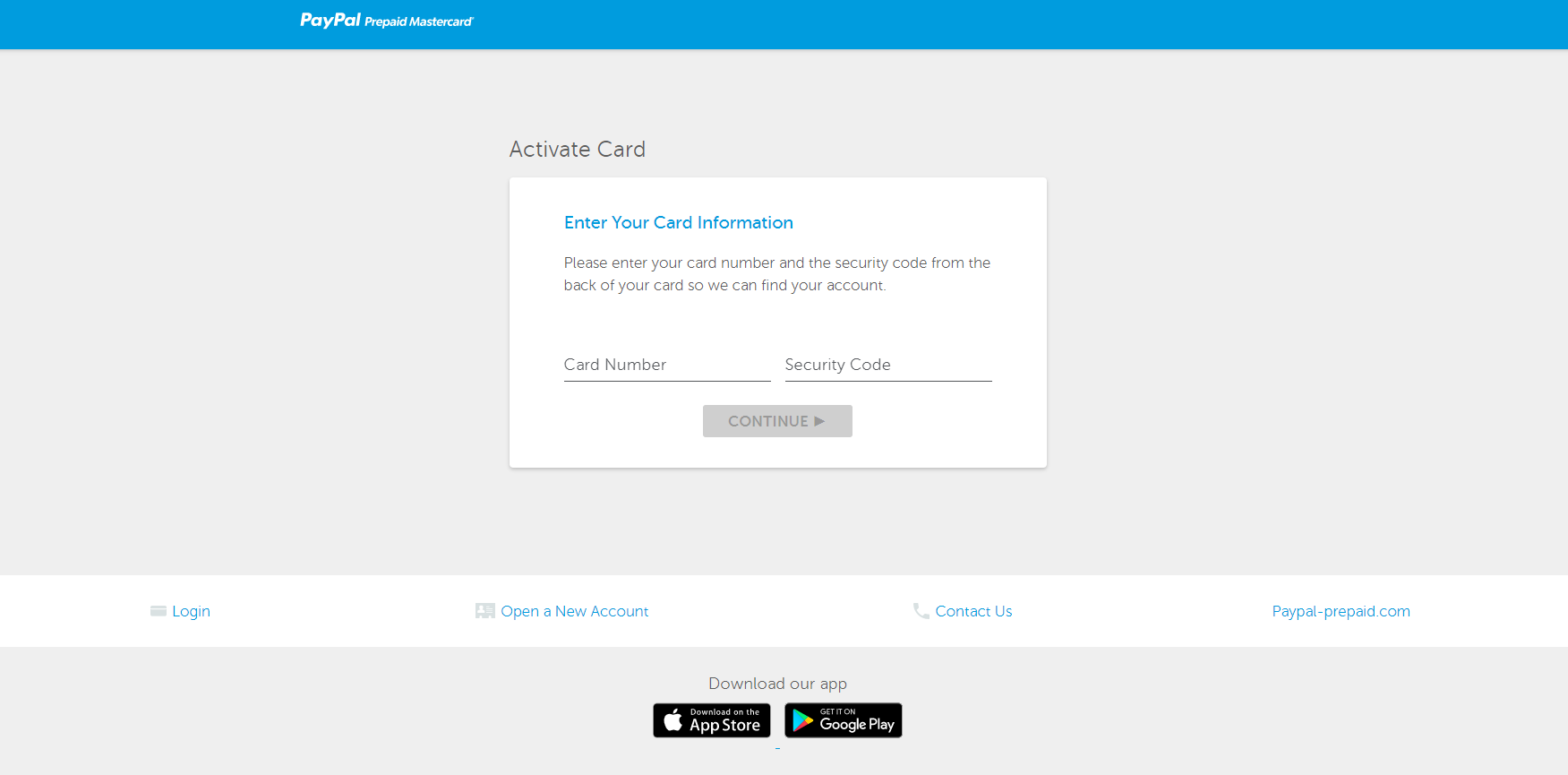 Step 3: Follow the other prompts to activate. You should receive a confirmation after your card is completely activated. 
Note: You can also call customer service at 1-866-753-6640 to activate over the telephone. Please call Monday through Friday from 8 AM-6 PM or Saturday and Sunday 8 AM-5 PM Central Time. 
---
Creating an Account
After you order and activate, you can create an account from the same site. That way, you can easily follow your earning, spending, and saving. 
Step 1: Go to www.PayPal.com/prepaid and click the "Login" link in the upper right-hand corner. 
Step 2: Sign in to your account.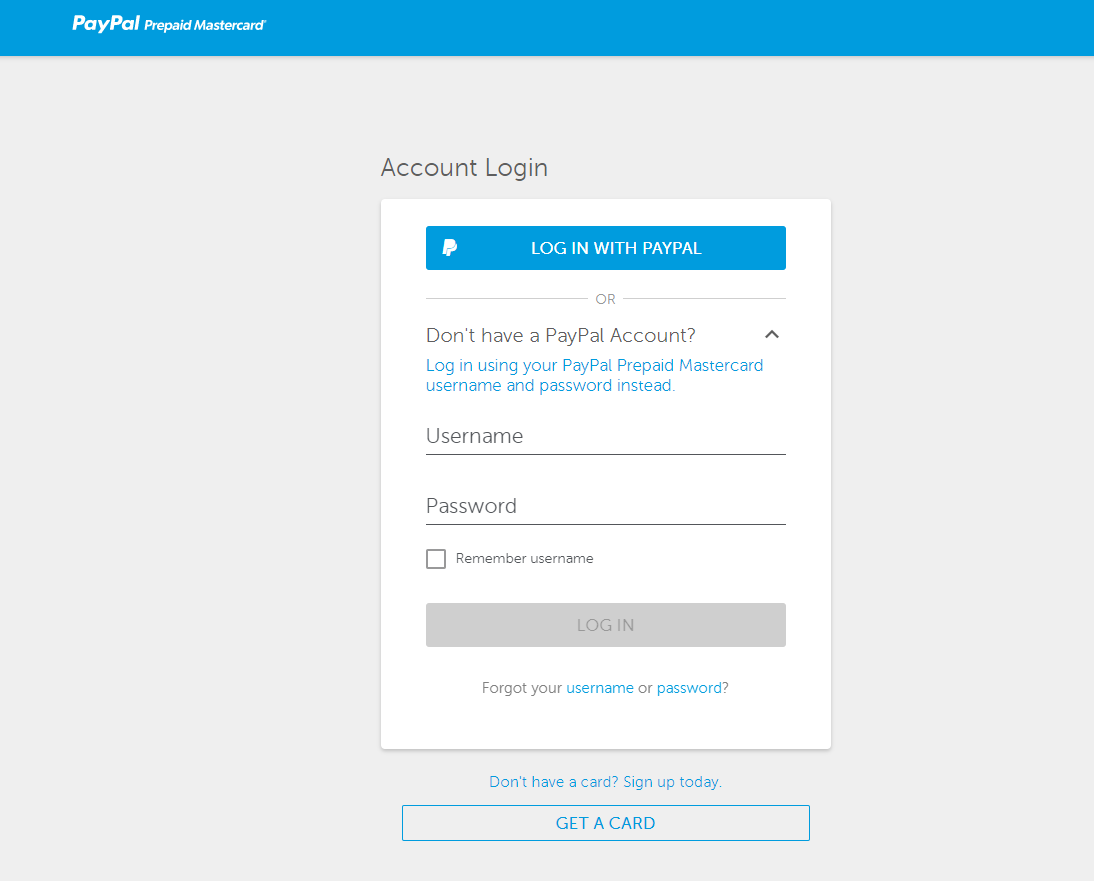 If you don't have an existing PayPal account, you also can log in using your Mastercard username and password you created during activation. Click the drop-down arrow to fill in your information. Suppose you need help recovering your username and password, click the appropriate links. 
---
Related
---
About PayPal
Officially known as PayPal Holdings, Inc., this American business is a global online payment system. It is an electronic option for paper checks, money orders, and other transfers. PayPal is a primary processing system for major online retailers, vendors, and auction sites. Although it does charge specific fees, the company offers one-click transactions that are safe and secure across platforms. 
Max Levchin, Luke Nosek, and Peter Thiel created the system in 1998 under the name Confinity. However, the original business model as a security software developer for handheld devices was unsuccessful. Thus, its refocus became the digital wallet. By 1999, PayPal launched its first version of electronic payments. The following year, the business merged with X.com, which was an online bank established by billionaire Elon Musk. Since the turn of the century, PayPal has kept its foothold as one of the most trusted online payment systems ever. 
Contact Information
Please visit the Contact Page to learn how to reach out to customer service. It includes options for emailing, calling, or writing along with fax numbers and call center hours.