If you have a Mastercard or Visa YourRewardCard, you may be interested in learning about how you can activate it and login to check your balance, view activity and manage your account online at yourewardcard.com. When you have access to your YourRewardCard account, you can view your balance and account activity including all transactions, set a pin for debit card transactions and more.
Activate and Check Balance of Your Rewards Card Account at YourRewardCard.com
You can view your account information and activity at any time by signing in to your card with the steps listed below. Being able to view your account is quick and easy and enables you to stay up to date with your rewards card balance.
To learn more about how to activate and manage your reward card, visit www.yourrewardcard.com and check out the steps below. 
Steps to Activate YourRewardCard
Before you begin using your Mastercard or Visa rewards, you'll need to activate it. This activation process can be completed either through the phone or online. 
To activate your rewards card online, go to www.yourrewardcard.com. You'll be taken to a web page where you can select the language that you want to read in. These languages include English, French, and Spanish.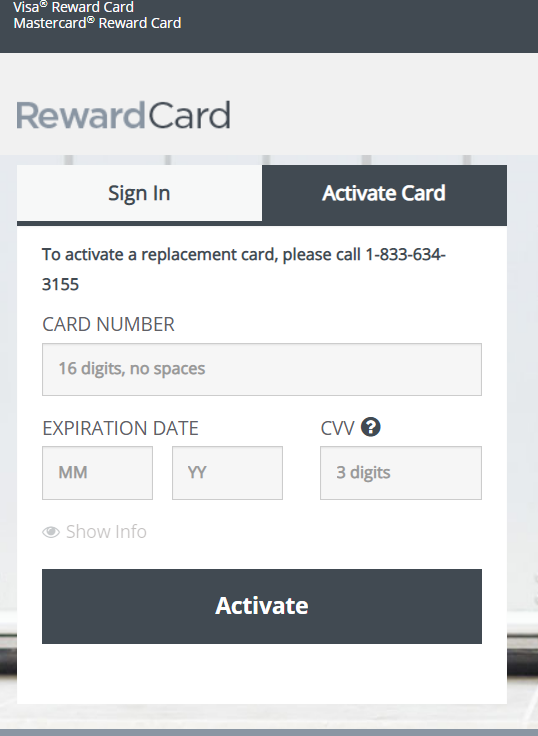 At the top of the page, you'll see a link that says "Activate Card". Once you've clicked this link, you'll need to have your reward card handy to enter information. The details that you need to type in include the 16 digit card number, the 3 digit CVV code (this is located on the back of your card) as well as the expiration date of the card. When you've checked that the card details have been entered correctly, click "Activate".
When it comes to activating Your Reward Card by phone, you can call the customer service number. Be sure to have your card number, expiration date, and security code handy as the representative will need these details to activate Your Reward Card. When the customer service representative has told you that the card has been successfully activated, you'll be able to start using it. 
How Do I Sign In & Manage My Account at YourRewardCard.com?
Once your rewards card has been activated, you'll be able to access your online account. This can be done by going to www.yourrewardcard.com again and using the "Sign In" section. You'll need to enter your 16 digit card number, the 3 digit CVV code on the back of the card, and the expiration date. 
After you've logged into your rewards card account, you'll be able to keep track of your card balance and transaction history. You're also able to change the zip code and PIN that you use for your card.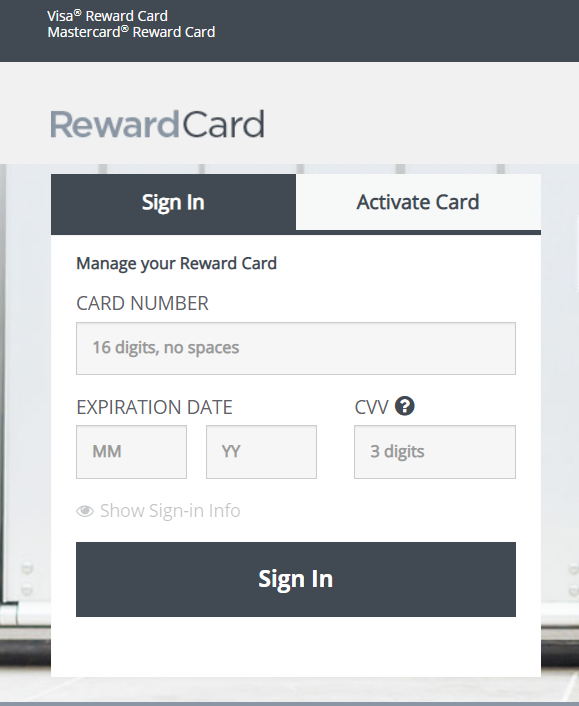 YourRewardCard.com Support
If your card number starts with the digits 538723 or 434340, call 1-833-634-3155.

For inquiries about other cards, you can call 1-844-560-2893.

When it comes to cases where your card is lost or has been stolen, you can get in contact with the customer service team. They will help you to deactivate the card and send you a replacement one if your account still has a balance. 
You can also contact the company through the mail with the address below:
Your Reward Card Customer Care,
PO Box 826, Forston, GA 31808

Conclusion to the YourRewardsCard.com Online Portal and Card Benefits
One of the biggest benefits of going with a YourRewardCard Visa or Mastercard is that it provides you with a secure method of paying for goods online or in-person in shops or restaurants. 
Moreover, Visa and Mastercards are widely accepted in most places which means you can be sure to use them without any issues. However, you should also be aware that the funds from your reward card cannot be transferred to any other rewards card account. 
After reading through our post about how to activate your reward card, we hope that you're feeling more assured about the whole process if you happened to receive a Your Rewards Card. It can be a quick and easy process that enables you to see your balance and transactions 24/7.