You love your four-legged friends and don't mind taking special care of them. Have you recently bought a Bayer Animal Health product? Multiple brands such as Advantage II, Advantage Multi, K9 Advantage, Seresto, Profender, quellin, or Dermatology and Supplement products qualify for a Bayer AHRebates online. Just go to AHRebates.com to get started!
---
Our AHRebates Rebate Form Submission Guide
You can submit a rebate form associated with your Bayer Animal Health product. Visit www.AHRebates.com and follow the on-screen prompts to receive your rebate.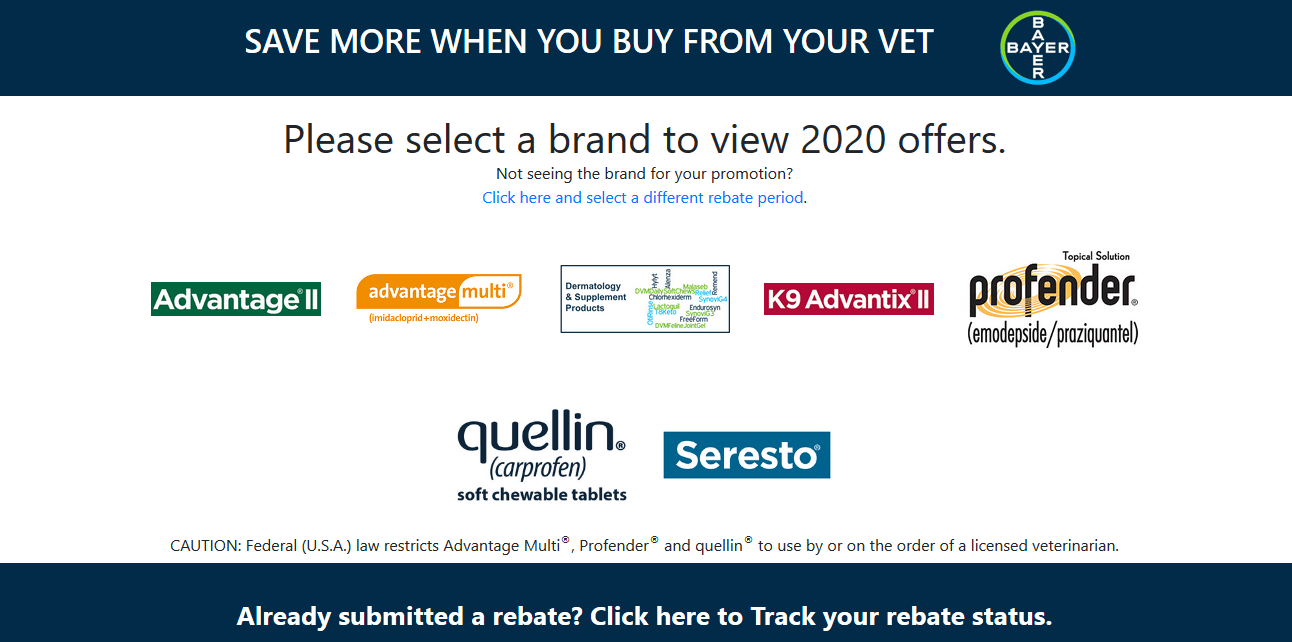 Please keep in mind the following before applying for your rebate you must:
Purchase a qualifying Bayer AH product between the specified rebate eligibility period 

Complete the rebate form by the deadline printed on the rebate form

Upload an image of the detailed receipt showing product proof of purchase from the vet clinic or a vet clinic website

Select your rebate payment method

You should print the confirmation for your records

Allow 2-4 weeks for your rebate form to be accepted

Allow 6- 8 weeks for your rebate check to arrive (2 weeks for iRcheck option)
---
Step-by-Step 

www.AHRebates.com Submission Form

 Instructions
To become eligible for the rebate, you should have purchased a qualifying Bayer product from one of the Bayer AH brands. After doing so, complete the following:
Step 1: Visit AHRebates.com
Step 2: Click on the product that you purchased from the list of qualifying brands
Step 3: Fill out the pet owner contact and shipping information
Step 4: Input the veterinarian or clinic information where the product was purchased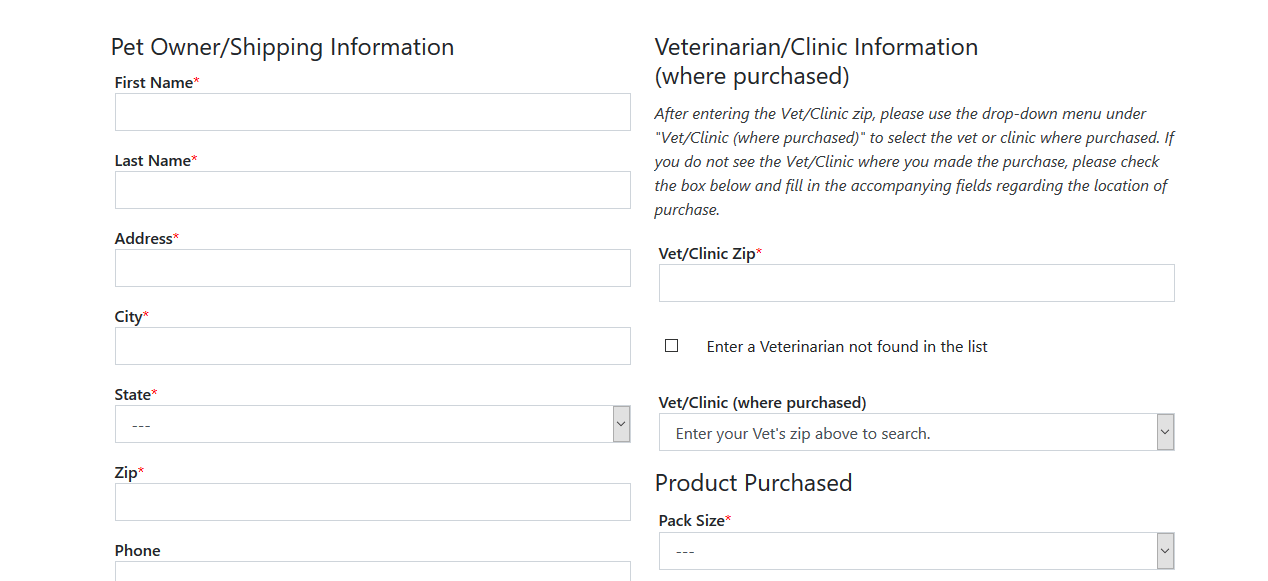 Note: If your vet or clinic is not available in the drop-down menu, you can check a box that says it was not listed and continue. 
Step 5: Include details about the type of product, the pack size, and why you selected it
Step 6: Upload an image of your receipt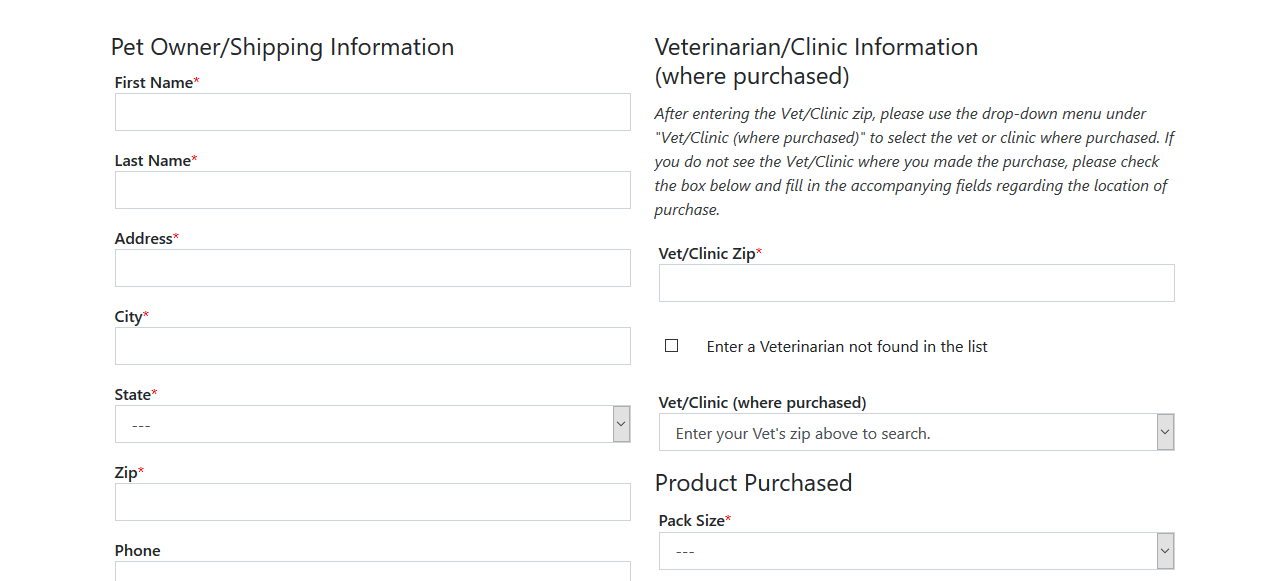 Note: The photo format must be JPG, PNG, GIF, or PDF. 
Step 7: Agree to the Terms and Conditions as well as Privacy Policy
Step 8: Select your rebate payment method 
Note: If you select to receive your rebate via email, it takes up to two weeks, and you must have a printer. To receive your refund through traditional postal mail, you should allow six to eight weeks to get the money. 
Step 9: Click submit and print your rebate form (optional)
After you completed your ahrebates submission form, then you can check the status of your rebate. Check the Rebate Status to track the approval.  
---
More Information About the Rewards with www.AHRebate.com
You need to make a qualifying purchase of one of the following between July 1, 2020, and December 31, 2020, to become eligible for the rebate. The AH Rebates form must be submitted by January 15, 2021.
Please keep in mind that Federal USA laws restrict brands such as Advantage Multi, Profedner, and quellin to be ordered for and used by licensed veterinarians.
Advantage II – 4 pack $10 or 6 pack $20
Advantage Multi –with or without heartworm test

with heartworm test 6 pack $30 or with heartworm test 12 pack $70
without heartworm test 6 pack $20 or without heartworm test 12 pack $60

Advantage Multi and Seresto – 6 pack plus one collar
K9 Advantix II – 4 pack $10 or 6 pack $20
Profender – 1 tube $5
Dermatology and Supplement Products – 1 unit $5

Malaseb, HyLyt, T8 Keto, Synovi G4, ChlorhexiDerm, Synovi G3, OtiRinse, Remend, Relief, DVM Daily Soft Chews, Alenza, Endurosyn,DMV Feline Joint Gel, Lactoquil and Free Form

quellin – (1) 120-count bottle $20
Seresto – 1 collar $15
You can enter multiple rebate submissions at the same time. To add another bid for the same rebate offer, click "Add Pet." Please be aware you are limited to six rebates per household, per offer. If your submission is rejected because of processing limits, you have exceeded the allowable limit for that address or person.
An iRcheck is not an electronic check, but it functions the same way a check mailed to you would in terms of payment. You can print the iRcheck after it is emailed to you and then take it to your bank for deposit. Local department stores may also be able to cash your rebate check. 
---
Other Pet Rebate Programs Worth Checking Out
---
About Seresto Bayer
Most people know Bayer as a business that creates medicine. This multi-national pharmaceutical company is one of the largest in the world. Besides offering life-saving medication to people, this business also partakes in animal health.
Bayer Animal Health strives to improve the well-being of both farm and household animals. The company sees pets as furry family members. They recognize the invaluable contribution farm animals have on the world. With that being said, Bayer AH protects animals from disease by treating them with innovative medicines.  
Company Contact Info
For other questions about AH Rebate submission process and website, visit ahrebates.com or call 877-246-7654.