If you recently purchase any Coors Light product that comes with a rebate offer you will be happy to find out that getting your rebate is quick & easy. All you have to do is visit the Coors Light Rebate Center website and follow our instructions listed below.
Before you can track your reward, or start a new rebate request you will need to have purchased a Coors product that is rebate eligible.
---
Our CoorsLightRebates Claim Guide
Once you have made your purchase you need to find the rebate code which is located on the product packaging in a different spot depending on the product you purchase.
Once you find your code simply visit www.CoorsLightRebates.com and fill out the page with the offer code and purchase date and hit continue.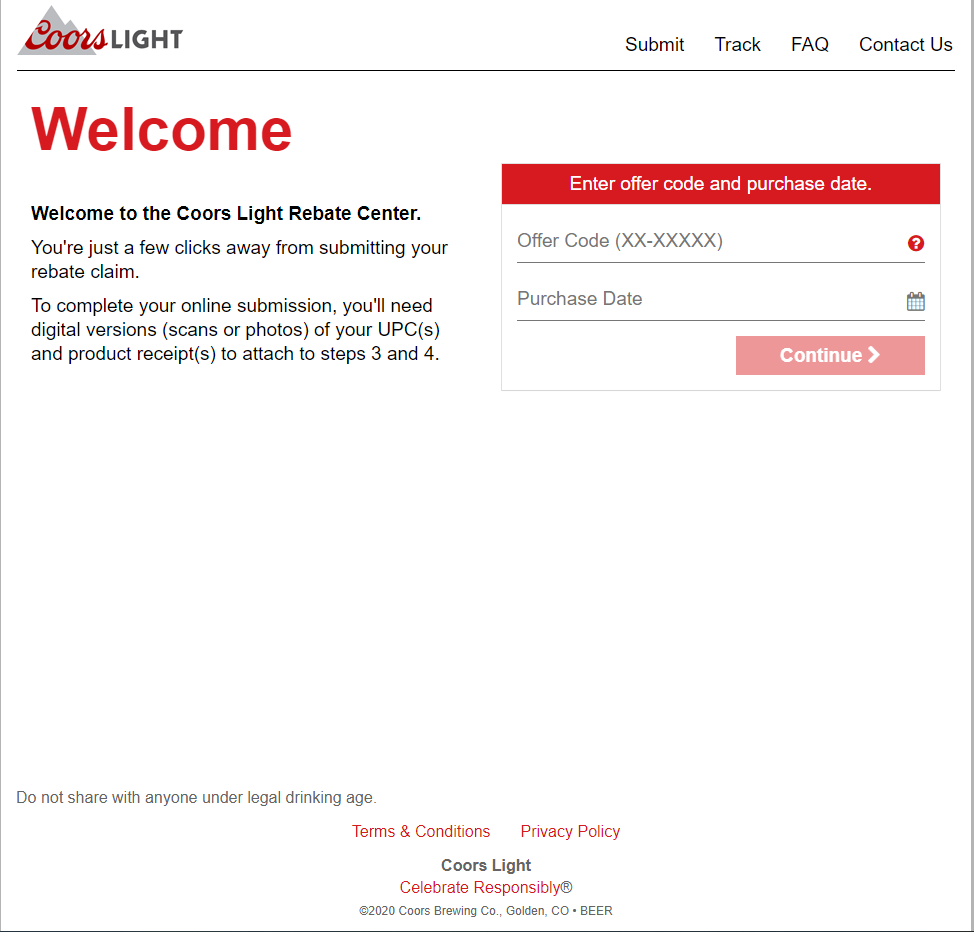 In the next step you'll need to enter your personal information in order so that Coors can send you your rebate.
Write down your tracking number in case you need to track your refund later.
Sit back and relax while you wait to get your promotional refund!
---
How Much Is My Coors Reward?
The amount of your rebate varies from time to time depending on the current promotion or which product you purchased. The Coors Rebates site will tell you how much of a discount you can expect to receive after you fill out the form.
---
How Long Will It Take to Get My Refund?
The time to get your rebate can be 6-8 weeks depending on current demand and whether  how many claims currently being processed ahead of you in line.
---
How Can I Track My Reward?
If you want to track your reward after you've applied for it just go to https://www.coorslightrebates.com/#/tracker an enter the tracking number you received from the rebate center.
---
Coors Resources
---
Coors Social Media Accounts
---
Related
---
About Molson Coors
Molson Coors is most well known for their Coors Light beer but also made a name for themselves with Coors Original dubbed the "Banquet Beer". Coors is headquartered in Golden, Colorado and known for their color changing beer can where the rockies turn blue if the beer is cold enough.
The Coors family has a long tradition of holding roles in the Colorado State government and is well liked in the community in and around Denver. Coors is one or the largest beer company in the world.