If you recently purchased tires at Discount Tires during one of their infamous sales and need to submit information to get your rebate then you'll need to visit www.DT.RebatePromotions.com.
Once you submit for your refund on the Discount Tire Rebate Center website all you'll need to do is wait approximately 4 weeks for your prepaid Everywhere Debit Mastercard to arrive in the mail!
---
Our Discount Tire Rebates Program Guide
Before filling out the form here is what you will need:
A reliable Internet connection
You must be able to understand either English or Spanish
You must have your purchase receipt or invoice
You will need the form or code given to your by the Tire Rep
---
Step-by-Step DT Rebate Website Instructions
Step-by-step instructions for filling out your rebate form are shown below along with pictures!
1. First off you need to go to https://dt.rebatepromotions.com to submit for you prepaid Everywhere Debit Mastercard.

2. Once on the this page go ahead and enter your the offer code found on the form the sales rep gave you at the store.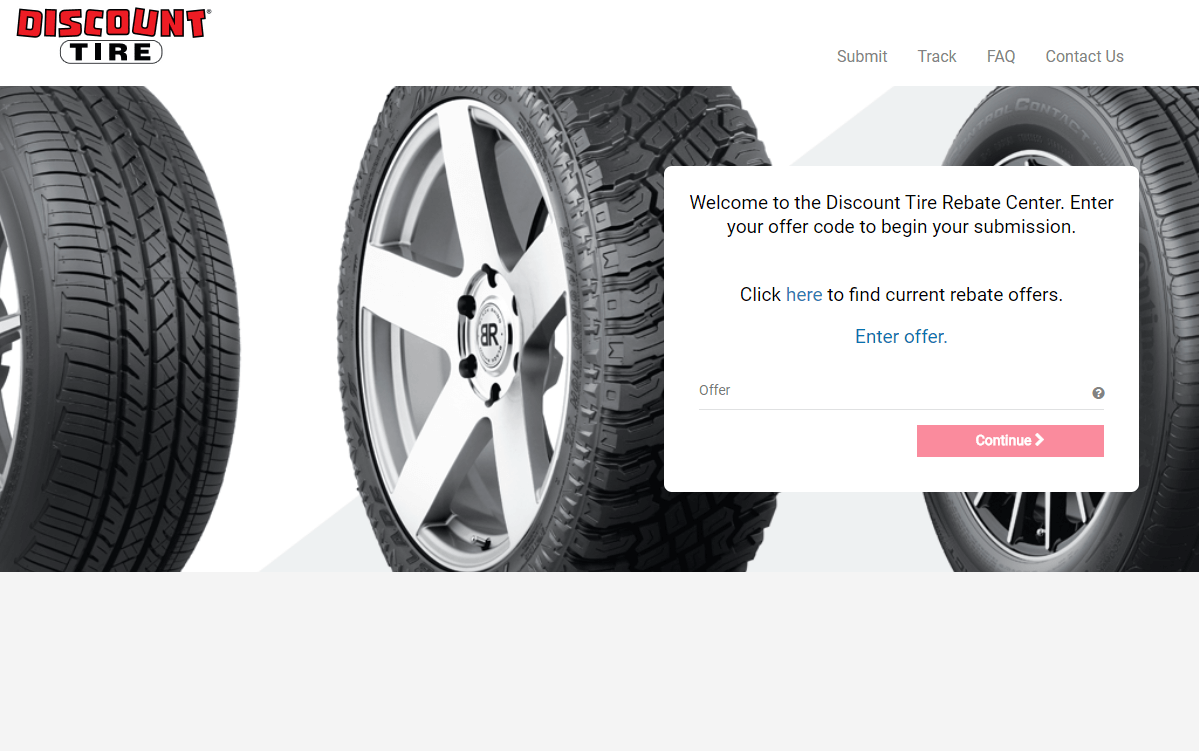 3. After entering your offer code you will see a screen that shows your rebate offers similar to the one shown below. Confirm that it is indeed the correct amount you were expecting and click "Continue" to move to the next step.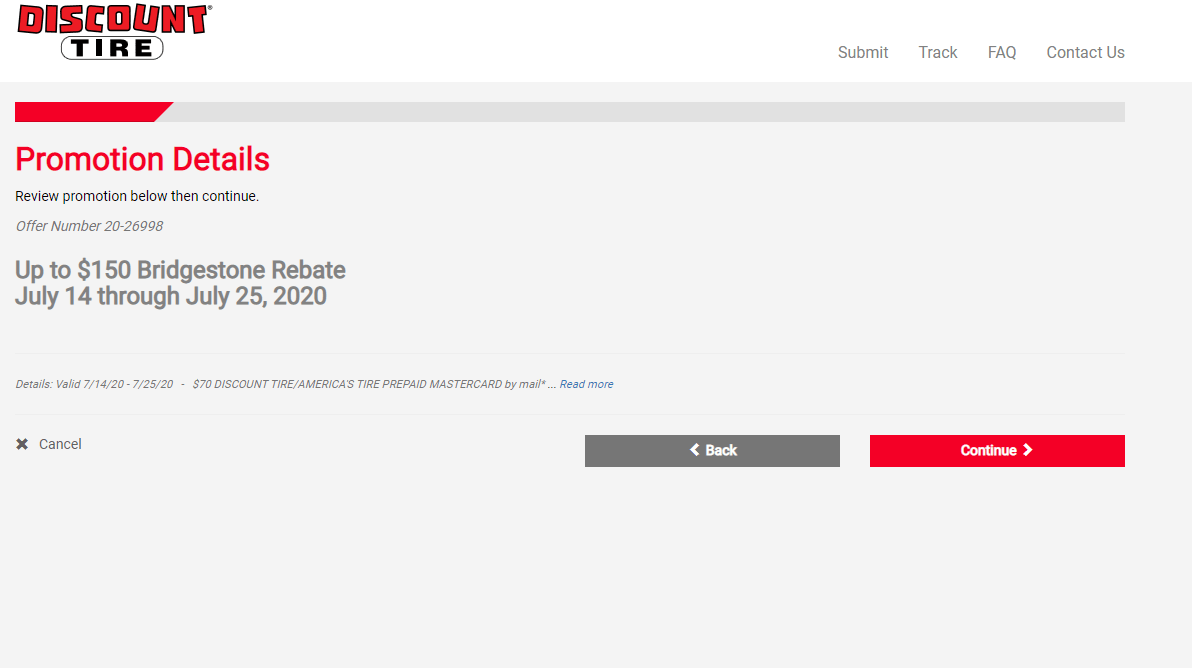 4. This step on the Discount Tire Rebate Center site involves adding your purchase information including your invoice number, purchase date and store name as seen below.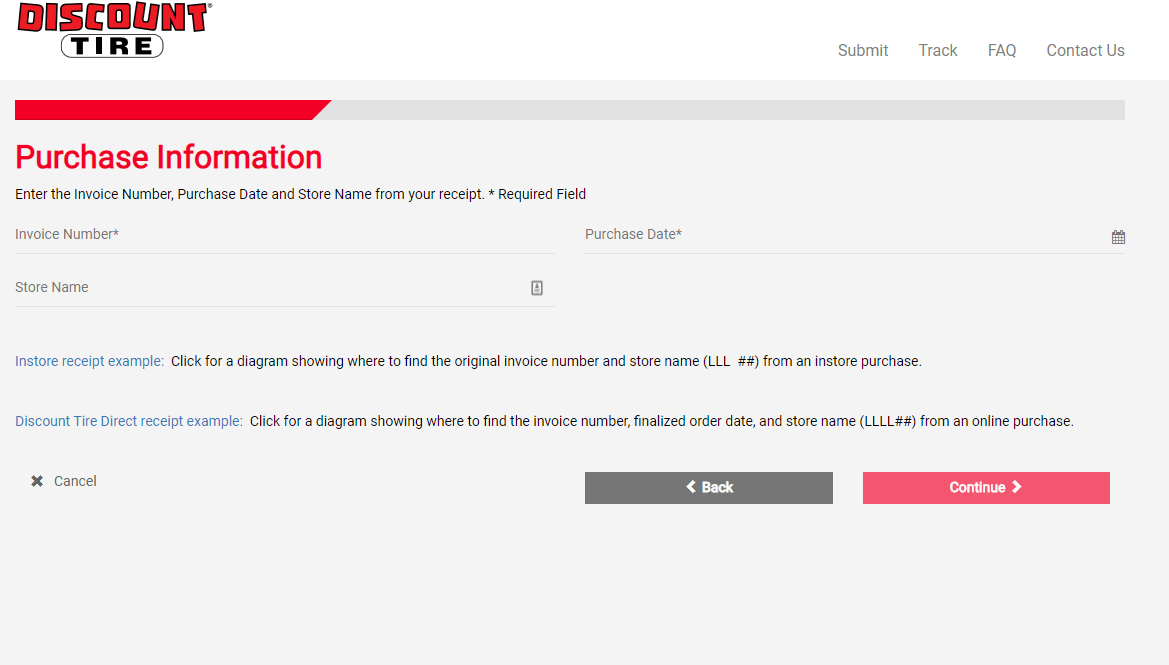 In-store Receipt Example Seen Below
Discount Tires Direct Receipt Example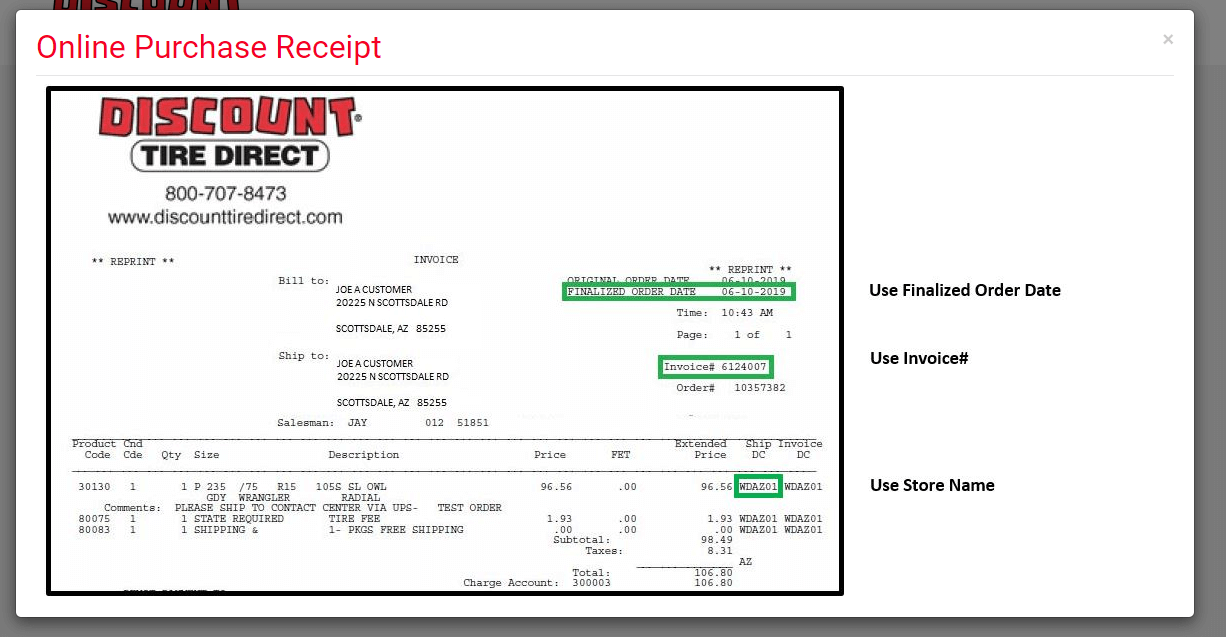 5. Fill out your personal information on the next page. Your information will only be used for rebate status updates unless you agree to receive promotional emails.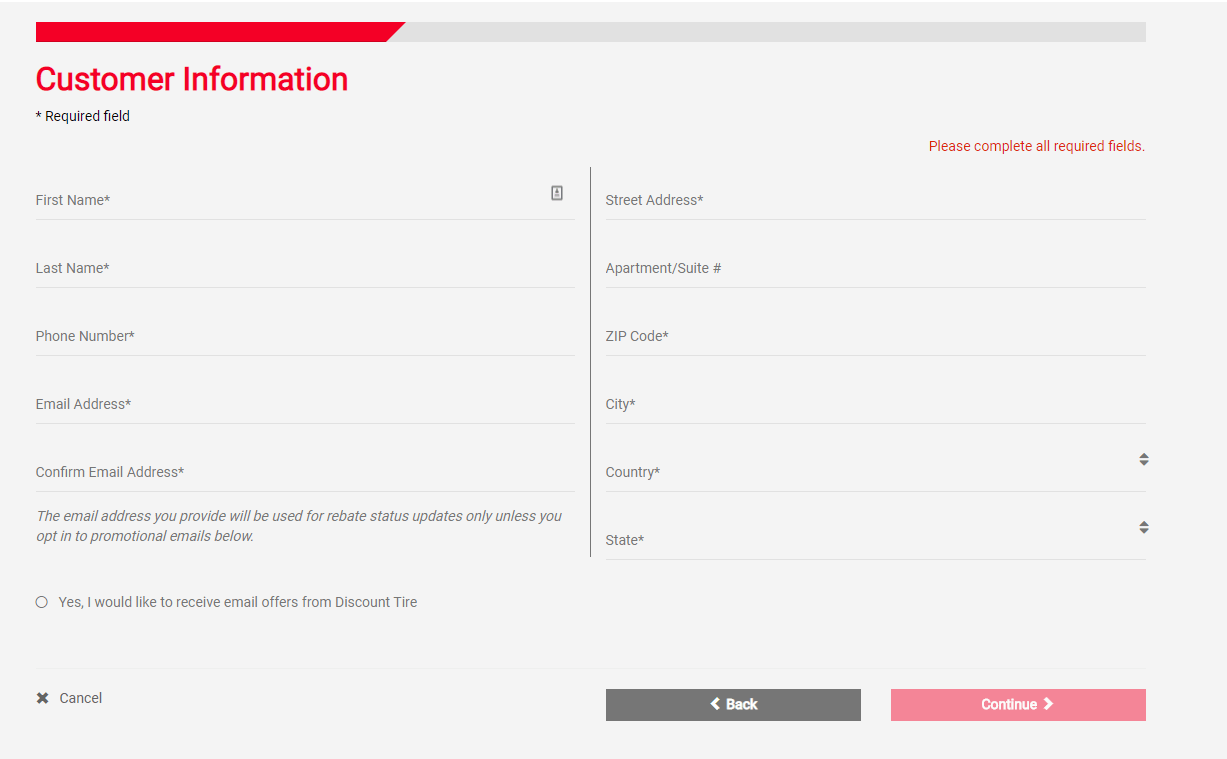 6. In the next step you will be asked six quick multiple choice survey questions. Answer these quickly and hit "Continue" to move the last step where you will submit your rebate information.
7. In the last and final step you will see a screen to confirm your personal information, promotion details, and purchase information. Just confirm that you have entered them all correctly and hit the "Submit" button.
---
FAQs
How Long Will It Take To Receive my Rebate?
Prepaid rebate cards are typically received within 4 weeks of online form submission.
---
Will My Rebate Be In the Form of a Check or What?
You rebate will come in the form of a prepaid Debit Mastercard which can be used anywhere Mastercard is accepted.
---
How Will I Get My Prepaid Card?
You card with come via USPS first class mail.
---
Can I Still Get A Rebate if I Lost My Invoice?
Contact your local store where you made your purchase to get a copy of your original receipt.
---
I Missed the Deadline. Can I Still Get My Promotional Rebate?
If it is past the promotional deadline you will unfortunately not be able to claim your promotional rebate.
---
Can I Get More Than 1 Rebate?
If you purchased more than 1 set of tires then you are indeed eligible for a rebate on each set.
---
Can I Send My Rebate By Mail?
Yes. Send your form to the following address:
DT [insert offer number]
P.O. Box 540063
El Paso, TX 88554
---
Can I Fax My Rebate Form?
Yes! Fax your form to 480-668-9402
---
How Can I Check the Status of my Rebate?
Just go the tracking page and enter the information as requested.
---
Does my Card Expire?
Yes, DT rebate cards expire 6 months after they are issued.
---
How Can I Check the Balance of my Promotional Card?
Simply visit https://myprepaidcenter.com/site/mastercard-promo/ or call customer service at 888-371-2109.
---
Related
www.AdvanceAutoParts.4MyRebate.com
---
About Discount Tire
Discount Tire is a nationwide tire service center in the United States of America. It was started in 1960 in Ann Arbor, Michigan. The company currently has over 1,000 tire stores in 35 states and prides itself on providing quality tire service with a wide range of tires, at a great price along with expert staff.
---
Further  Resources