Taking good care of your vehicle requires the right parts and equipment. If you have recently visited an Advance Auto Parts, you might be qualified for select rebates. Customers can register for a variety of rebates through an incredibly convenient and straightforward process.
Go to www.AdvanceAutoParts.4MyRebate.com to get cashback on your auto parts, and save some money on your next purchase. 
---
Our AdvanceAutoParts Rebate Rebate Program Guide
Do you still have your receipt from your online or in-store purchase? The Advance Auto Parts Rebates site offers two fast and easy options. You can either select the "Register for a Rebate" or after you submit your receipt details, you can track your rebate by selecting the "Track My Rebate" tab.
Please keep in mind the following info before you submit your rebate form online:
You will need to have your receipt from your in-store or online purchase.

You need a valid email address to confirm your account and track your rebate.
---
Step-by-Step Instructions to Getting Your Advance Auto Rebate

Step 1: Using your preferred internet browser, visit AdvanceAutoParts.4MyRebate.com.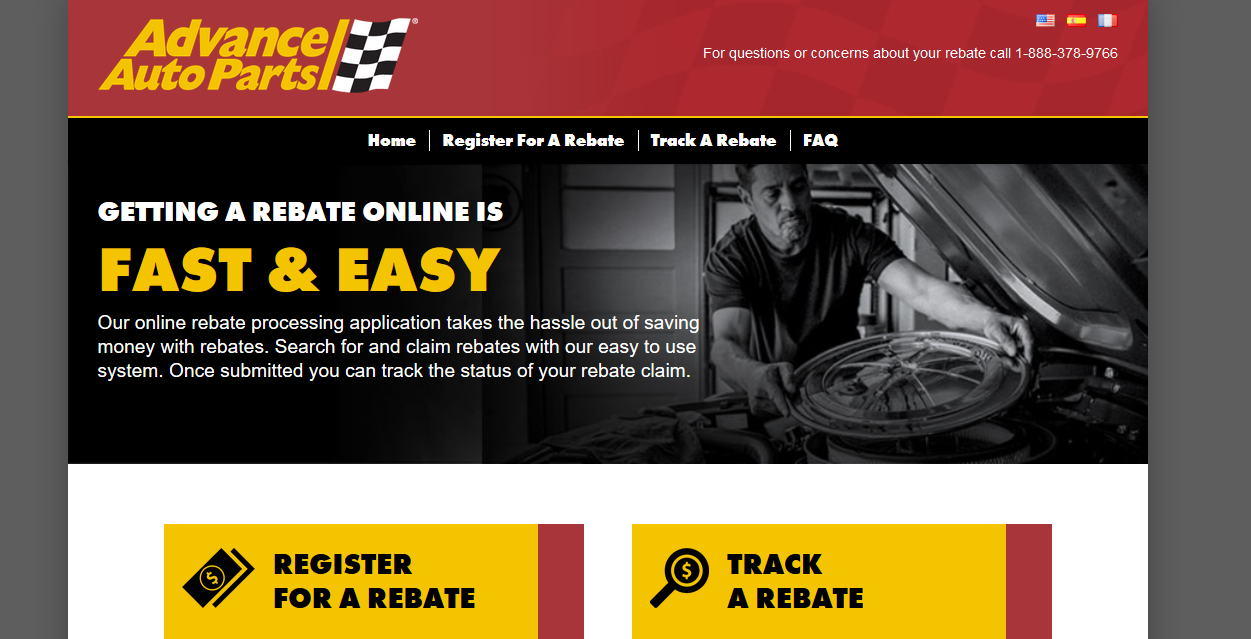 Step 2: Click on the button that says "Register For A Rebate."
Step 3: Select from the drop-down menu where you made your purchase (in-store or online).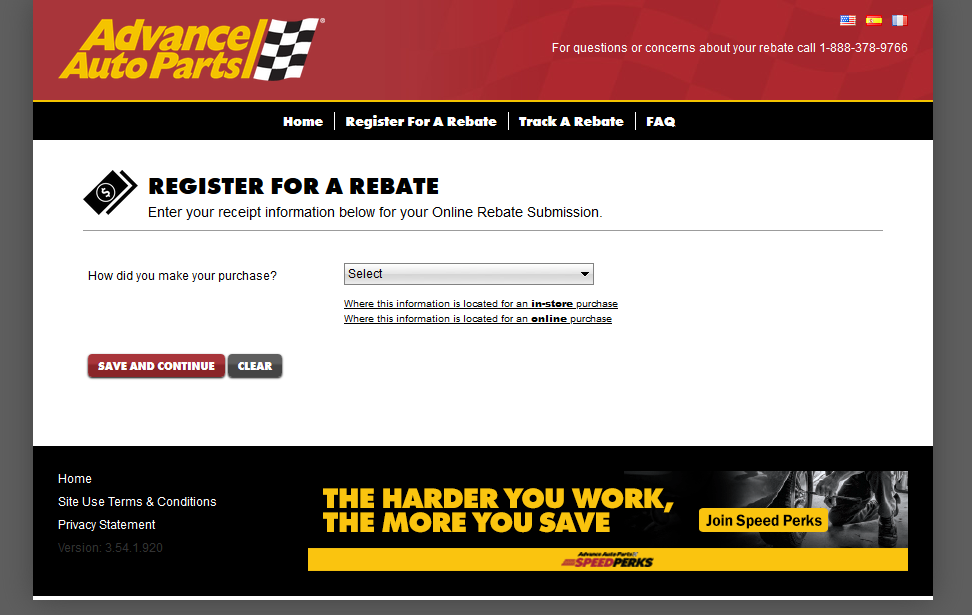 Note: There are two links will help you with locating the info on your receipts. Whether you purchased online or in-store, you can follow the diagrams to find all of the information you need for the Advanced Auto rebate.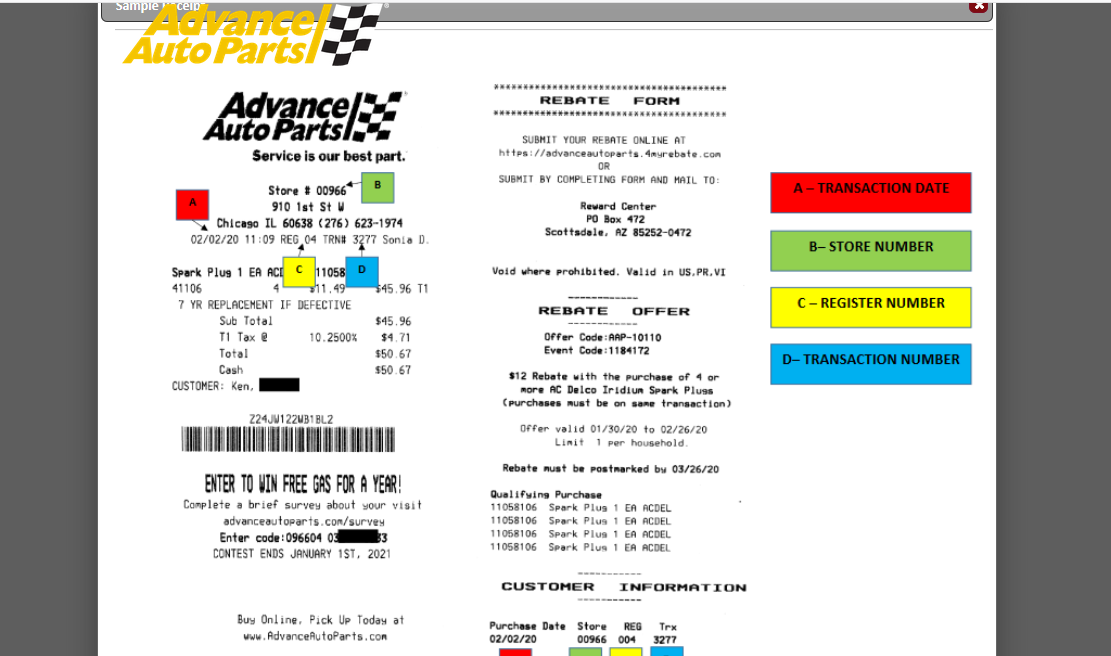 Step 4: If you purchased items in-store and have your receipt, you can view the information near the top of the receipt. You will need four details, including the transaction date, store number, register number, and transaction number to qualify for the rebate claim.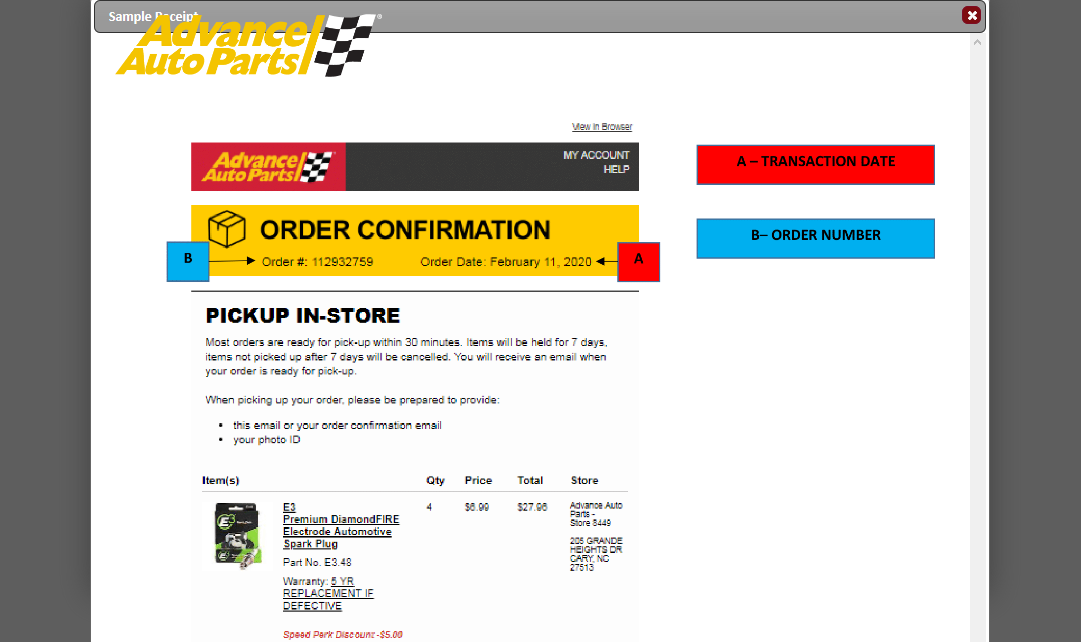 Step 4 (Continued): If your purchase occurred online, you will need to access the information under the "Order Confirmation" breakout box on your online receipt. You only need the transaction date and order number from your purchase.

Step 5: Enter the receipt information and press "Save and Continue."
Step 6: Complete the rest of the details about the purchase to redeem the rebate.
Note: You will need a valid email for your rebate confirmation and in order to track your rebate
Step 7: After making sure that your information is correct, press "Submit."
That is all you would need to do to get your rebate! You should receive a confirmation email concerning your refund within 24 hours.
---
How to Track Your Rebate?

On the 4 My Rebate home page, you can click the "Track My Rebate" tab.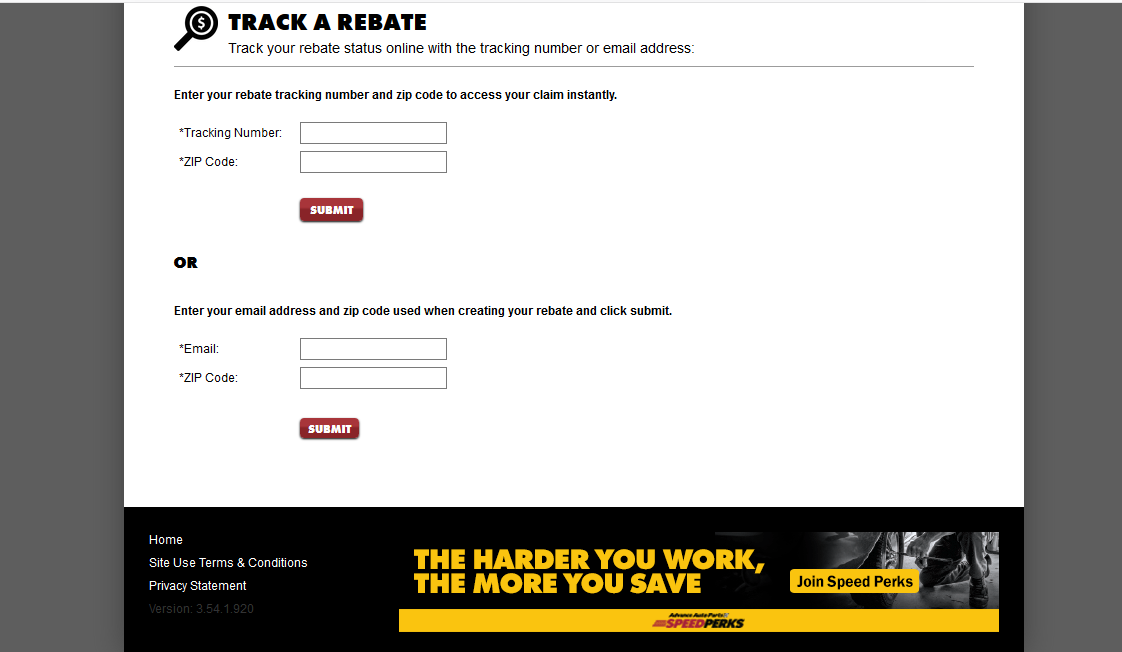 You have two options in regards to tracking your Advance Auto rebate. The first is to enter your rebate tracking number and zip code. Alternatively, you can enter your email and zip code to access your claim and review the rebate status.  
---
More Info About the Advance Auto Parts Rebate Program

Because available rebates are subject to those items being purchased between specific time frames, you need to ensure that the qualifying item you purchased is eligible for a refund. Any items rebate that is entered or postmarked after the period has passed will not qualify. Be sure to check the terms to submit your rebate within the correct time frame.
Obtaining an offer code is easy. You can find all of the information on the rebate document online. If you register for an online account, you will be eligible for special rebates. 
It's always bests to print and keep a copy of your rebate claim form for your records. You can locate a copy for print under the "Track My Rebate" tab on the AdvanceAutoParts.4myrebate.com website.
If you haven't received your rebate tracking code within 24 hrs and do not see the email confirmation in your email's junk mail or spam folder you can contact the Customer Service department. Make sure you have all of your purchase details for the rebate form. Review the frequently asked questions page on the website for immediate assistance with common issues.
---
Other Auto Related Rebate Offers
DT.RebatePromotions.com: Discount Tire Rebates
AutoZone.com/rebates: AutoZone Promotions
---
About Advance Auto Parts
Advanced Auto Parts Inc. is an American-owned automotive aftermarket parts provider with headquarters in Raleigh, North Carolina. This fast-growing retailer serves both professionals auto shops and those who prefer to fix their vehicles themselves.
There are more than 4,900 stores and 150 Worldpac branches located throughout the United States and Canada.
Contact Information
Phone Number: 1-888-378-9766
Email: advanceautoparts@help.4myrebate.com