Have you recently purchased an item from AutoZone? Good news! You may qualify for a rebate on your purchase. And not only that but you could enter in a sweepstakes to put more green back in your wallet. On top of all that you can have even more chances to save by signing up or the AutoZone rewards program!
It's easier than ever to file an for an AutoZone rebate online. Most eligible offers for online rebate submission can be found on the company website at www.AutoZone.com/Rebates.
---
The Ultimate AutoZone Promotions, Rebates & Rewards

Guide
Once you access the rebate site, you will find several links to help you submit the information that you need to file, find, and track your rebate.
A couple of things to keep in mind before applying for one of the AutoZone Promotions:
You would need to have your receipt from your purchase.

You will need to upload an image of your receipt showing the product proof of purchase.

You must have a valid email address. This information will be used to give you up-to-date information on the status of your rebate.
---
Step-by-Step AutoZone.com Rebates Instructions
Step 1: Visit https://www.AutoZonePromotions.com or www.AutoZone.com/Rebates using your preferred internet browser.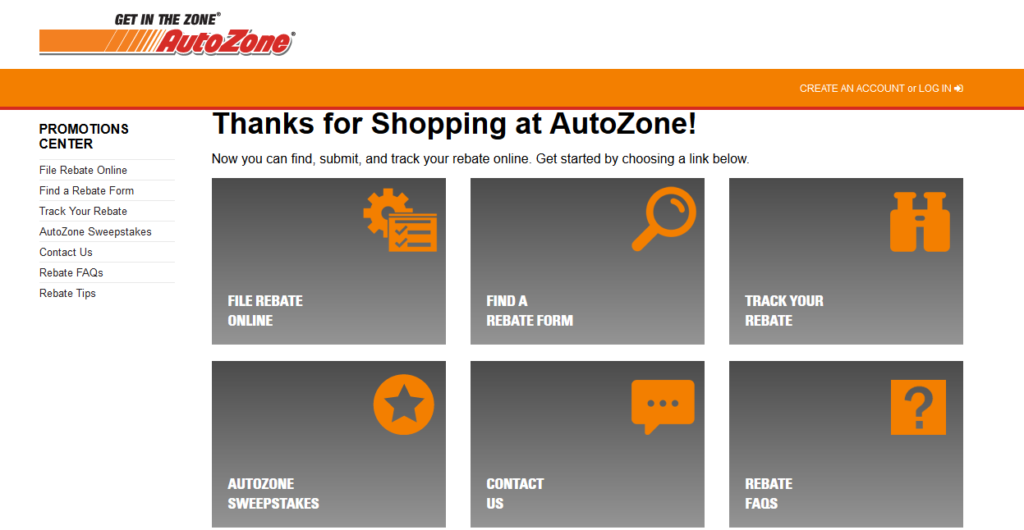 Step 2: Click the button that says, "File A Rebate Online."
Step 3: You will then be directed to a page that asks to login to your AutoZone account. If you don't have one, you will be asked to create one.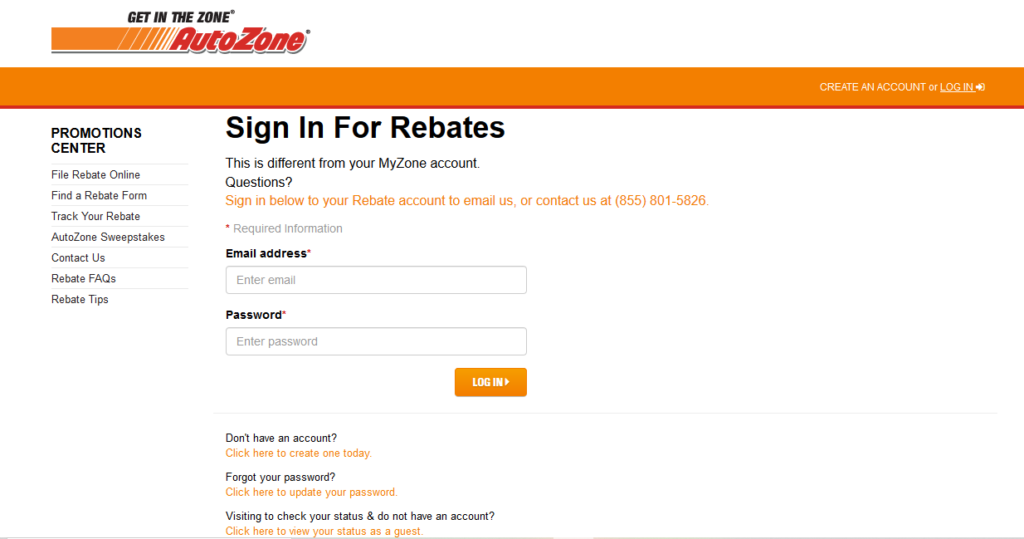 Step 4: Enter the store information and other info from your receipt. If you misplaced your receipt, you can try going to your local AutoZone store to get a copy of your receipt.
Step 5: Upload an image of your receipt.
Note: Make sure the photo format is a JPG, PNG, PDF, or BMP; if your receipt has multiple items with rebate offers, circle the one that you would like to get a rebate for.
Step 6: Agree to the AutoZone rebate Terms and Conditions as well as the Privacy Policy.
---
How Can I Track My Rebate?
After you submit the rebate information, you can check on its status by clicking on the Track Your Rebate button on the promotions website.
Complete the requested information, and you should receive an estimate of when it should arrive.
---
More Information About the AutoZone Rebate Program

You need to make sure that the qualifying purchase occurred during the available dates. If the deadline to submit has passed for your rebate, you will not be eligible to receive your reward. Always check AutoZone rebate terms as soon as you make your purchase to to ensure proper submission.
Rebates are typically limited to a specific number of claims that can be submitted for each customer, household, or address. You will need to read the terms and conditions to see how many rebates will be allowed for the offer your applying for. 
If you are considered unqualified because of missing information, such as your receipt or invalid products, you can receive additional instructions by calling 855-801-5826.
---
Auto Zone Sweepstakes
There are 12 entry periods throughout the year, and there is a total of $2,100 given out in gift cards. The odds of winning the AutoZone sweepstakes depend on the number of eligible entries during the period.
Sweepstakes entries opportunities are sent to AutoZone customers. They are asked to review a recently purchased product. First prize winners receive a $25 gift card while grand prize recipients win a $100 gift card.
You are eligible to enter the company's sweepstakes for a chance to win as long as you are:
At least 18 years old of age

A legal resident of the United States

Have recently made a purchase from your local AutoZone store
---
AutoZone Rewards Program
If you're a frequent shopper we encourage you to check out the Autozone rewards program at www.autozonerewards.com or https://www.autozone.com/rewards.
When signing up you can get a $5 bonus and then a $20 reward for every 5 purchases of $20 or more at Autozone stores or online. 
Once you have signed up for the Autozone rewards program you will be eligible for exclusive promos periodically.
Tracking your rewards is simple all you need is the Autozone App.
---
Related
---
About AutoZone
AutoZone is a U.S. retailer that is the leader in the aftermarket automotive parts industry. Founded in 1979, and based in Memphis, Tennessee, and the chain has more than 6,300 stores across the United States, Mexico, and Brazil.
Contact Information
Phone Number: 1-855-801-5826