It's true that there is no place quite like home; after all, home is where the heart is, right? Perhaps you are renovating your space to make it a little more modern or cozy.
If you have recently at Lowe's shopped for some things for your home, like new appliances, you are in luck! You may be entitled to a rebate. Nothing like some cash back in your wallet. Several brands, such as General Electric, LG, Cafe, and Keurig, offer thousands of dollars in rebates that customers can redeem conveniently online.
Just go to Lowes.com/Rebates to get started. You can submit your rebate, track the status, and find other discount offers. 
---
Our Lowe's Rebate Center Guide for www.Lowes.com/Rebates
If you still have your Lowe's receipt, you can complete a rebate form associated if you purchased a rebate eligible item. Follow the instructions here to receive your rebate. Submitting your Lowe's rebate online is a way to get your cash five to seven days faster than by mail.
Check out some rules before you fill out your rebate information:
You will need to have your receipt. The receipt has the offer number and date of sale of the rebate item.

You will have had to have purchased a qualifying product during the rebate period.

If the item you purchased is rebate eligible, you will see the Lowes rebate details along with the terms and conditions or other purchase requirements needed to redeem the discount.

You will need your mobile phone number and mailing address.
---
Step-by-Step Submit Your Lowes Rebate Instructions
Step 1: Use your preferred internet browser to access www.Lowes.com/Rebates.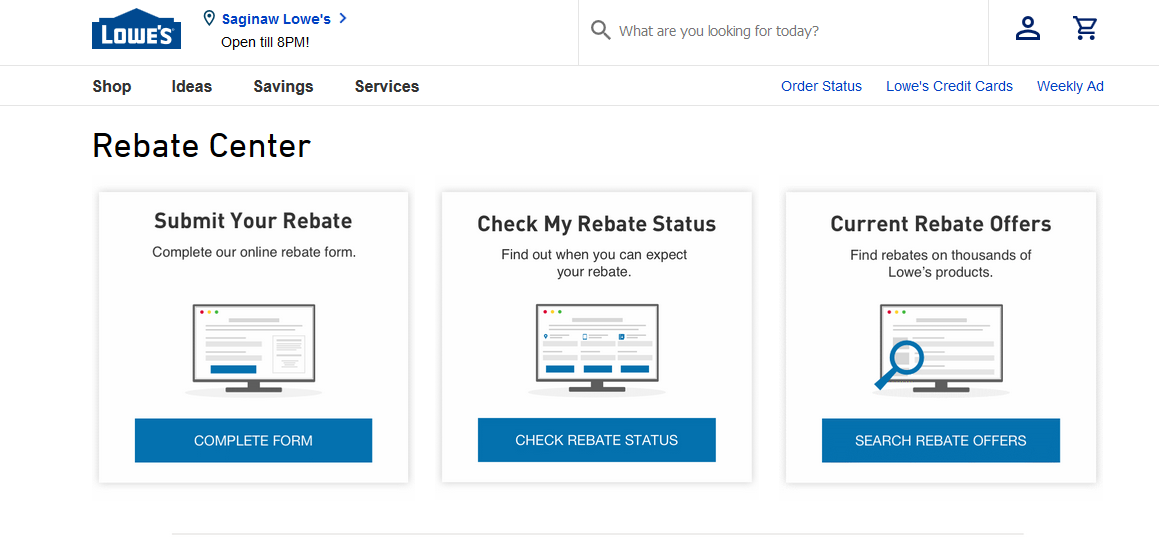 Step 2: Click on the "Submit Your Rebate" button.
Step 3: Enter the offer number for the rebate. Make sure you enter the information correctly.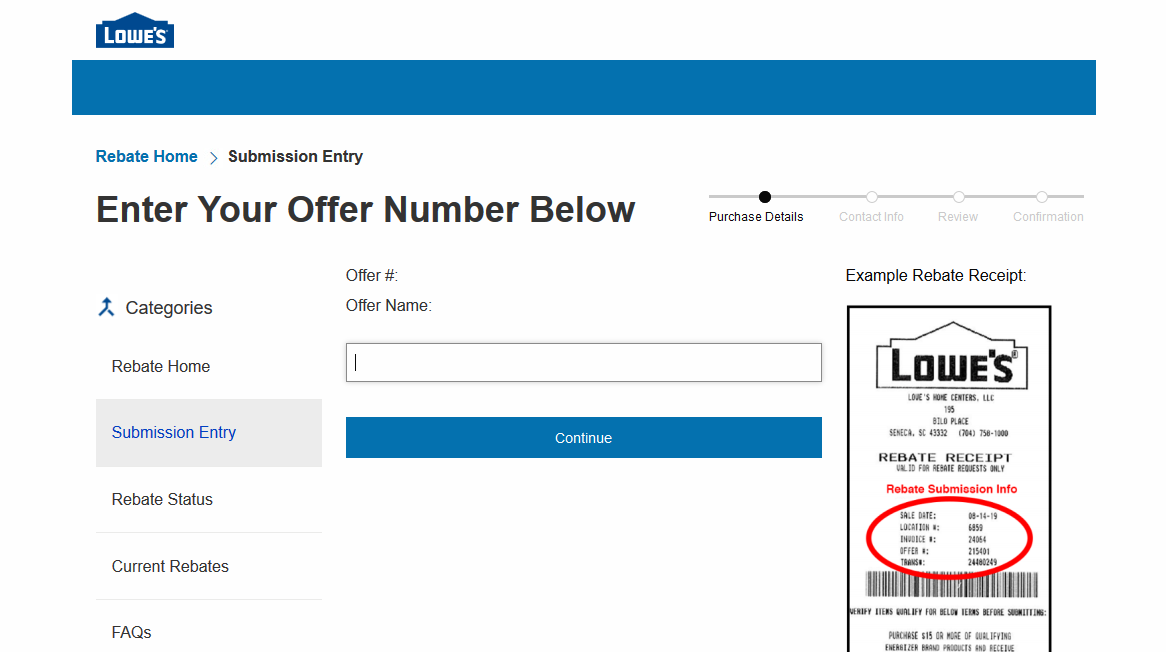 Note: If you are having a trouble finding the information, there is an example of a rebate receipt with the offer name and number circled in red on the site. This section includes the sale date, the location number, the invoice number, and the offer number. 
Step 4: Click "Continue."
Step 5: Enter the store number if the rebate offer requires it. 
Note: If your rebate item was shipped directly to your home, you need to type in 907 for the store number otherwise enter the store number from your receipt.
Step 6: Fill out all other information that is requested on this screen. Enter your email address along with a valid cell phone number and mailing address. Make sure you enter it correctly for correspondence regarding rebate eligibility.
Step 7: Submit your rebate form.
---
More Information About Lowes Rebate Center
To take advantage of the Lowe's rebates program, you will need to make sure that you have purchased a qualifying item from the retail chain. Lowe's has made it easy to pre-shop for appliances so customers can ensure they are getting the most for their money. You can search for current rebate offers and peruse through the name brands before you add the appliance to your cart.
After you submit your rebate, you can check the status at the Lowes rebate center. Just click on the Check My Rebate tab. You can search by confirmation number, mobile phone number, or mailing address.
If your rebate award is a Lowe's gift card, you can also select the option to receive it via email or text message. This rebate process allows you to save time and get your reward even faster so you can get started with your next Lowe's home upgrade.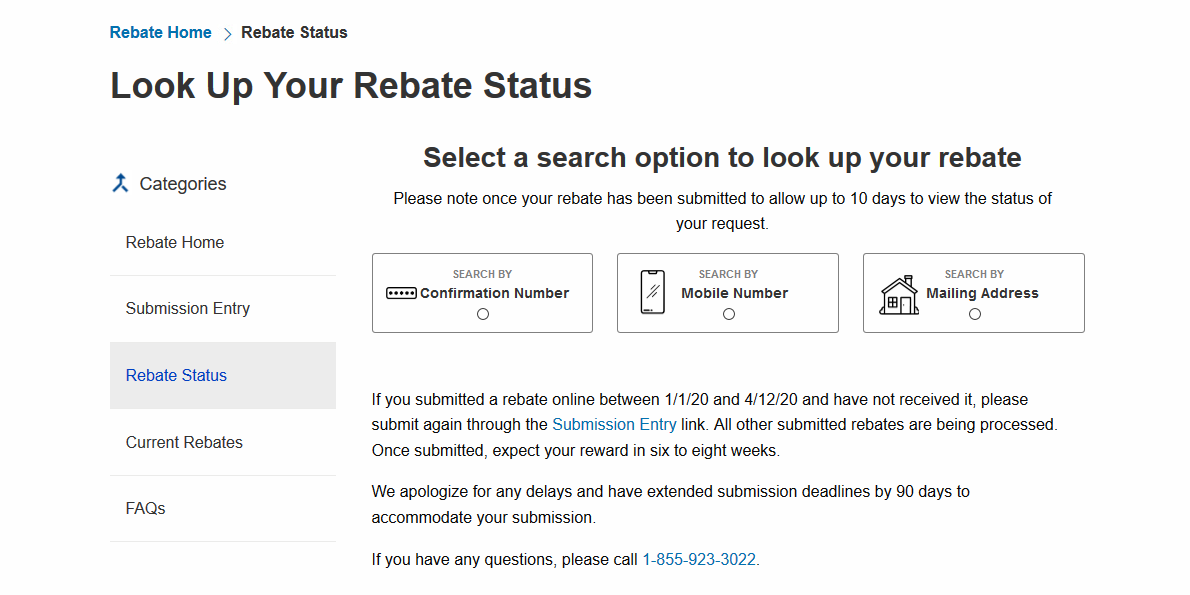 Note: Allow 6-8 weeks for processing before you receive your rebate. You must redeem all Lowe's gift cards at Lowes.com or in a Lowe's stores.
---
Search for Rebate Offers
You can also search for all current rebates on offer including the famed Lowe's 11% rebate before you start shopping. This rebate is a well known 11% rebate that comes in the form of a Lowe's gift card. Click on the Current Rebate Offers button on the rebate center home page. A search tab makes it easy to find products on the site. You can also enter your zip code to see local deals.

Note: You can filter your options by offers, brands, or categories to make your Lowe's rebate search fast and easy.
---
Related
---
About Lowe's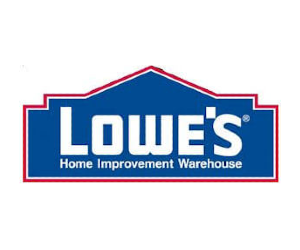 Lowe's Companies Inc. is an American retail company that specializes in home improvement. The chain headquarters are in Mooresville, North Carolina, and the company has more than 2,000 stores in North America.
Did you know that Lowe's is the second-largest hardware store chain in the United States? However, the first one was named North Wilkesboro Hardware. That's because it was opened in North Wilkesboro, North Carolina, in 1921. However, guess who started this hardware store? Lucius Smith Lowe, of course!

Contact Information