Do you have a dog that loves roaming the great outdoors? You probably worry that your furry family member could get fleas or ticks. Fear not because you are in luck because with Simparica. This fast-acting formula will protect your pooch.
The best part is right now, you can earn Zoetis points from purchasing Simparica, and you can use them to get cashback at your next vet visit!
Go to www.ZoetisPetCareRewards.com to get started today!. 
---
ZoetisPetcareRewards Reward Program Guide
Check out these rules and guidelines you should know before starting the Zoetis Pet Rewards program. 
You must be at least 18 years of age to participate in ZoetisPetcareRewards program.

Anyone who is a resident of the United States can participate.

The Zoetis Pet Rewards program is free, and no purchase is required.

Only individuals can participate – no companies or organizations.

Participants must have a valid email address and phone number.

Your pet's prescription must be from a licensed veterinarian. 

It is up to you to know your pet's dosage (which should be at the recommendation of your veterinarian). Zoetis is not responsible for any medicine or dosages are given to your pet. 
Invoice receipts are eligible for Zoetis Rewards for up to 60 days after purchase, and you can expect your invoice to be processed within ten business days with your points going to your account shortly after. If you choose the mail-in or fax option, it can take up to 6 weeks for your invoice to be processed. 
---
Step-by-Step Instructions to ZoetisPetcareRewards.com
Step One: Using a computer or smartphone with an internet connection, go to www.ZoetisPetCare.com/rewards or apoqueloffers.com. 
Step Two: Create an account, or log in to an active account. You will need a valid email address and phone number along with your full name.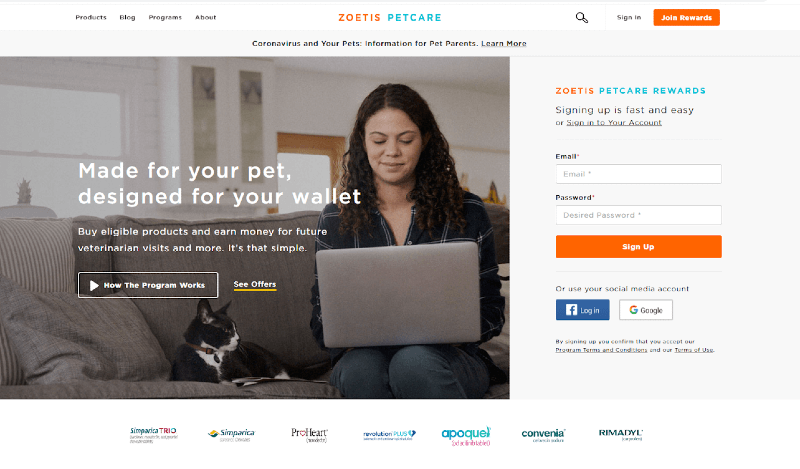 Step Three: Upload your invoice (with either a picture of your invoice using your phone or scanner). The details on the invoice must match the information you give about your animal, including the pet's name, dosage, product name, and prescribing veterinarian. 
Step Four: Complete the submission, and you are done — you have entered all the necessary information!
You can also submit your invoice receipts through the mail or by fax to earn Zoetis Rewards. Follow these steps:
Step One: Go to https://dqix3oiq93d76.cloudfront.net/assets/pdf/zoetis-petcare-rewards-receipt-submission-form.pdf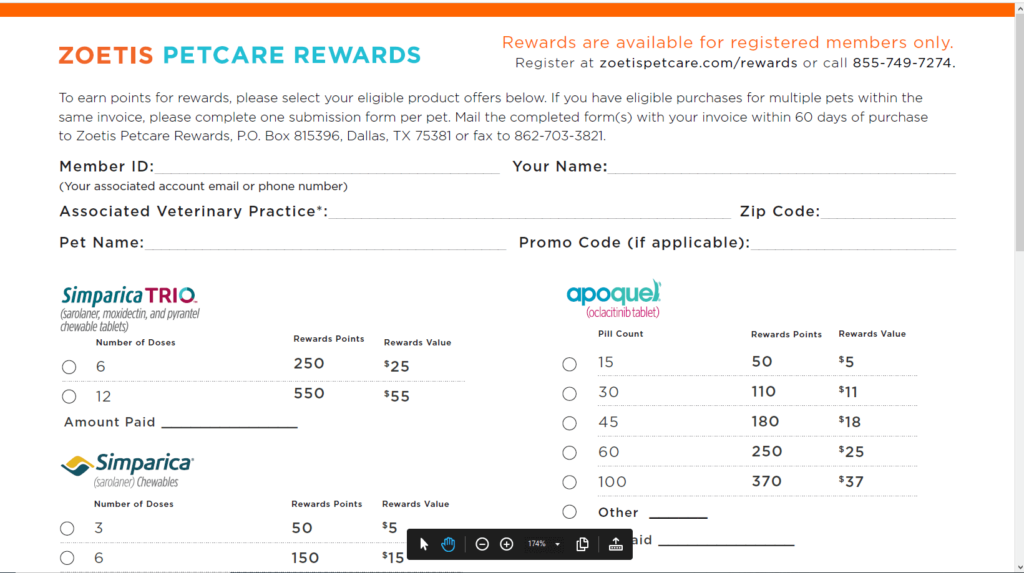 Step Two: Fill out all the details on the form.  
Note: If you have more than one medication on this list, you will need to print out a form for every eligible offer.
Step Three: Make a copy of your invoice – you will need to send it with your completed form if you are mailing. If you are faxing, you can skip this step.
Step Four: Print your completed form. 
Step Five: Mail your completed form and invoice to:
Zoetis Petcare Rewards
P.O. Box 815396
Dallas, Texas 75381
---
Zoetis Pet Care Rebates 
There are several pet care rewards that you can be eligible for, along with the Simparica rebate including rebates from the ApoquelOffers.com website. The Simparica offer will earn you the most points per dose, so it is best to go with that option if you are looking to gain the most points.
Once you reach 100 points on your account, then you can start to use your points! You will be sent a prepaid MasterCard where you can use your points at any participating veterinarian office.
Having your points on a MasterCard makes everything super easy since your points are automatically added on that card. You can carry these rewards in your purse or wallet and forget about it — no memorizing your account numbers or printing off coupons to bring to the vet.
---
Related Rebate Programs Guides
---
About Zoetis
Zoetis has been advancing pet health for over 60 years. In fact, this company is the largest medicine and vaccination producer for pets and livestock worldwide. Their dedication and commitment are how they've grown to be the largest animal health company around the globe. 
This pet care company creates Simparica® (sarolaner) Chewables, ProHeart® 6 (moxidectin), APOQUEL® (oclacitinib tablet), and other products to help keep animals healthy.
Taking care of your four-legged friend has never been easier with the Zoetis team.
Contact Information: 
Product Inquiries 1-888-ZOETIS-1 (1-888-963-8471)

Customer Support: 1-855‑749‑7274

Veterinarian Support: 1-888-963-8471