Do you visit Kwik Trip recently gas, snacks, and other convenience store items? This American chain store not only offers affordable products with quick service, but you can also earn rewards on your everyday purchases. Each time you buy something you can earn points. As you collect your points, you can redeem them for free food and merchandise, fuel discounts, coupons, and more.
Go to www.KwikRewards.com to sign up. You can also log into your membership and track what you've earned — it's fast and easy! 
Just read on below for our review of this program and learn how you can maximize your benefits!
---
Our Kwik Rewards Program Guide
Whether you need refuel, wash your car or grab a quick snack, you can get everything you need in one stop while all while earning some free stuff. However, you must take note of the following restrictions before you proceed.
• To qualify you must be 18 years or older
• You must be a legal USA resident
• You must understand English and be able to read
• You need to be able to access the internet because the registration is an online process
• You also need a rewards number, which can be seen on the reward card you get from these stores
• You must have a reliable email address and phone number
Are you ready to earn points toward free food and merchandise, discounted fuel, exclusive coupons, and other offers? The company has launched a mobile app available on both Apple Store and the Play Store to make things easier. You also get the latest discounts, promotions, and more by creating an account. 
---
Step-by-Step KwikRewards.com Registration Instructions
Just follow these basic instructions. Keep in mind that you have to visit an actual store to get your rewards card. 
Step 1: Visit any Kwik branded store.
Step 2: Buy one of their products from the cashier and ask for a rewards card. You will this to sign up for the program online. 
Step 3:  Visit KwikRewards.com or KwikTripRewards.com using your preferred browser on your mobile phone, tablet, or computer.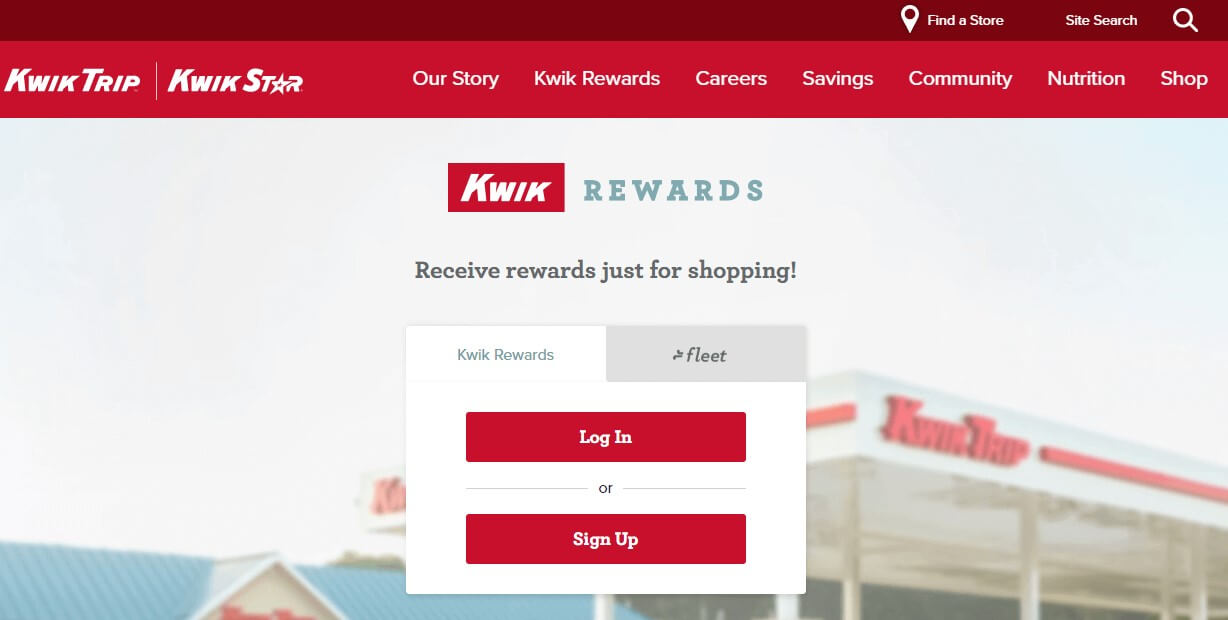 Note: You can also visit KwikTripRewards.com
Step 4: Click the "Sign Up" link to create a new account.
Step 5: Select the "Kwik Rewards" option as you sign up.
Step 6: Scroll down, and enter the 16 digits reward number on your card.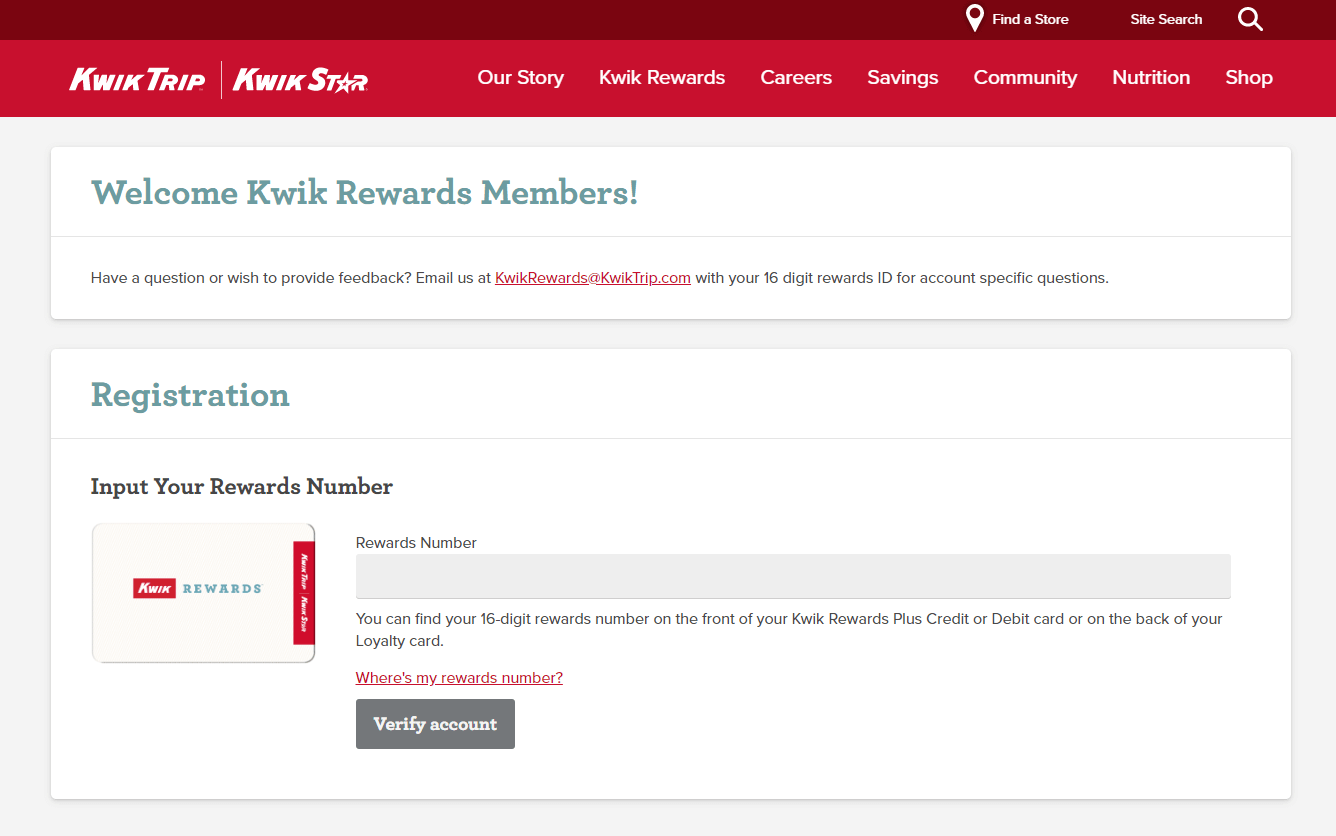 Step 7: Tap the "Verify Account" button to verify your rewards account.
After you've provided the required information, you will be redirected to create your account.  
---
Logging Into Your Account
1: Visit KwikRewards.com into your preferred internet browser.
2: Click the "Log In" link on the homepage.
3: Select "Kwik Rewards" or the fleet option if you are a fleet management member.
4: Click the "Log In" button and you will be redirected to the appropriate page.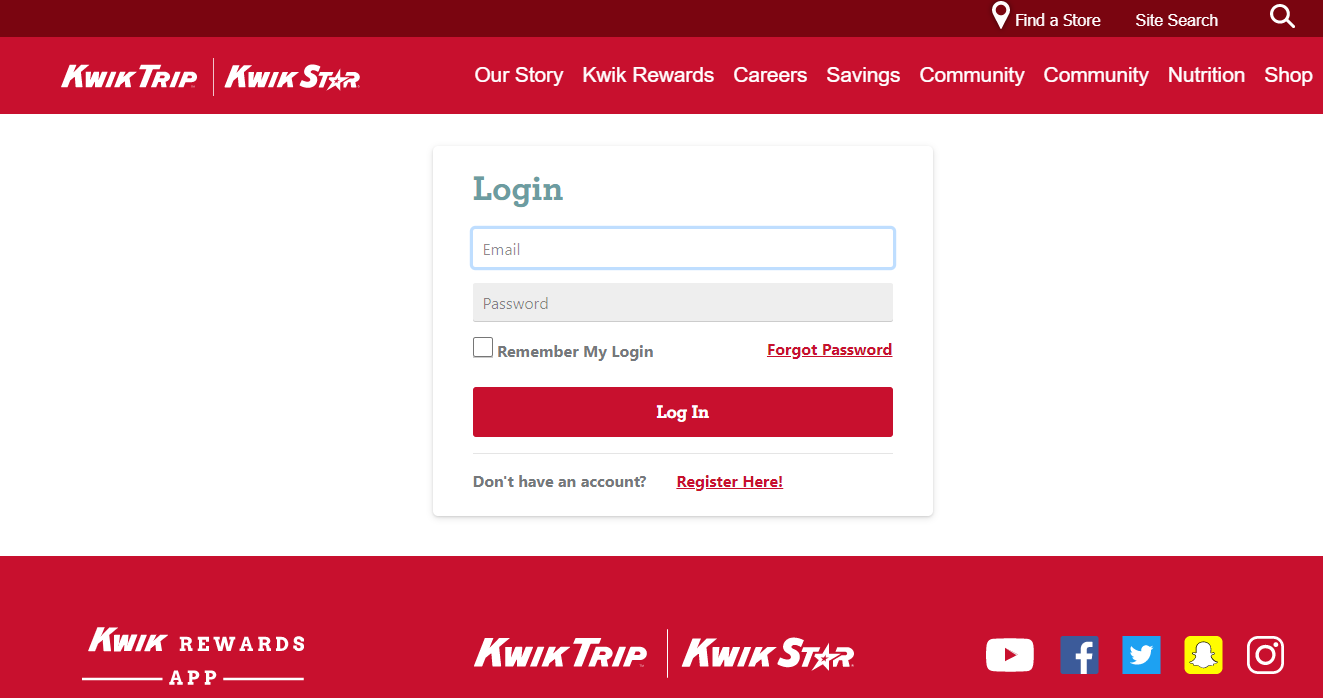 5: Enter your email in the first field and then input your password in the other one.
6: Click the "Log In" button.
You begin to earn points for every purchase you make after you've created an account. Interestingly, the more your points increase, the more the items you can redeem from the stores. You may decide to save up for hot food and fresh sandwiches, beverages and snacks, fuel, or whatever you desire. Also, you get a considerably huge discount on fuel by signing up. You only need to purchase the products that qualify you for such offers. Furthermore, you can decide to add coupons on your rewards card, which you can redeem as you check out.
---
Related
---
About Kwik Trip
Kwik Trip, Inc. started with humble beginnings in 1965. The first store was opened in Wisconsin, and the headquarters are located there as well. Over the decades, the American convenience store chain added more amenities, including Glazer Donuts, car washes, and alternative fuels. The helpful store also offers a fresh food program as well as a hot spot. By 2016, there were over 500 stores across the Midwest USA. In Iowa, their convenience stores are known as Kwik Star. The company created the rewards program in 2018, which has over a million members. 
Contact Info