How often do you put gas in your vehicle? You might even purchase a couple of candy bars and soda pop while you are filling up at the pump. If you go there for fuel, snacks, and other convenient items, you should sign up for the Speedway Rewards card. It's fast and easy! Just go read this guide below to get started. 
After you register, you can earn and use your points to get free items, save on gas, and even have the chance to win a $500 sweepstakes. You can put your rewards card on your keychain and start racking up the points right away. 
---
Our Speedy Rewards Program Guide
For every gallon of fuel, you will earn 10 points. You also get 20 points for every dollar you spend on items in the store. Each month, you should look for special deals that award you bonuses. 
You can also join clubs, such as the beverage club or gaming and music club. When you purchase a specific amount of those items over time, you eventually get a free one. You should also check out their site to learn about monthly perks, fuel savings and earning more with partners. 
Here are some essential rules you should know about the rewards program before joining…
You need to be 13 years of age or older to register

You must have a phone number and valid email to register and access your online rewards account. 

You do not receive points for certain purchases, such as lottery, tobacco, or alcohol. Money orders, prepaid cards, NetSpend, Vanilla Visa, PayPal, or Green Dot reloadable cards are not valid for points. Other merchandise may also be excluded depending on the state.
---
Step-by-Step SpeedyRewards.com Register Instructions
To earn and use your rewards you must register your account online. It only takes a couple of moments to sign up, and you will be on your way to redeeming for free merchandise. 
Step 1: Go to www.SpeedyRewards.com or speedwayrewards com using your preferred internet browser.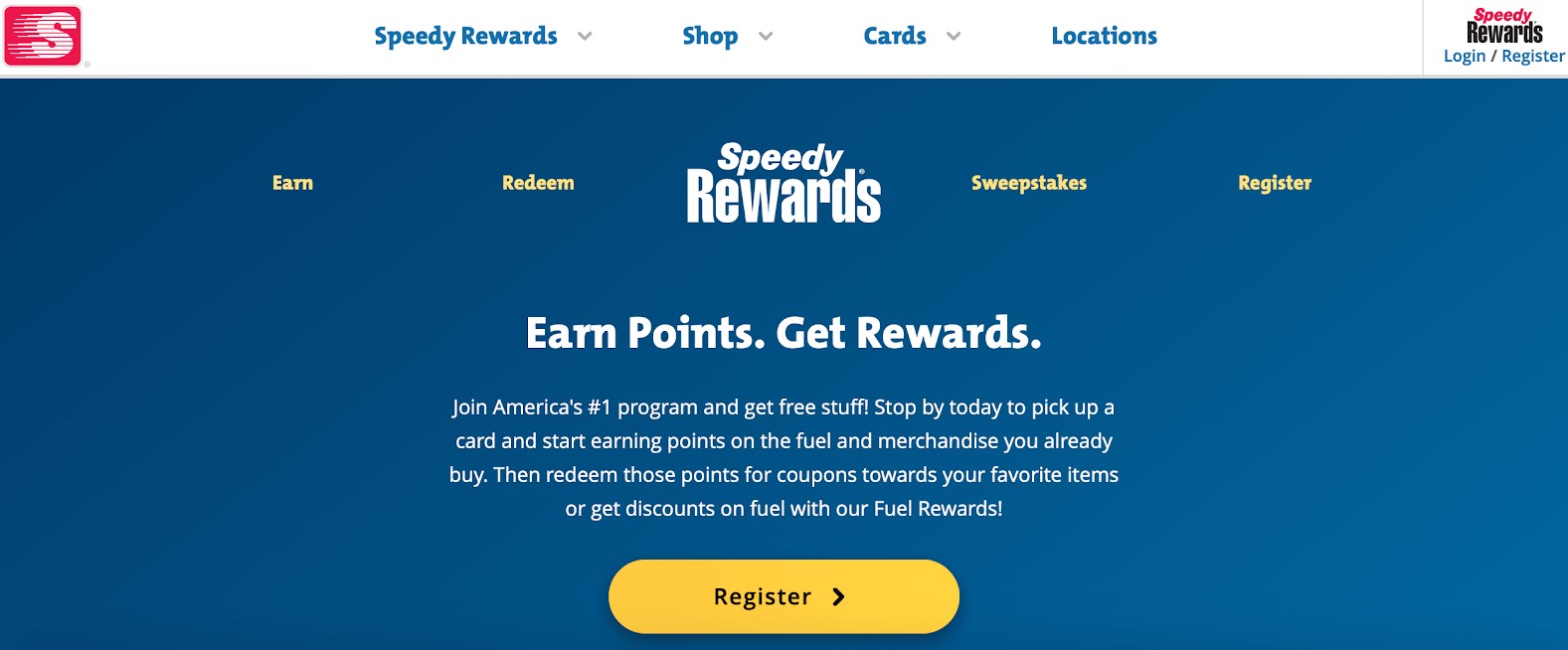 Step 2:  In the top right corner, a link says Login or Register. Click Register to sign up for your rewards card. 
Step 3: Enter your name, email, phone number, and passcode. Type in the passcode again for confirmation.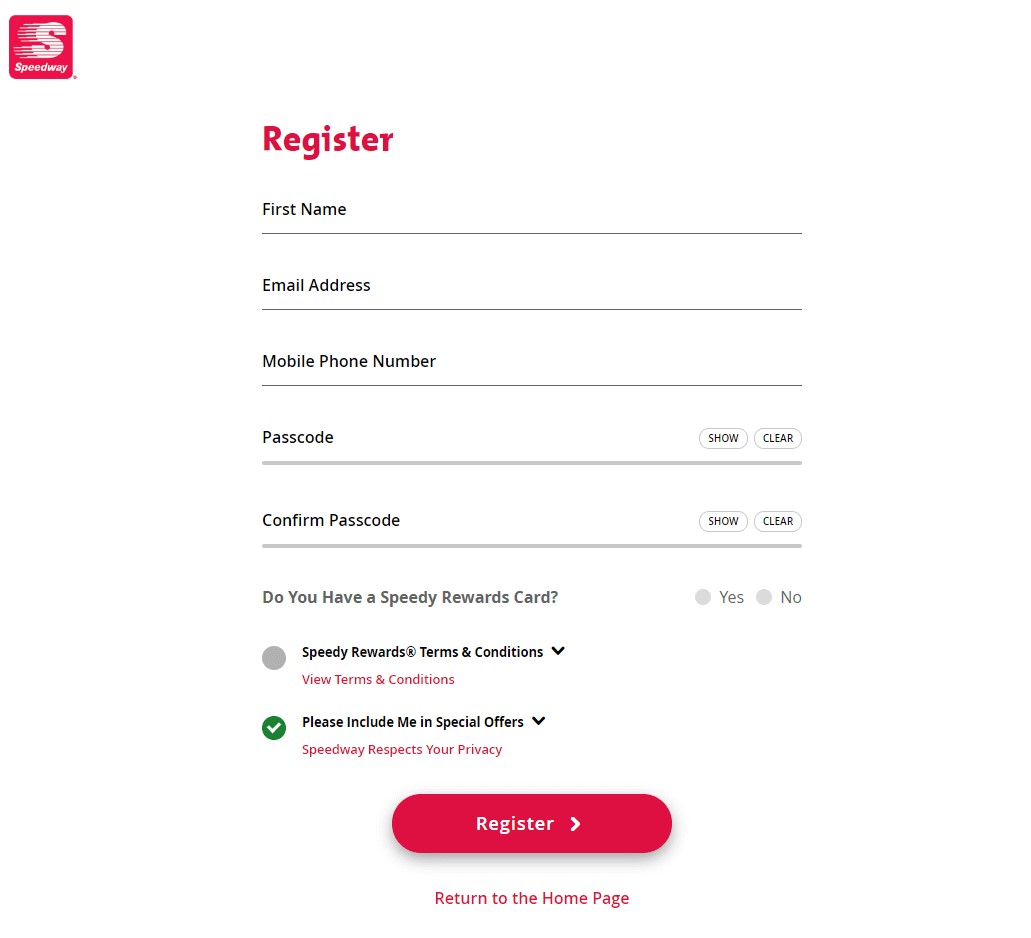 Step 4: Answer whether or not you received your card yet. You also have to agree to the terms and conditions. Finally, determine if you want specials offers sent to you and click Register. 
And there you have it! You will receive a confirmation email that you are set up for the rewards program.
After you register for this rewards program, you can easily log into your account. Select the Login link on the homepage and enter your email and password. From there, you can access your account information, including how to earn and redeem your points. 
---
How to Redeem Speedway Points at speedwayrewards com?
You already know that you can earn every day just by buying stuff you need from any Speedway. Whether you purchase fuel, store merchandise, or special offers, you will get points. Redeeming those is just as simple as earning them!
It doesn't matter if you earn in the store or at the pump; you can redeem your points fast and easy. There are mulitple ways to use your points, including in the store or through the mobile app. 
If you prefer the in-store option, go to the kiosk inside your local Speedway. Follow the prompts to access your points. The booth will print a coupon for whatever reward you selected. Present this coupon to the retail associate during your purchase. 
Suppose your store doesn't have a kiosk. During your purchase, you can pay with your points using the machine at the register. Ask the retail associate for help if you need assistance. 
The third way to redeem your rewards is by downloading the Speedway app on your smartphone. Using the app, you can redeem and select a reward. Your coupon is digitally ready on your phone; present the code to the staff during checkout to get your free items. 
At the rewards website, under the redeem points tab, you can also filter by free items, fuel discounts, and gift cards to determine your reward. 
---
Sweepstakes
You can use your points for sweepstakes contests. If you want to score a big prize rather than redeeming for a small snack, enter the sweepstakes. Each month, there are multiple sweepstakes for gift cards ($500 each) to Speedway and other popular retailers (like Walmart). 
Entering into the sweepstakes is easy. Follow these steps:
Step 1: Go to SpeedyRewards.com and under the rewards tab, click on Enter Sweepstakes.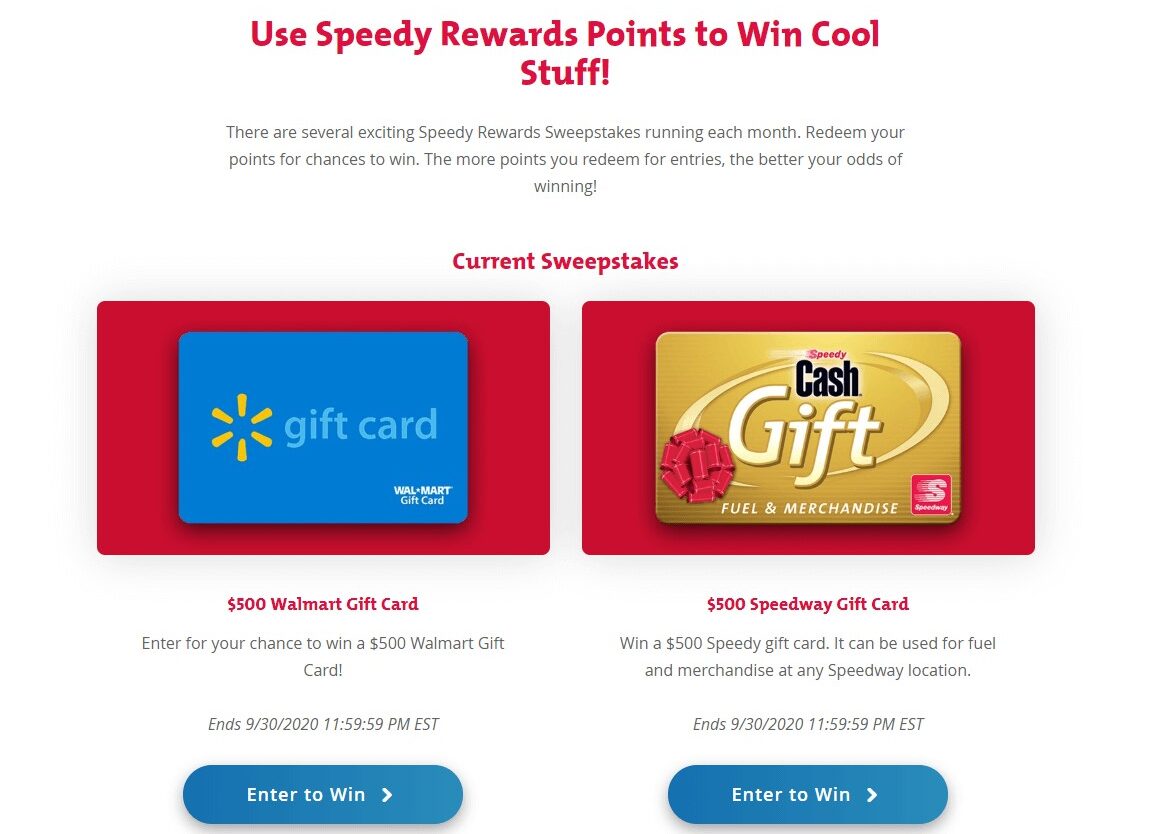 The more points redeemed, the better the chance you have for winning. 
Step 2: Click the Enter to Win tab for any and all sweepstakes you want to participate in. 
Step 3: Login into your account to complete the entry process. Follow all of the prompts, and you should receive a confirmation email of your submission. 
Please be aware that the odds of winning depend on the number of eligible entries. Make sure you pay attention to the submission deadline as well and enter within the correct timeframe. To qualify for the rewards Sweepstakes, you must be at least 18 years old. A list of previous Speedy Rewards sweepstakes winners is available on the website. 
---
About Speedway
The first Speedway opened in 1959. However, the American convenience store and gas station chain dropped the extra numbers quickly after that. With headquarters in Enon, Ohio, it has grown to the second-largest convenience store in the United States. There are about 3,9000 stores spread across 32 states. Although most of these self-serving stations are located along the East Coast and throughout the Midwest, it continues to be a favorite thanks to its excellent service, prices, and rewards.