Do you want a free donut? If you have visited a Dunkin' Donuts recently and kept your receipt – you are in luck!
You can be rewarded with free food items, coupons, and other rewards. All you need to do is fill out the survey at https://www.telldunkin.com within 3 days of purchase.
---
Our Dunkin Donuts Survey Guide
Dunkin' greatly appreciates honest feedback about your recent experience at the store. It lets them know the things that are working well for the business, and areas where there is room for improvement. Recognition for employees is important; however, if you had a bad experience the company wants to hear about it to make things better.
This guideline for the TellDunkin survey will help you get through the few simple steps. After completing the survey and providing your valuable feedback, you can earn some goodies.
You must adhere to these rules and regulations before starting the Dunkin survey:
You should be at least 16 years old
You need a smartphone or computer with an internet connection
You must have the Dunkin' Donuts purchase receipt
You must use a purchase receipt at the Tell Dunkin guest survey site within three days of your store visit
---
Step-by-Step TellDunkin.com Survey Instructions
Once you have your receipt and your computer/smartphone, you are ready to begin! Simply go to telldunkin.com, and it will direct you to the Dunkin' Donuts Survey.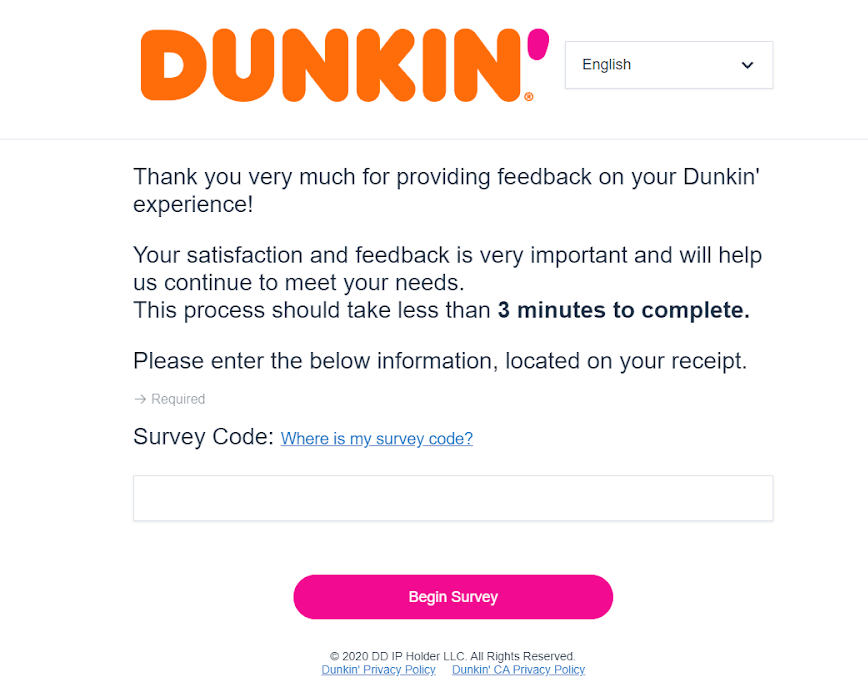 It will only take about three minutes to earn your reward for completing the dunkin survey.
Step 1: Go to telldunkin.com to be directed to their survey site.
Step 2: Make sure you enter your preferred language: English or Espanol.
Step 3: Have your receipt ready! You will need the 18-digit survey code at the bottom of your receipt. Type that survey code into the text box.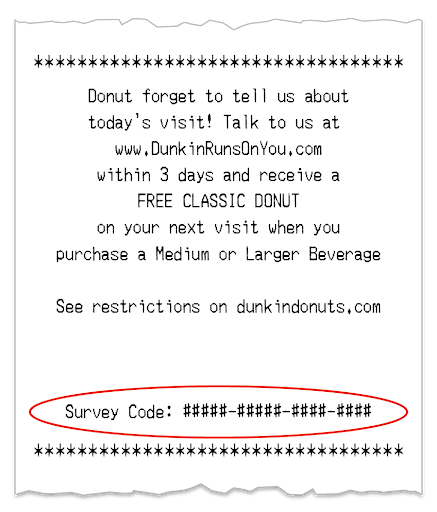 You can easily found your survey code at the bottom of your recent purchase receipt.
Step 4: Click "Begin Survey"
Step 5: Answer the questions honestly.
Note: These questions will be about your overall experience with Dunkin' Donuts. You will be asked about the quality of the food you received, how fast your order was ready, the restaurant's cleanliness, and other straightforward inquiries about your satisfaction.
Note: Most of the questions will be a simple rating system by answering a scale of one through five for satisfaction; however, there will be an opportunity for you to make comments, recommendations, and suggestions. If there was a particular employee and remember the name, give them a shout out in this section!
Step 6: Write down your coupon code on your purchase receipt.
Note: You need this validation code to receive your reward! You also need to bring your receipt to the store with the coupon code, so the easiest thing to do now is to write the coupon code on your receipt.
Take your validation code and purchase receipt to your nearest Dunkin' to redeem your reward. Is it a free donut or something even more valuable?
---
TellDunkin.com Survey Rewards
The most common reward after completing the customer satisfaction survey is a free donut with the purchase of any medium or large beverage. This scenario is a win-win situation; you get free goodies, and Dunkin gets your valuable input!
If it is a Dunkin Donuts/Baskin-Robbin combo, then the reward might be good for one free three-ounce soft-serve cone or one free donut with the purchase of a medium or larger beverage.
Please keep the following in mind before completing the survey and earning rewards:
You can only use one coupon per visit
You cannot transfer or share any rewards
You cannot combine the rewards with any other promotions or coupons
The reward is void if copied
You must present your purchase receipt with the written validation code to redeem the reward
You have 14 days to redeem the reward using the validation code
No substitutions for any reason
You must bear the tax leftover after the coupon is used
You must forfeit receipt to store after use
Cash value for the reward is 1/20th, or $0.01
Enjoy your free treat! Don't forget to ask for your receipt every time you make a purchase. You can receive a free donut every time you complete the dunkin survey.
---
Other Reward Surveys Worth Checking Out
---
About Dunkin' Donuts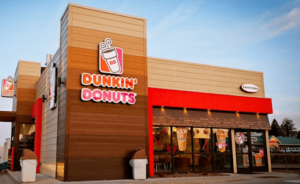 In 1950, Bill Rosenberg opened the first Dunkin' location in Quincy, Massachusetts. People have been enjoying their delicious coffee and donuts ever since.
Dunkin' now has over 12,000 coffee locations in 42 different countries. From tasty donut holes and bagels to several times of coffee, America runs on Dunkin'!
---
Company Contact Info
If you want to provide feedback, please contact the following: 1-800-859-5339 from Mon-Fri: 7AM-7PM EST
You can also reach out to customer care about the Dunkin perks or with mobile app questions at: 1-800-447-0013 from Mon-Fri: 7AM-7PM EST
Mail any concerns to:
Dunkin' Donuts Support
130 Royall Street
Canton, Massachusetts, 02021
Website: https://www.dunkindonuts.com