Have you eaten at Popeyes within the last two days, and kept your receipt? IF so this fast-food restaurant is giving away rewards for completing the restaurant survey on the back of the receipt.
Visit www.tellpopeyes.com and complete the quick and easy survey about your experience. After completing the questions, you have the chance to win coupons, vouchers, or gift cards valued at up to $1,000.
---
Our Popeyes Chicken Survey Guide
An invitation to complete a survey for Popeyes is printed on the back of selected receipts. You have to visit the Tell Popeyes survey website to complete the customer satisfaction survey from your computer or smartphone. Tell Popeyes goal is to gain knowledge about your most recent experience based on your valuable feedback. In turn, the restaurant offers rewards to customers who fill out the survey.
Does your receipt indicate a reward is available for completing the survey? You can give your feedback at www.tellpopeyes.com at any time of the year, in Spanish or English. 
Check out these rules before starting the customer satisfaction survey:
You must be 16 years or older

You have to be a citizen of the United States of America

You must be in possession of the receipt with the survey invitation code

You can only take the survey once per month

You should have made at least one purchase before completing the survey

You have two days from your purchase date to use your receipt to redeem a reward for completing the survey
---
Step-by-Step www.TellPopeyes.com Survey Instructions
To complete the Tell Popeyes customer satisfaction survey, you should follow these steps:
Step 1: Go to https://tellpopeyes.com
Step 2: Click the Take Survey button
Step 3: Enter the number of the restaurant, time and date of your visit, and the bill amount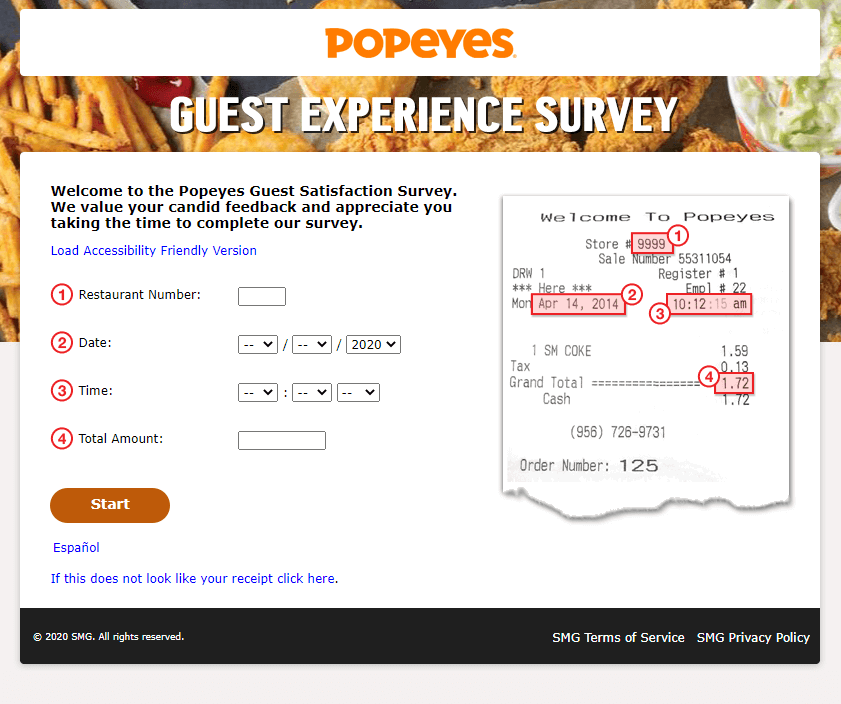 You also have the option to load accessibility friendly version, Español version, or review other receipt layouts to find all the information you need.  
Note: If you do not have a receipt, you have the option to give general feedback at this time. Please click continue, and you'll be redirected to a page where you can provide feedback. You can explain your visit details, contact information, and share your experience. After agreeing to the privacy policy and completing a captcha, you can submit your details. You will receive a reference number to confirm your response.
Step 4: To continue with your receipt, click start to begin the customer satisfaction survey
Step 5: Answer each question based on your last experience with Popeyes restaurant and click next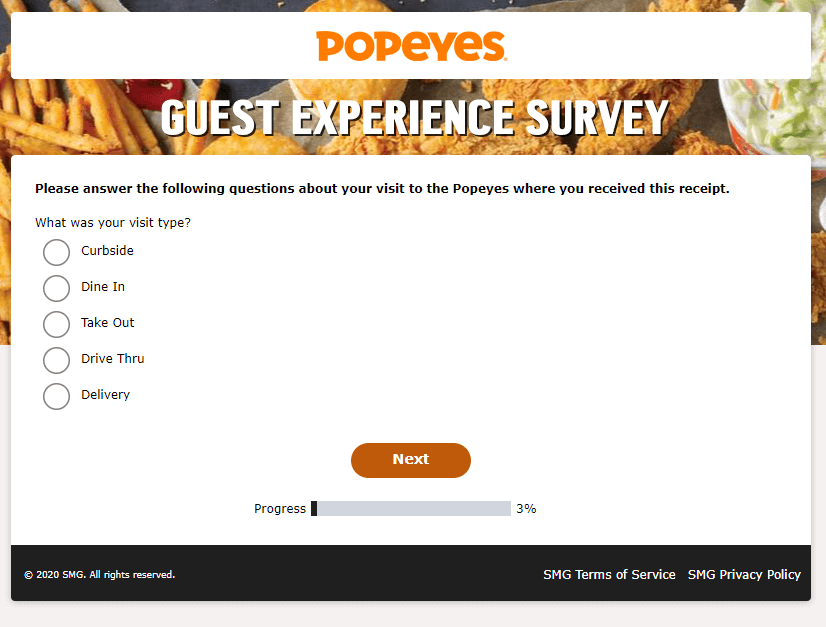 You will be able to see the progress as you go through the survey
Note: The survey questions will invite you to explain your most recent visit to Popeyes. They are straightforward, such as: 
What was your visit type?

Was the order served as you asked?

Were the food items fresh?

How was the cleanliness of the restaurant?
Step 6: Click submit after filling out the survey details
Step 7: Enter your name, contact details, age, and income
Step 8: Click finish to complete the survey to become eligible to enter the Popeyes sweepstakes
Step 9: Write down the validation code to redeem rewards (vouchers, coupons, gift cards) at Popeyes
Step 10: Wait for the monthly winner to be announced and contacted via email
With your validation code written on your receipt, visit any Popeyes Louisiana Kitchen restaurant to redeem your reward as soon as possible. Is it a two-piece chicken and biscuit with the purchase of a large drink? Maybe you won a more valuable coupon!
---
TellPopeyes.com Survey Rewards
After answering the basic questions with honest feedback about your experience at Popeyes , you can receive a validation code to redeem a reward. In some cases, it is a free 2-piece chicken and biscuit with a purchase of any large drink!
Here is some more essential information you need to know about the monthly sweepstakes with Popeyes survey:
The monthly gift is often a $1,000 gift card for Popeyes

Winners are notified with details via email they registered with for the survey

You can fill out the survey and enter the sweepstakes once per month

Gift card amounts cannot be transferred to other accounts

Gift card amounts cannot be shared with or redeemed by other people

The price on the gift card is valid for a limited time, usually within 30 days

Keep in mind you should be aware of the rewards available before starting the survey
---
Other Reward Surveys Worth Checking Out
---
About Popeyes Louisiana Kitchen
Do you love chicken? Popeyes knows chicken – delicious, southern chicken. For over 40 years, this restaurant has proudly served the United States as one of the best fast-food chains.
The first Popeyes was established in New Orleans in 1972. It's one of the excitedly great fast-food chains throughout America, with bonafide chicken, flaky biscuits, tasty seafood, and yummy sweet tea!
---
Company Contact Info