Could you use an extra $500? Well, you're in luck! If you have recently visited Taco Bell and kept your receipt, you can enter the Taco Bell sweepstakes. For each drawing there are 4 lucky winners who get a $500 cash prize. 
---
Our Taco Bell Survey Guide
Whether Mexican cuisine is your favorite or not, TB is one of the most recognizable brands. Maybe that is why they can give up to $26,000 in prize money during their 13 prize periods through their Tell The Bell customer feedback survey. There are four winners for each prize period, which makes your chances of winning even greater!
Before beginning the survey, which can be in Spanish or English, there are a few essential things that you should know before entering the sweepstakes. You can find a convenient PDF file at the bottom of the page under "sweepstakes rules." You will also find a list of their entry period dates for all 13 prize periods here.
You need to be 18 years of age or older and a legal resident of the United States.

You get one entry per prize period and only one entry per receipt. 

You must have a valid phone number – that is how you will be contacted if you win.

You need a phone or computer with a reliable internet connection.
---
Step-by-Step TellTheBell Survey Instructions
Step 1: On your computer or smartphone, go to www.TellTheBell.com with your preferred internet browser.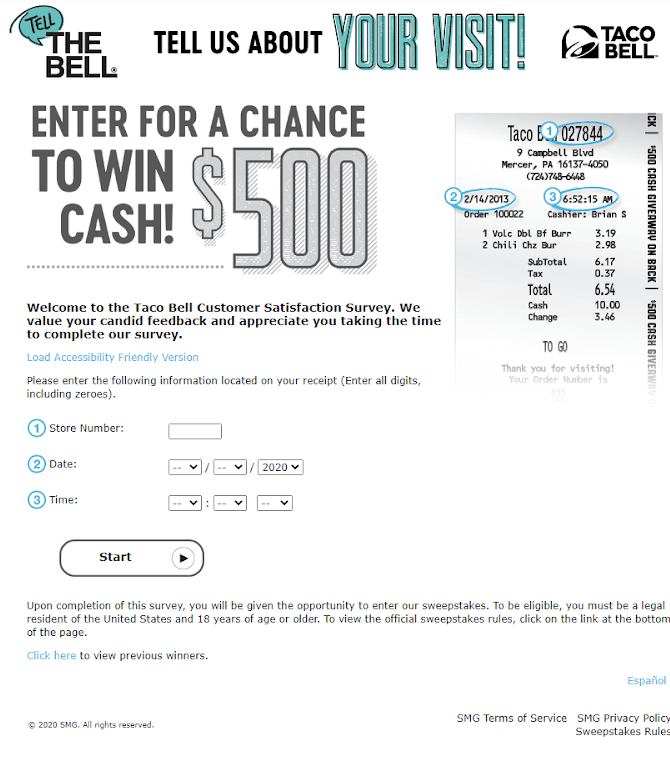 Step 2: Fill out the store number, date of your visit, and time of your visit.

Step 3: Click "Start" to begin the survey. Continue by inputting your unique 16-digit survey code.

Step 4: Answer several questions regarding your experience at Taco Bell.
Note: Some of these questions will be multiple choice. Expect to answer questions about how you ordered (drive-thru, dine-in, online), how fast and friendly your service was, and other related inquiries to the quality of your food and visit.
The questions will be multiple choice and range from highly satisfied to highly dissatisfied. Make sure to answer honestly!
There will also be a chance to type in any additional comments you may have. This survey is an excellent opportunity to recognize an employee who went above and beyond your expectations.
Step 5: Once you have completed the survey questions, you will be asked if you would like to enter the sweepstakes – select "Yes."
Step 6: Enter your first and last name and your phone number. If you win, expect a phone call at the number provided within a few days of the sweepstakes drawing period. Make sure these details are correct, as this information is mandatory. Once you have filled out this information, click "Next."
That is it — you submitted your customer satisfaction answers! You finished the online survey, and you have been entered into the $500 sweepstakes.
---
TelltheBell.com Survey Rewards 
There are a total of 52 prizes, totally up to $26,000 if all of the winners claim their rewards. That is 13 prize periods, with four winners per prize period.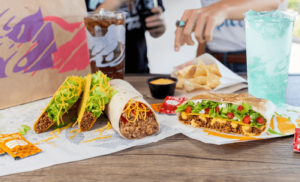 Did you win? Get ready for a phone call over the next several days after the sweepstakes drawing is complete. You will be contacted by telephone to get your mailing address. 
If you cannot be reached at that time, a voicemail will be left, and you have three business days to call back. If you do not call back, that prize will become null and void. 
Once you are a confirmed winner, you will receive your reward by mail. You can expect that delivery within 6-8 weeks. Please, keep in mind that these delivery times might vary.
Please keep the following in mind before entering the TellTheBell.com survey
The prize limit is one per household.

If you win, you are responsible for any applicable taxes and fees.

The company may substitute any prize with a prize of equal or greater value; however, no other substitution prize is allowed. 

Unclaimed prizes will not be awarded.

The odds of winning the taco sweepstakes depend on the number of entries.

Once you enter the sweepstakes, you have permitted to have your name listed if you are a winner on the company's "winners list."
Also, remember – offering feedback is a chance to help the company serve you better! The restaurant appreciates honest feedback from its customers, and you have the opportunity to provide that.
---
Other Restaurant Surveys Worth Checking Out
---
About Taco Bell
Taco Bell is a chain restaurant that was started in Irvine, California in 1962 by Glen Bell. Did you know that Bell opened a hot dog stand first, but saw the success of a nearby Mexican restaurant and switched his menu? 
This infamous taco chain is now owned by Yum! Brands Inc has other chains such as KFC and Pizza Hut. The company serves a variety of Mexican cuisine such as burritos, quesadillas, and, of course, tacos. The restaurant chain serves over 2 billion people every single year at over 7,000 restaurants across the globe!
Contact Info
Customer Service: 1 (800) 822-6235