Would you describe yourself as a movie buff? Whether it is the matinee or a date night, you are always down for a trip to the theater. Besides, not everyone wants to be a couch potato or Netflix and chill. You can watch all of the upcoming movies at Regal cinemas. In fact, if you just recently visited Regal, you have the chance to win a $100 gift card. All you have to do is complete the survey at www.TalkToRegal.com.
---
www.TalkToRegal.com Survey Guide
Regal, a Cineworld Group subsidiary, has over 500 cinemas across the United States and American Samoa, the District of Columbia, Guam, and Saipan. Regal theaters offer student and military pricing as well at specific locations, some restrictions apply.
Every month, the Regal cinemas give away a $100 gift card to those who complete their Talk To Regal survey, or who send in a written postcard.
Here are the rules and guidelines you should know before completing the Regal Customer Satisfaction Survey:
Participants must be 13 years of age or older.
Participants must be US citizens.
You need a code from your receipt to participate in the survey.
Participants must have a valid email address – that is how you will be contacted if you win.
Only one code per person per entry.
The code expires 20 days after the purchase date.
Your are not eligible if you are from Puerto Rico, Hawaii, Alaska or Maine.


---
Step-By-Step TalkToRegal.com Survey Instructions
Before you begin, you must have either a computer or a smartphone with an internet connection. You should also have your receipt ready, with the validation code.
Step 1: Go to www.TalkToRegal.com to complete the Regal customer feedback survey.
Step 2: In the upper right-hand corner, choose if you would like to complete this survey in English or Spanish. It will automatically be set to English when you first arrive at the site.
Step 3: Enter a valid email address.
Step 4: Input your survey access code from your receipt.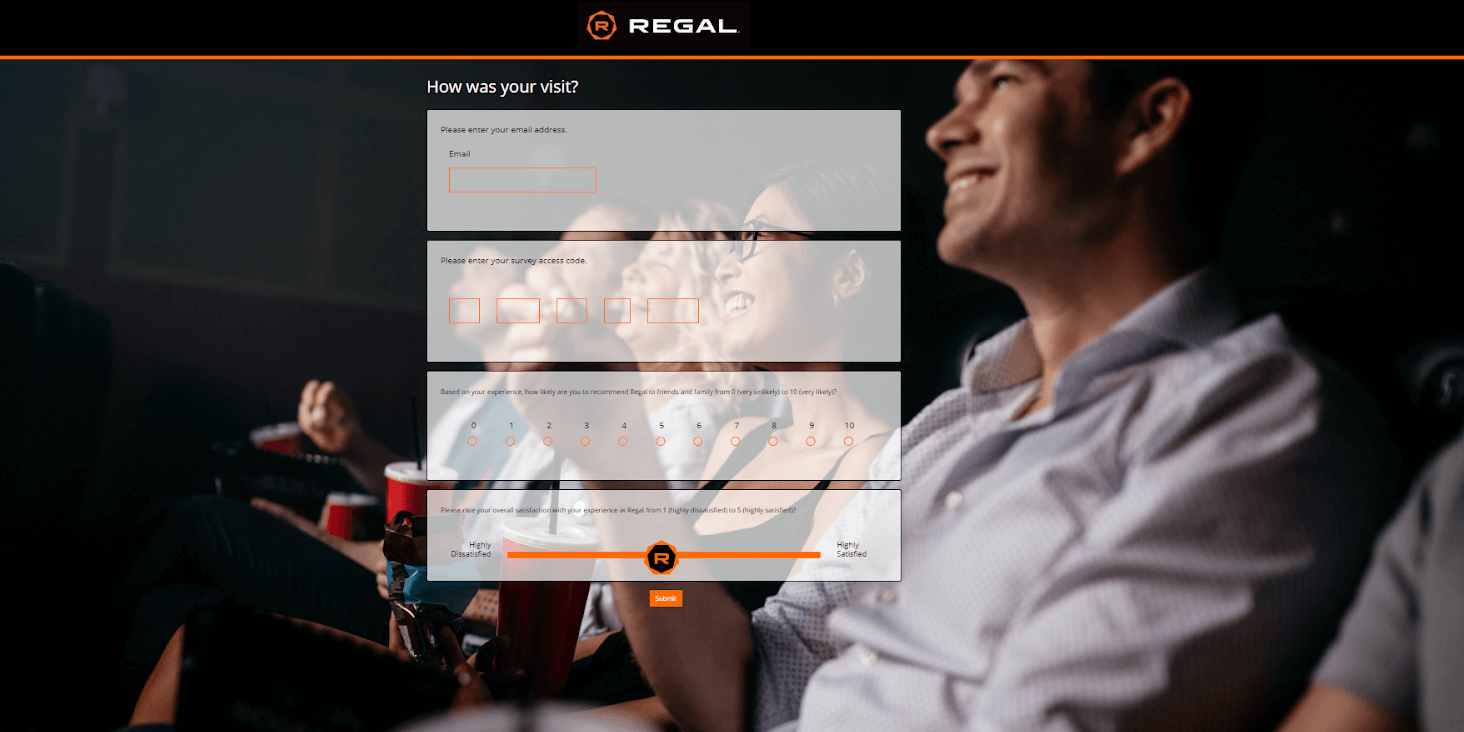 It will only take you a few minutes to complete the Regal survey. Then you have the chance to win $100 gift card.

Step 5: Rate how likely you recommend Regal Cinemas to friends and family (zero being not likely and ten being very likely).
Step 6: Evaluate your overall experience with Regal. Use the "R" icon and drag it with either your cursor or finger on a smartphone to "Highly Dissatisfied" on the left or "Highly Satisfied" on the right. It is a sliding scale from 1-5.
Step 7: Fill out the comment box answering the question, "Why did you give us that rating?" from the previous question. Be honest and give additional feedback if you have any.
You can also enter the sweepstakes by mail. Here are the steps on how to complete the TalktoRegal survey by mail:
Step 1: Purchase or make a postcard (usually 3×5 inches).
Step 2: Fill out a postcard with your full name and address including your city, state and zip. You will also need to include your birthday, phone number and email on the postcard.
Step 3: Drop the postcard in the mail to:
Regal Entertainment Group
ATTN: Marketing.
7132 Regal Ln.
Knoxville, Tennessee 37918
There is an unlimited number of entries per person online as long as there is a new survey access code for each entry. There is also an unlimited number of entries for mail-in entries. However, you need to pay for postage for each card.
---
TalkToRegal Survey Rewards
Regal does their draws monthly for prizes of $100 gift cards. You can expect to be notified by email if your name is drawn, which is why it is essential to make sure your email is correct when filling out the TalkToRegal survey. You will then need to provide your mailing address to their representative by email.
Once you are a confirmed winner, delivery dates may vary for receiving your prize.
Please keep the following in mind before completing the survey:
Participants must be 13 years of age or older to enter.
Employees and anyone associated with employees (family members, spouses, common-law partners, etc.) are not eligible to enter.
Also, remember this survey is to help Regal cinemas serve you better. Give honest feedback and let them know how your experience was, whether it was good or bad.
---
About Regal Cinemas


Regal Cinemas is the second-largest theater company in America. Formally known as Regal Entertainment Group, this business is committed to being "The best place to watch a movie!" according to the motto. With over 7000 cinemas in 42 States and American Samoa, the District of Columbia, Guam, and Saipan, you are bound to find a cinema near you.
Contact Information
Mail: Regal Entertainment Group 101 E. Blount Ave. Knoxville, TN 37920
Phone: 1 (877) 835-5734