Have you visited Culver's restaurant recently? If you have kept your receipt, you are in luck! With a Culver's receipt, you can complete the online survey and get free items. Who doesn't love free things from one of their favorite restaurants?
Go to www.TellCulvers.com or CulversSurvey.com to start the survey.
---
Our TellCulvers Survey Guide
Culver's has become a large restaurant chain with more than 600 restaurants internationally. If you have eaten at this American restaurant within 48 hours, then you can complete their survey a coupon for a free single dish or a cake cone. You can have your meal AND have your dessert too.
Keep reading to learn about the essential things you should know before completing Culvers survey. If you want to read the full terms and conditions, you can find that at the TellCulvers website page where there will be an "SMG Terms of Service" button. Click that, and it will take you to the document.
You need to be the age of consent or older in your country to complete this survey.

Customers are only allowed one entry per prize period and only one entry per receipt. 

You must possess a recent receipt (within 48 hours) – purchase is necessary.

You must have an internet connection on a computer, smartphone, or tablet.

You can only complete the survey online once.
---
Step-by-Step www.TellCulvers.com Survey
Once you have your receipt in hand, it will only take you a few short minutes to take the customer satisfaction survey — and get free food items! 
Step 1: Using a computer or smartphone, go to https://tellculvers.com with your preferred internet browser.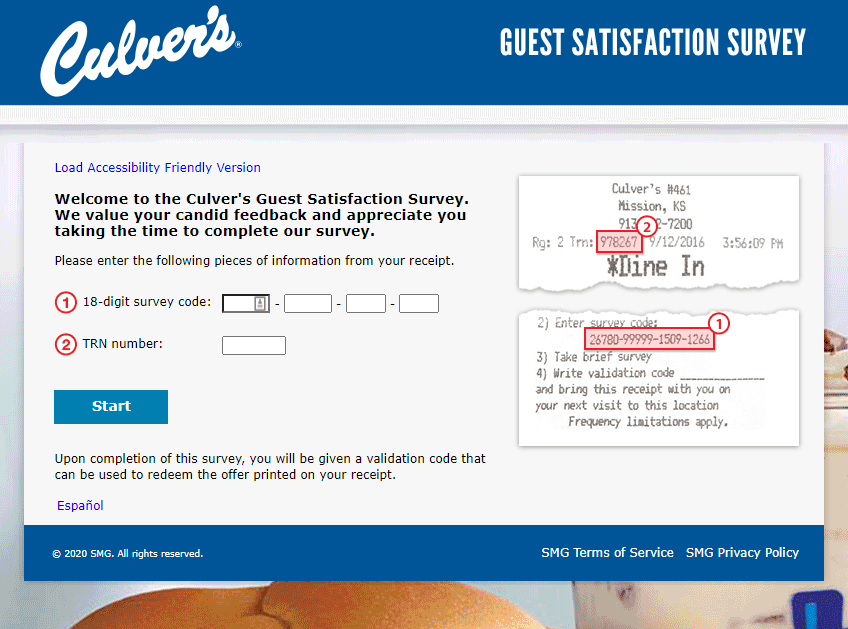 Note: You also have the option of visiting the old survey site at CulversSurvey.com which will redirect you to the new site. Before you start your survey, you can choose to complete it in either English or Spanish.
Step 2: Fill out the details, such as store number, date of your visit, and time of your visit. Next, fill in the 18-digit survey code and your TRN(transaction) number.
Step 3: Click "Start" to begin the Tell Culvers survey.
Step 4: Answer several questions regarding your most recent experience.
Note: Some of these questions are multiple choice. You will be answering questions similar to the following:
How did you order? (drive-thru, dine-in, mobile)

How fast did the service take?

Was your food tasty?

Other questions will be multiple choice and range from highly satisfied to highly dissatisfied.
Make sure to answer everything honestly! There will also be a chance to type in any additional comments you may have. This customer satisfaction survey is an excellent opportunity to compliment an employee who went above and beyond your expectations.
Step 5: Once you have completed the TellCulvers.com survey questions, the last page will have a verification code. Write that special code down on the same receipt and bring it to your next visit to Culver's!
---
TellCulvers

Rewards
After completing the survey, your code will be valid for either a free single dish or cake cone at your next visit. 
Restaurants value honest feedback, so when you are filling out your survey, remember to be honest. If there was a reason why the visit was bad, tell them, and they can fix it, and if something was great, also tell them so they can keep being great.
Check out these details associated with Culvers Survey rewards:
The award is one coupon per receipt.

If you win, you are responsible for applicable taxes and fees.

The sponsor can substitute any reward with a prize of equal or greater value, but no other substitution is permitted. 

No transfer of the reward is permitted. 

If you are an employee of a Culver's or have any relation to an employee, you cannot complete their survey.
---
Related Restaurant Surveys
---
About Culver's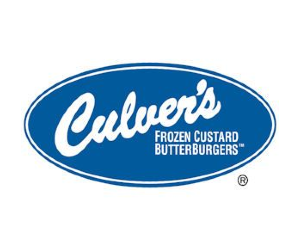 Craig and Lea Culver founded the first Culver's in Wisconsin in 1984, along with Craig's parents George and Ruth. The Culver's experience is not only about their food; this family fast-food restaurant is famous for hospitality.
Serving up their delicious Butter Burgers and Frozen Fresh Custard has been the staples on Culver's menu since opening. However, this American chain has added many food and drink options over the years, from sandwiches to cheese curds.
Culver's was named #3 best restaurant chain in 2018 by Restaurant Business.
Contact Information
You can submit either a compliment, concern, suggestion, or voice something else, visit this site: https://www.contactculvers.com/. 
Or mail it the Corporate Office address: Culver Franchising System, LLC, 1240 Water St, Prairie Du Sac, Wisconsin 53578.