Do you love Better Homes and Gardens for its many decorating, cooking, cleaning, and gardening tips? You will adore the magazine more when you learn about the Better Homes and Gardens sweepstakes.
Just read below or visit BHG.com/Sweepstakes to get all the details about the various ways to win prizes. You can enter for rewards worth thousands of dollars. There are even Better Homes and Gardens daily sweepstakes like home decor and small appliances at win.bhg.com
Start winning it all from money for renovations, vacations, and so much more.
---
Our Better Home & Gardens Sweepstakes Entry Guide
There are many different types of BHG sweepstakes. Some examples of grand prize that range in value from $10,000 to $25,000 include:
Grocery Shopping Sprees 

Stock Your Pantry Sweepstakes

Kitchen Makeovers

Vacations and Staycations

Backyard Retreats

Entertaining Essentials

Getting Organized and Stocking the Pantry

And Cash!
Besides life-changing and home-renovating gifts, you can also enter BHG.com daily sweepstakes. Some of the past prizes include:
Air Purifier

Nesting Baskets

Shark Vacuum

Martha Stewart Lasagna Pan

Bathroom Etagere Ladder 

Accent Shelf

Adidas Running Shoes

Mixing Bowl Set
Before you visit the BHG Sweepstakes website, please review the following rules:
You must be 21 years or older to enter. 

You must be a legal resident of the USA and currently in the United States to enter

By entering the BHG sweepstakes, you are bound bu the official rules.

Any employees or family members associated with the sponsor are not eligible. 

No purchase necessary to enter the Win BHG sweepstakes or win

A purchase will not increase your chances of becoming a winner.

You must enter within the sweepstakes period at the company's website

You can use one email address to enter the sweepstakes, but there is no limit on the number of entries.
---
Step-by-Step Instructions BHG.com/Sweepstakes Entry
Entering for the BHG sweepstakes only takes a minute or two. There are two ways to enter, including online or mail.
Step 1: Go to www.BHG.com/Sweepstakes during the sweepstakes period. Browse through the various sweepstakes to find the one you want to enter. You can submit entries to all of the sweepstakes!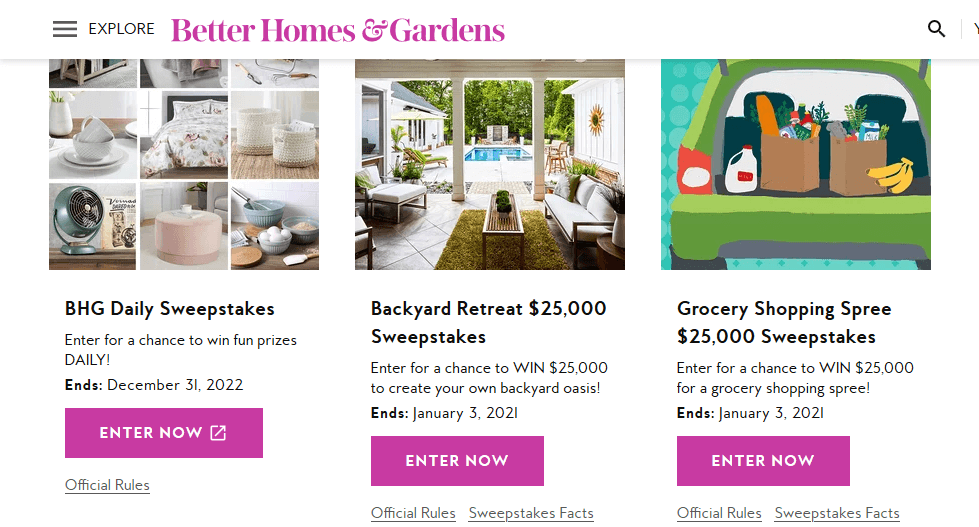 Step 2: Click on the Enter Now tab for the sweepstakes you want to win. 
Note: You can read the entry rules before submitting your entry. 
Step 3: Type in a valid email address and click Submit.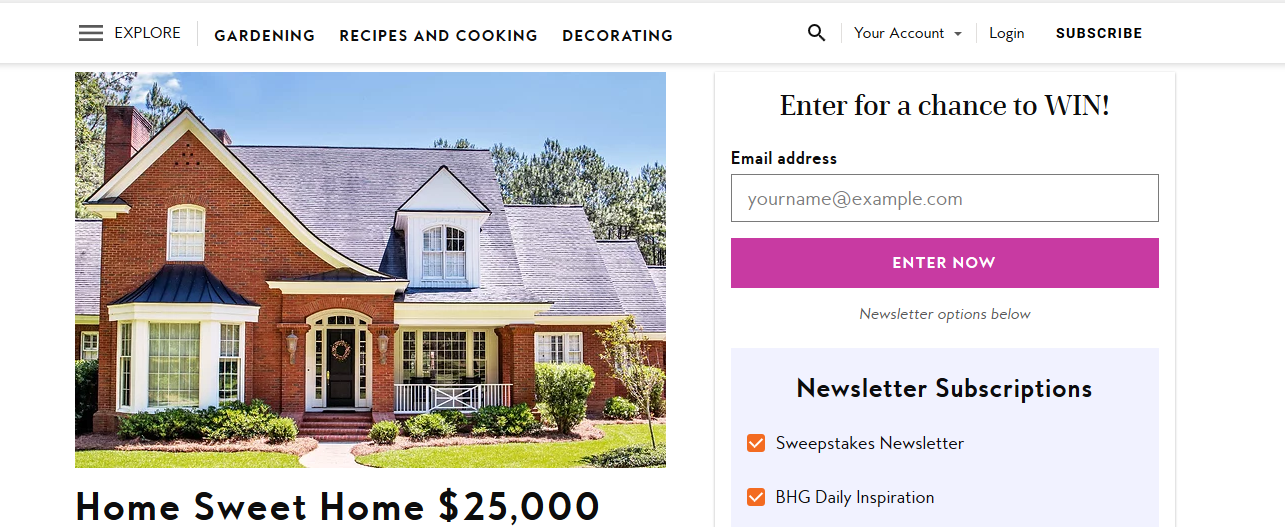 Note: Make sure you have access to the email address you use because this is the method of contact the company will use if you win!
Step 4: You might have to complete a CAPTCHA to prove you are not a robot before receiving your submission confirmation on the screen. 
That's it! You have the chance to win grand prizes like thousands of dollars toward your home and garden. You can even re-enter for the same sweepstakes by clicking the 'Enter Again' tab. 
If you would prefer to enter for the BGH sweepstakes using the mail-in method, you will need a separate postcard for each entry. 
Step 1: Get a 3×5 index card. Write your full name, home mailing address, telephone number, and email address on the card. 
Step 2: Write the sweepstakes' name on the envelope (example: $10,000 Fall Sweepstakes) followed by this address:
1716 Locust Street, LN 428, Des Moines, Iowa 50309
Note: Photocopies or mechanical reproductions of copies are not eligible. 
Step 3: Take your entry to the post office for delivery. Make sure it is postmarked within the eligible entry period.
---
How to Enter the BHG Daily Sweepstakes?
The BHG.com daily sweepstakes adhere to many of the same rules as the grand prizes. However, to enroll for the daily sweepstakes there is an extra step.
Please follow this simple step-by-step guide for entering:
Step 1: Visit win.bhg.com directly and skip Step 2 or go to www.BHG.com/Sweepstakes and follow step 2
Step 2: Find the BGH Daily Sweepstakes box and click the Enter Now tab.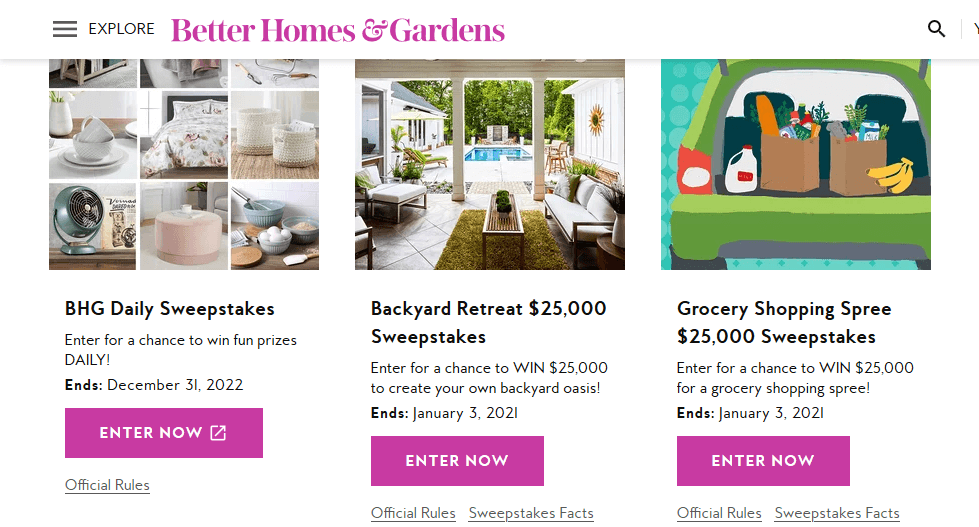 Step 3: Enter your email address and create a password for your membership. Click Next.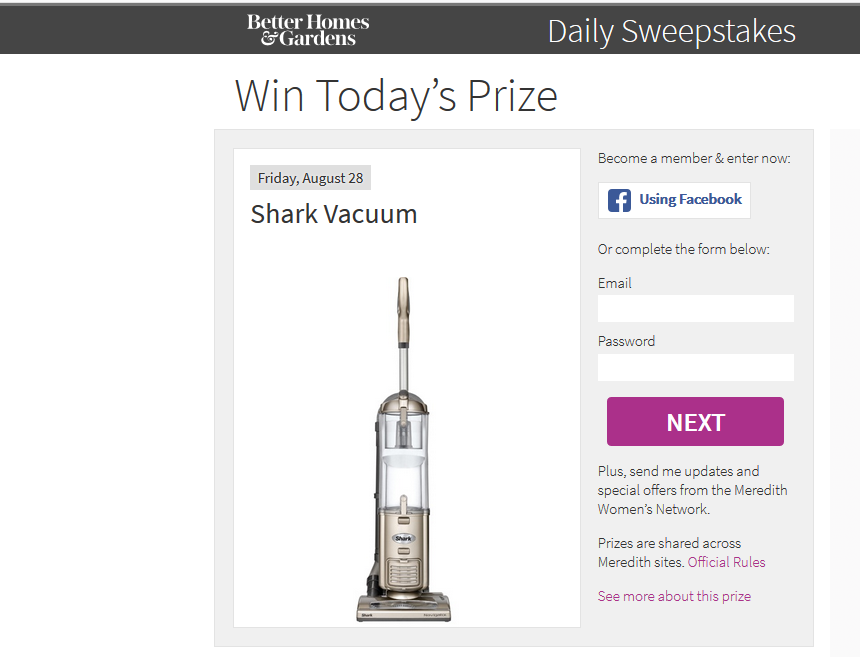 Note: You have the option of signing in with Facebook, too. 
Step 4: Fill in your information, including your full name and mailing address. Click Next.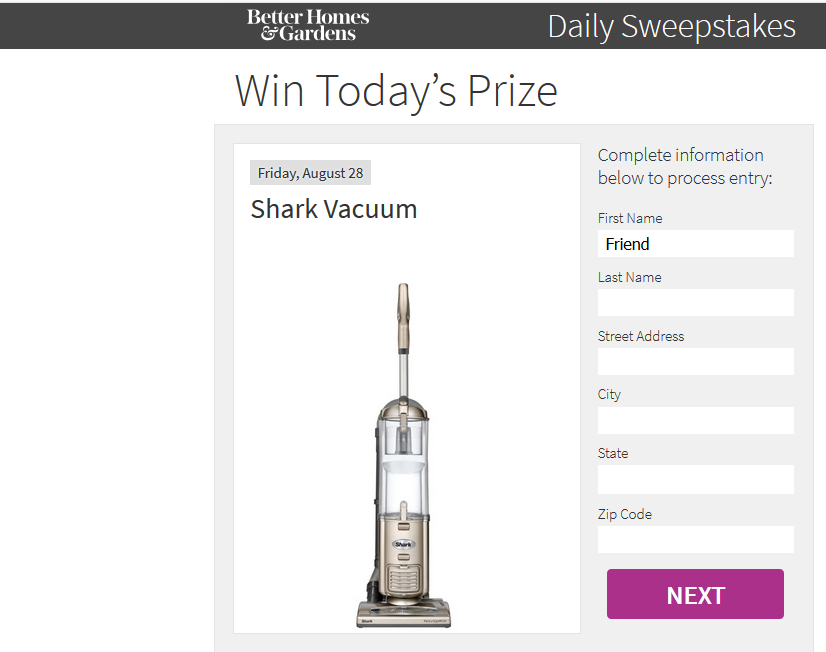 Step 5: You might have to complete a CAPTCHA to prove you are not a robot before receiving your submission confirmation on the screen.
That's it! You're entered and could be the next winner of valuable home and garden merchandise. 
---
More Info Regrading the BHG Sweepstakes Offer
Please read the rules and regulations about winning a Better Homes and Garden Sweepstakes:
Each online or mail-in form is one entry

There is no limit to the number of BHG sweepstakes submissions

All entries have the same odds of winning

If you win, you will be contact at the end of the sweepstakes

The odds of winning the BHG Sweepstakes depend on the number of entries

Winners cannot substitute, transfer, or assign rewards

Winners are responsible for any related taxes and other expenses

The sponsor can substitute a prize with another one of comparable value
The BHG Sponsor will randomly draw a winner from all of the mail-in and online eligible entries. If you win a reward, expect notification via email or mail.
You will have to complete multiple documents before receiving a grand prize, including an IRS W9 form, Release of Liability form and an Affidavit of Eligibility. In the event the winner cannot be contacted or must forfeit the prize, another winner might be selected. 
---
Related
Family Dollar Survey Sweepstakes
---
About Better Homes & Gardens
Better Homes and Gardens is currently the fourth best-selling magazine in the U.S. The first issue date was in 1922, and the company is headquartered in Des Moines, Iowa. They have publishers in both the United States via Meredith Corp and Australia via Pacific Magazines. Stephen Orr is the editor-in-chief. BHG focuses on home decorating, cooking, gardening, making crafts, healthy living, and entertaining. 
Contact Information
BHG's customer service department is available 24/7 using the following methods:

Phone: 1-866-616-4244 (4BHG)
Email: Help@bhgre.com