Are you a pet owner who's looking for a way to provide care for your furry friend while saving money? If so, buying a discount eligible product from Boehringer Ingelheim and applying for a prepaid card at www.prepaid.bipetrebates.com can be an excellent way to get some great discounts
Our post below covers exactly what Bi Pet Rebates prepaid cards are, how to qualify for one and how to activate and use the card, check your balance and much more!
---
Our Guide to the BiPetRebates.com Prepaid Card & Boehringer Ingelheim Discounts
The industry for animal care has been improving over the years with more health supplements and overall increased care and research from veterinary doctors and Boehringer Ingelheim is one of the most notable pet healthcare companies in the US.
They've made advancements in animal healthcare which owners of livestock and pet owners have benefited from greatly. So, let's take a look into what the BiPetRebates program is and how easy it is for you to get a prepaid card and save money on care for your pets.
---
What Is the BlPetRebates Program?
Boehringer Ingelheim the company behind these pet rebates and they invest in various medications, vaccines, and more in the animal healthcare industry. They've managed to form partnerships with veterinary clinics and stores that provide medicine which is what has enabled them to provide customers with such valuable pet care packages.
Frontline, HeartGard, and Nexgard are among some of the big brands under Boehringer and they issue discounts in the way of prepaid cards offered through the prepaid.BiPetRebates.com website.
---
How To Get Your Bi Pet Rebates Card?
When you purchase an item for your pet from one of the vendors that Boehringer Ingelheim supports, be sure to keep the receipt. You'll find an offer code on the receipt which you can use for the rebate form to receive money back on the prepaid card.
Go to www.bipetrebates.con website and sign in to your account.
Find the offer code on the receipt for your purchase and enter it in the relevant section.
Type in the purchase date that's on the receipt before clicking on continue.
For proof of purchase, upload a photo or scanned copy of your receipt and the rebate form. This works as additional proof of your purchase to confirm the rebate being paid to your pre paid card.
After this, you'll need to type in your personal information that includes information such as your address, name, and more.
Check that all of the details you've entered are correct and click on submit.
The "Thank You" page will pop up next which includes a tracking number. Keep a note of this tracking number as you can use it to track your card's arrival.
It usually takes anywhere between 6 and 8 weeks for your rebate to be processed and for the card to be delivered to your address.
---
How To Activate Your Prepaid.BiPetRebates Card Once You Receive It? 
To start using your prepaid bi pet rebates card to buy medicines for your pets, you'll need to activate it first. Once you've been issued the card, follow these steps to activate your card:
Begin by going to the Prepaid.biPetRebates.com to Activate
Make sure that you have the number for the card handy as you'll need it to activate the card.
Enter the first six digits of your card on the right side and click enter.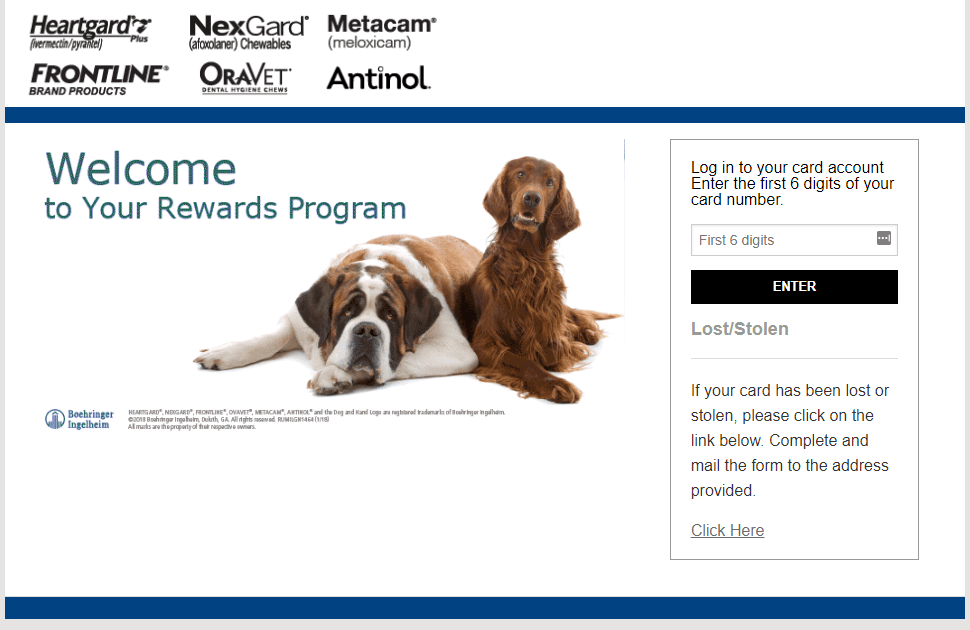 You'll then be able to see all of the details about your card including statements, transactions, set your pin and check your balance.
Note: The prepaid card can't be used when it comes to ATMs or general purchases. These prepaid cards can only be used to buy medicines for your pet at discounted prices.
The card can be issued by one of either First Century Bank or The Bancorp Bank. You can also have a peace of mind in knowing that there's a Visa Zero Liability for cards that are issued in the US.
---
What To Do If You Lose Your BiPetRebates Card?
If you've lost your prepaid card, you think it has been stolen or there are transactions that you didn't authorize, there are some simple steps you can take to solve the problem.
Contact the customer service help desk at bipetrebates.com and report your issue directly to them.
For instances where you've noticed transactions that you did not authorize, you can dispute them by using this form.  Be sure that you fill out the sections carefully before sending it off.
There are several ways you can send the form to get a resolution. The fastest way is to send the form back via email to dispute.support@bhnetwork.com. You can also fax the form to 623-336-6699 or mail it to:
Card Services
ATTN: Dispute Dept.
6220 Stoneridge Mall Road
Pleasanton, CA, 94588
In order to ensure that your dispute is resolved successfully, you must make sure to let them know within 60 days of the card going missing or unauthorized transactions appearing in your account.
---
Additional Discounts & Deals 
If you are interested in getting more discounts and deals for your pet care, availiable HeartGard coupons could be a great option to explore.
For other various other pet discounts go to our www.AhRebates.com Guide, the boehringeringelheimpetrebates.com website or www.binredirect.com/blpets or www.bivirebates.com.
One of the most popular deals that they have involves purchasing 12 HeartGard doses where you can receive a $50 rebate. These types of offers can be found on the HeartGard website.
---
How To Contact Boehringer Ingelheim?
You can send mail to:
Boehringer Ingelheim Animal Health USA Inc.
3239 Satellite Blvd
Duluth, Georgie 30096
You can also contact the company via phone on 888-637-4251 to discuss their healthcare products for your animals.
In addition to this, you can go to the contact page and enter your contact details.
---
---
More Information
https://www.boehringeringelheimpetrebates.com/#/home
https://www.boehringer-ingelheim.com/animal-health/products
Merial Rewards Program – www.prepaid.merialpetrebates.com
Bi Equine Rebates – https://www.boehringeringelheimequinerebates.com
www.mymrpcard.com
---
Please comment below if you have any other questions about the BIPetRebates program including but not limited to applying for, activating or using your prepaid rebate card.