RegisterYourNinja – Since 1993, SharkNinja, an American designer, marketer, and distributor, has created fantastic home devices and appliances, including vacuums, blenders, juicers, air fryers, and more. These innovative creations help make cleaning and cooking more efficient and fun.
Did you purchase a toaster, grill, or some other ninja product? You should complete your ninja product registration. It's fast and easy. Plus, you get a ton of benefits, like valuable warranties. Continue reading to learn how to register your ninja blender (or any other ninja products)!  
How To Complete Your Ninja Product Registration at RegisterYourNinja.com
1. Go to www.registeryourninja.com. You will get redirected to a new SharkNinja product registration page. To ensure you are in the right place, you will see the brand logo displayed in the upper left corner.

2. To register your Ninja product, please fill out the form on the page. You will type in all of your information, starting with your first and last name.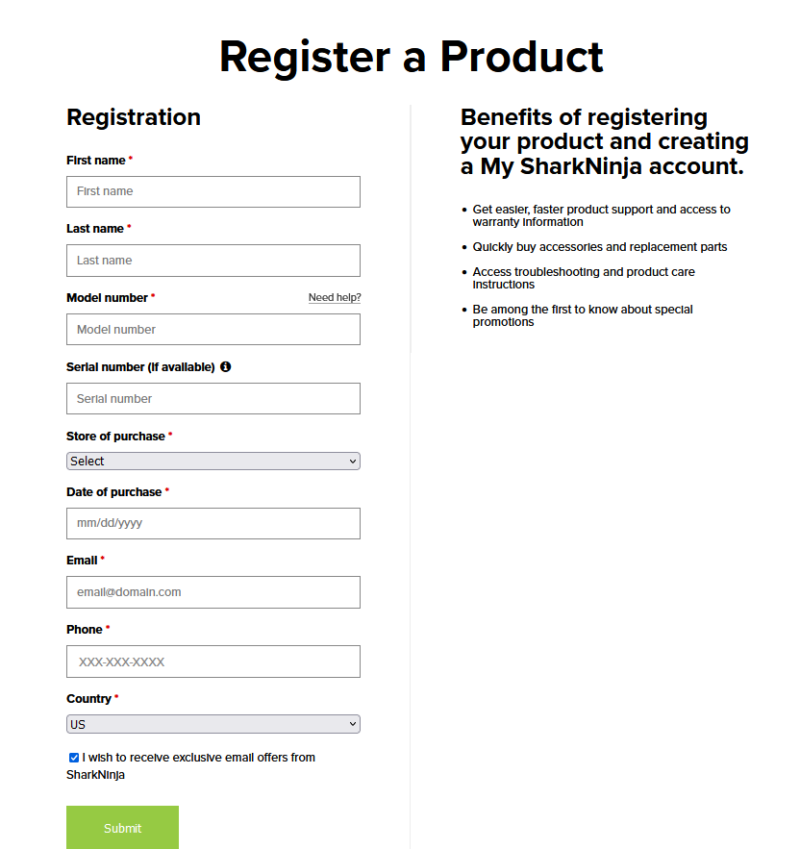 3. You also have to input the model number of your new Ninja product, which you can find on the box, base, or manual. If you need more information about what the model is, you can click the 'Need help?' link. An image like the one below will appear with further instruction.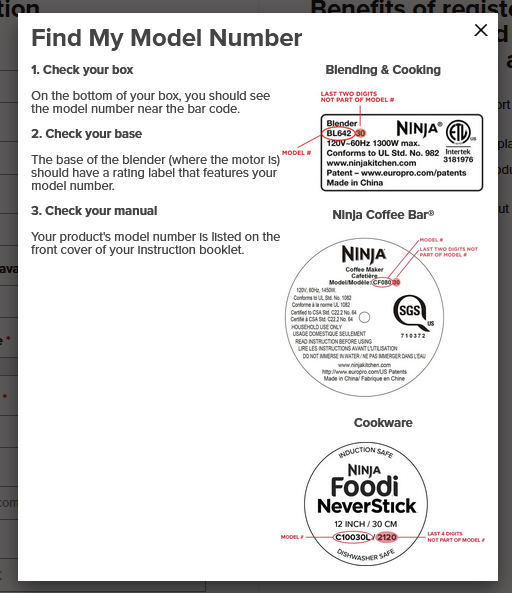 4. If available, please enter the serial number as well. However, you can continue with the registration without the serial number.

5. Next, you have to click the arrow icon by the Store of Purchase blank. A drop-down menu will appear that will allow you to find the correct store.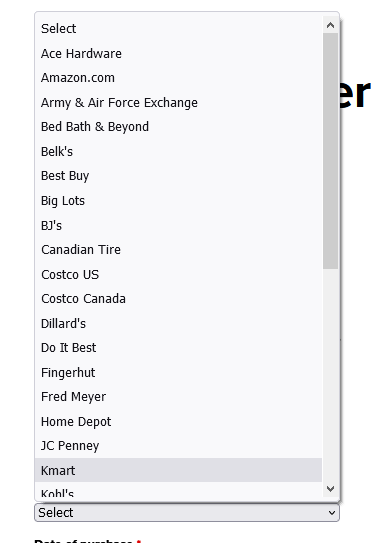 6. You have to enter the date of purchase to complete the your Ninja product registration. Your email and phone number are also required as part of registering your Ninja blender.
7. Finally, select the country where you live. The drop-down menu only provides two options: US or CA.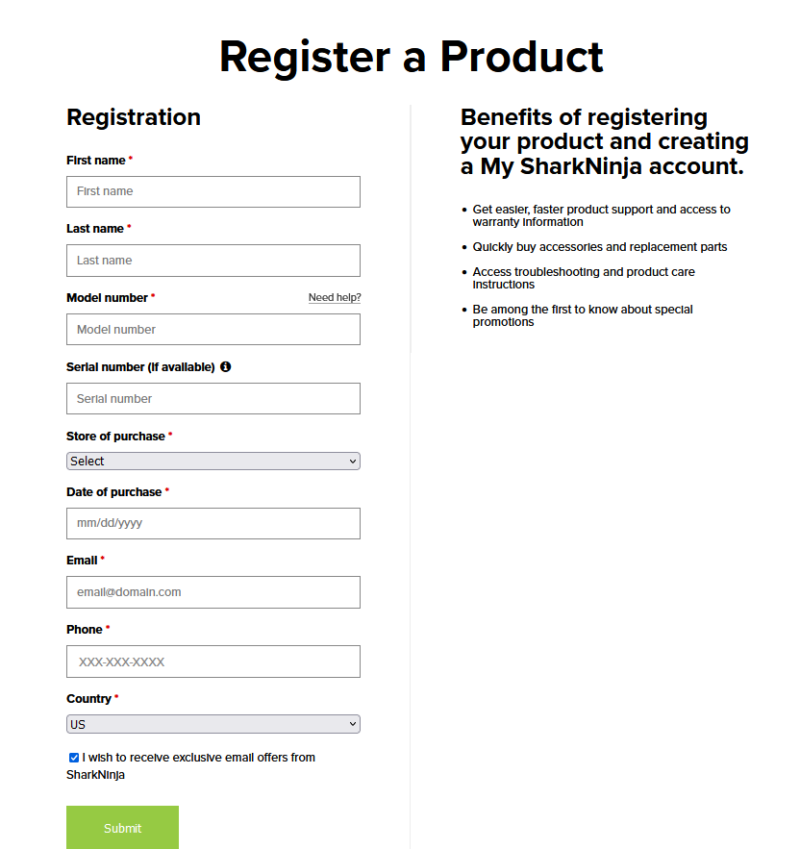 *Note: You can click off the box regarding receiving information about exclusive accessory offers, if you do not want to receive any to your email address in the future. Otherwise, leave this box checked.
8. Hit the green submit button. You're done!
---
Ninja Mailing List Signup Option
Under the green submit button for the form to register your Ninja, you will see an option to sign up for the Ninja mailing list. As a customer, you will receive exclusive offers from SharkNinja. 

Enter an active email address and click the Sign Me Up button. That's it!
---
Benefits of Registering Your Ninja Product
Why should you take an extra moment to register your Ninja product? Because you will receive numerous benefits like access to warranty options and special accessory offers and special sales and new products.
If you complete ninja registration and create a My SharkNinja account, you will get faster product support. Not only can you expect quicker customer service, but it is easier to navigate through your account. You can access troubleshooting options and product care instructions. Plus, you can buy Ninja accessories and replacement parts within minutes. 
You also will be among the first customers to know about special promotions with SharkNinja!
---
RegisterYourNinja.com Warranty Info
SharkNinja appliances come with a warranty if a defect occurs within a certain period after purchasing your product. When you use registeryourninja.con to register your Ninja product, you receive access to your warranty options as listed below:
1- to 7-year warranty

Lifetime VIP warranty

90 and 180-day refurbished product limited warranty 
All warranties allow your product to be replaced or refurbished, depending on the details. Furthermore, any Ninja product that gets replaced comes with another 6-month warranty (or will continue with the remaining time of the existing warranty). 
To submit a warranty claim, you must call customer service. Make sure you have a proof of purchase receipt ready to receive instructions on how to return your registered Ninja product. 
---
Ninja Product Customer Service
If you need to contact the Ninja customer service department about registering your ninja product or for any other reason, there are several ways to reach out. 
To speak with a customer care agent, call 1-866-826-6941 Mon-Fri 9am-9pm or Sat 9am – 6pm EST.
For product care or self-help maintenance, visit www.ninjakitchen.com/customersupport.
---
Related Posts
---
Do you have a registeryourninja.com accessory offer? Ask any questions you may have below!