RegisterYourShark – SharkNinja is an American designer, marketer, and distributor that started creating home devices and appliances in 1993, including steam mops, vacuums, irons, blenders, grills, and more. Cooking and cleaning are more efficient and fun, thanks to SharkNinja innovations. 
Have you recently purchased a Shark vacuum, air purifier, or some other shark product? Follow this short and easy guide to see how you can quickly complete your shark product registration and how you can get exclusive accessory offers in the process. 
How To Complete Your Shark Product Registration at RegisterYourShark.com
1. Whether you are registering a Shark Rocket or any other Shark product you can simply visit www.registeryourshark.com. You will get redirected to a new SharkNinja page that features the logo in the top, left-hand corner.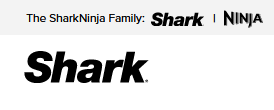 2. To Register Your Shark Product,  fill out the form, including your first and last name.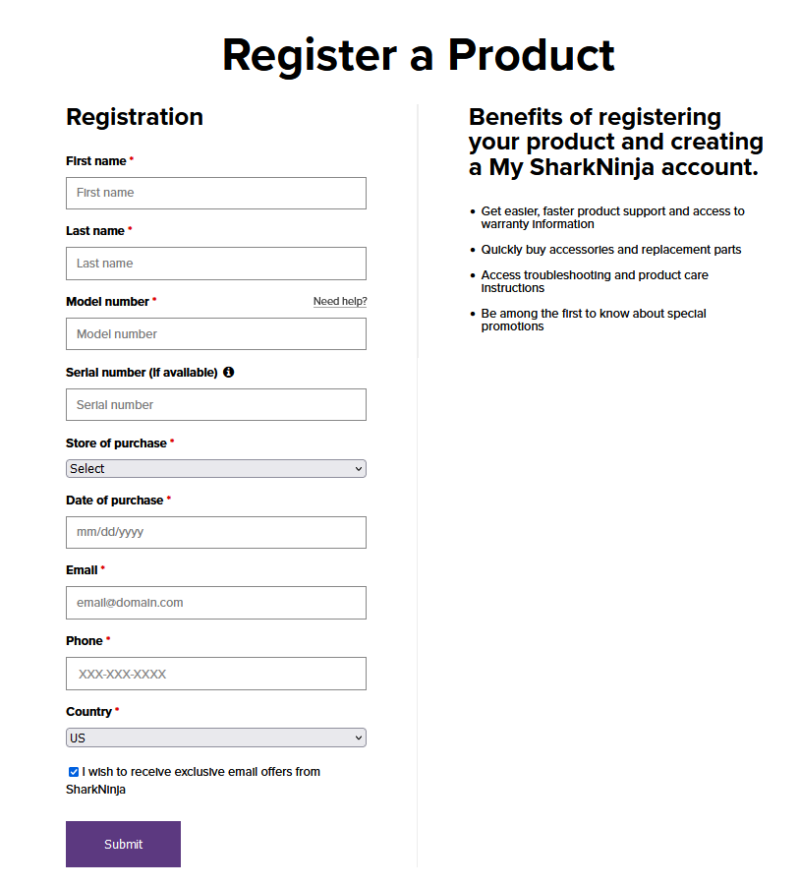 3. You must enter the model number of your Shark product. Locate this information on the box, unit, or manual. Do you need more details about where this important number? Click the Need help? link. You will see a photo that explains more about the model number.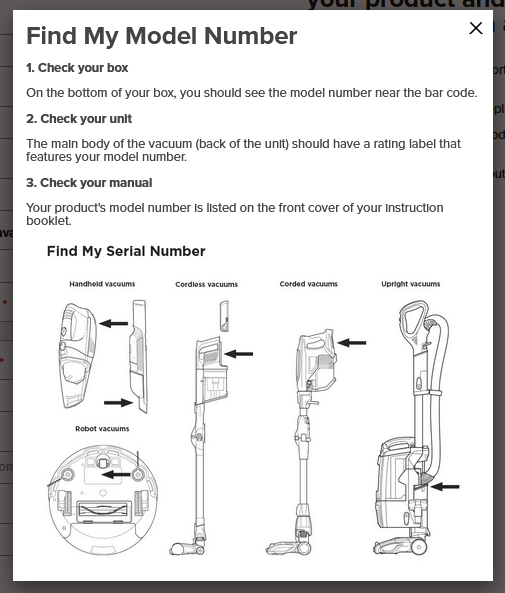 4. You can also type in the serial number if you have it. Don't worry if it is not available because you can still register Shark vacuums and any other products.

5. To complete the Shark product registration, you have to enter where you purchased the product. Click the drop-down menu to find and select the store of purchase.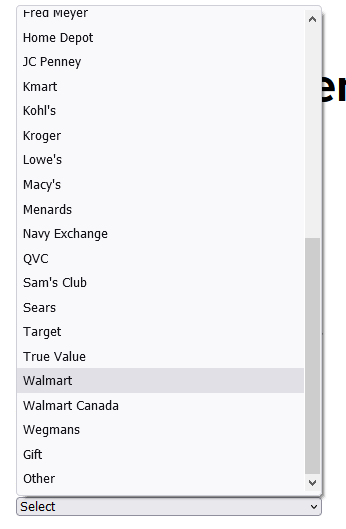 6. Next, you must enter the date of purchase as well as your email and phone number.

7. The final question is the country where you live, including a drop-down menu selection for either US or CA.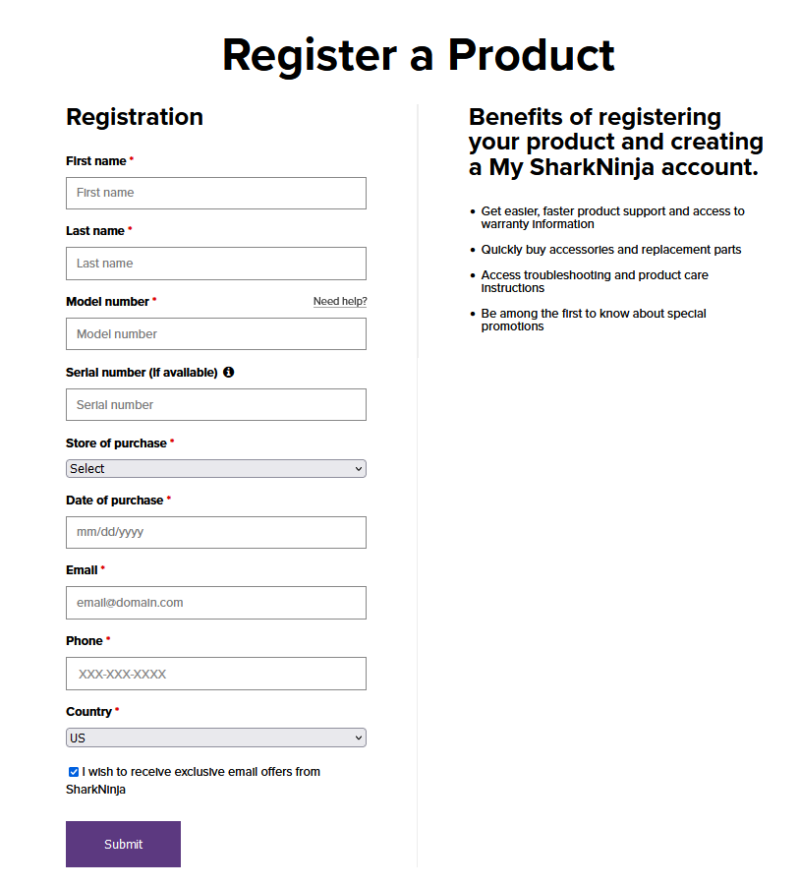 Note: There is a box automatically clicked for exclusive offers. If for some reason you do NOT want to receive promotional deals from Shark, you should click the box to uncheck it.
8. Click the purple Submit button to finish!
---
Shark Mailing List Signup Option
Just below the purple submit button on the Shark product registration website, you have the option to sign up for exclusive offers from Shark.


Please type in your email and click sign me up to receive deals for Shark products. 
---
Benefits of Registering Your Shark Product
It would be beneficial to take an extra minute to register your Shark products. Why? Because you will receive access to exclusive warranty options. 
Not only that, but after completing your shark registration and creating a My SharkNinja account, you get easier, faster service. That means better product support and customer service. You can also use your account to troubleshoot issues, read product care instructions, and order Shark accessories and replacement parts. 
Another benefit of registering your Shark product is that you will be the first to get exclusive promotions with SharkNinja! 
---
RegisterYourShark.com Warranty Info
SharkNinja devices come with warranties in case any defects occur within a specific time period after purchase. You have access to warranty options when you go to www.registeryourshark.con. 
1- to 7-year warranty

Lifetime VIP warranty

90 and 180-day refurbished product limited warranty 
All warranties allow your device to be replaced entirely or refurbished, depending on your warranty details. Also, any Shark product that is replaced receives an additional 6-month warranty. Or, you can continue with the remaining time on the existing warranty.  
Please understand that you have to call customer service if you want to submit a warranty claim. Also, have your proof of purchase receipt handy, so you can receive directions on how to return a registered Shark product. 
---
Shark Product Customer Service
1-877-581-7375 M-F 9am – 9pm or Sat. 9am – 6pm EST

www.sharkclean.com/customersupport
---
Related Posts
---
Do you have a new Shark product? Tell us more details about how you completed your Shark product registration at www.registermyshark.com!