Have you had it with traditional cable and its cost? Are you done with having 200 channels and not being able to find anything to watch?
You are looking for ways to stream the content you want when you want it. However, you're tired of trying to figure out which streaming service has which show only to find out it's changed again. Of course, streaming is the way to go, but you don't want to miss out on one or two key shows. What if you could say goodbye to traditional cable or satellite and still watch your favorite shows (like Last Week with John Oliver and Lovecraft Country — don't get us started on Game of Thrones)? You can do just that with HBO Now.  
HBO Now is a stand-alone streaming service that enables you to stream your HBO favorites without requiring you to have a TV package. You don't even need a television. You can activate your HBO Now TV code at www.HBONow.com/tvcode. It's fast and easy so that you won't miss an episode.
---
Our www.HBONow.com/tvcode Guide
HBO Now offers its users a way to watch shows on HBO without subscribing to traditional cable or satellite TV providers. Before you visit www.HBONow.con/tvcode, you have to follow a few requirements. To be able to take advantage of HBO Now and stream the content, users need the following:
A compatible device

An internet speed of approximately 15-20 Mbps

A monthly subscription ($14.99 per month)
Users may reduce the cost of their subscription either through their existing Amazon Prime membership or through their wireless provider. 
HBO NOW can be streamed on the following devices:
Amazon Fire tablets (4th generation and above)

Amazon Fire TV

Amazon Fire TV Stick

Amazon Fire TV Cube

Amazon Fire TV Edition Smart TVs

Computers with Windows 7 or later, macOS X 10.10 or later, or Google OS

PlayStation 3 or 4

Xbox One or Xbox 360

iPhone, iPad, or iTouch (running iOS 8 or later)

Android tablet or phone (running 4.1 or later)

Apple TV (2nd generation or later)

Roku (3rd generation or later)
Now can also be streamed on incompatible TVs using an HDMI cable to connect a compatible device or by using Chromecast. Please note, HBO is in the process of renaming many of its apps and that the HBO Now app will appear as HBO on Amazon Fire devices and Roku devices.
---
Step-by-Step HBONow TV Code Activation Instructions
Did you receive an HBO Now TV code? You can open the HBO or HBO Now app using your preferred compatible device and reliable internet connection. Follow these steps for fast and easy activation. 
Step 1:  Go to HBONow.com/tvcode using your preferred internet browser and reliable internet connection.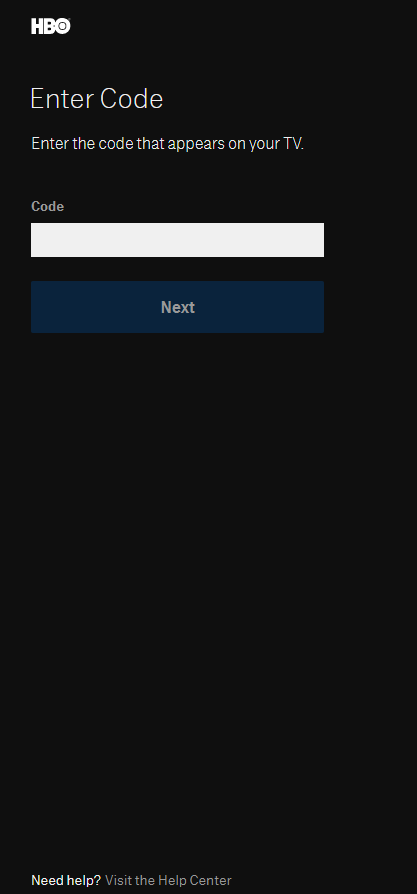 Step 2: Enter the code that appears on your TV. Click on the blue "next" button. 
Step 3: Follow any other prompts to continue account activation. 
Please note, you will need to have created an account on the HBO website before activation. If you cannot activate your account using your phone, you may need to switch to your laptop. If you continue to have difficulties, you may need to clear the browsing history on your device.
If you need help, click on the Visit the Help Center link at the bottom of the page.
---
Step-by-Step HBO Now TV Account Creation Instructions
Do you need to create an account so you can activate your HBO Now TV code? It only takes a few steps. 
Step 1: Go to subscribe.hbonow.com using your preferred internet browser and reliable internet connection. 
Step 2: Enter the requested information, including email, password, first name, last name, and zip code. Agree to the terms and privacy policy. Click the grey "Create Account" box. 
Step 3: Enter information about your payment method, including the name on card, card number, security code, expiration date, state, and billing zip code. Click on the blue "Start Subscription" box. 
Step 4: Follow any other prompts to continue creating your account. 
Please note, users receive a free 7-day trial upon sign up. However, if you wish to cancel after the period, you must contact HBO Now to cancel your subscription.
---
About HBO
HBO, known initially as Home Box Office, is one of the most respected, creative, and accessible entertainment brands globally. Part of the WarnerMedia family, HBO programming, is available in more than 155 countries worldwide. HBO content is available in various ways, including HBO Now. Besides that, you can also tune into the HBO channel, the HBO app, HBO On Demand, and HBO Max.
Contact Information
Call: (855)-942-6669.

Tweet: @HBONOW/help

Website (w/ Email and Chat): https://help.hbonow.com/?_ga=2.224869337.2134461788.1601399729-1895574083.1601399729