In this support guide we have covered all things related to the Glance Intuit website. Whether you're new to using Glance Networks or you simply need to get a code to join an Intuit remote access session this article is for you!
Our Guide to Glance.Intuit.com Remote Access
Below we've answered questions about this support service for Quickbooks and Turbotax and also provided details on where you can download the software along with getting your code and how to get further help from Intuit!
---
Glance Intuit is a web based remote session screen sharing service provided by Glance Networks in conjunction with Intuit.
It allows users like you to get customer service help with Turbotax or Quickbooks questions directly from an Intuit agent when you have questions about completing your taxes or using Quickbooks. The software allows for one-to-one screen sharing by giving the Intuit agent access to view your screen in the Turbotax software or Quickbooks online portal which allows them to quickly and easily help you no matter what step you are at in completing your taxes or books.
If you are concerned about whether Glance.intuit.com is safe or not we suggest you check out this post that confirms the site is indeed safe and owned by Intuit.
---
Step-by-Step Instructions for Downloading
Visit Glance.intuit.com or TurboTaxshare.intuit.com on your MAC or Windows PC and your download will automatically begin
To install the application just run the .exe file and follow the on screen instructions
After downloading just start up the software to begin using the remote access features
Pro Tip: You can skip downloading the software files and instead download the Glance Chrome Extension to quickly and easily get on a remote session with an agent.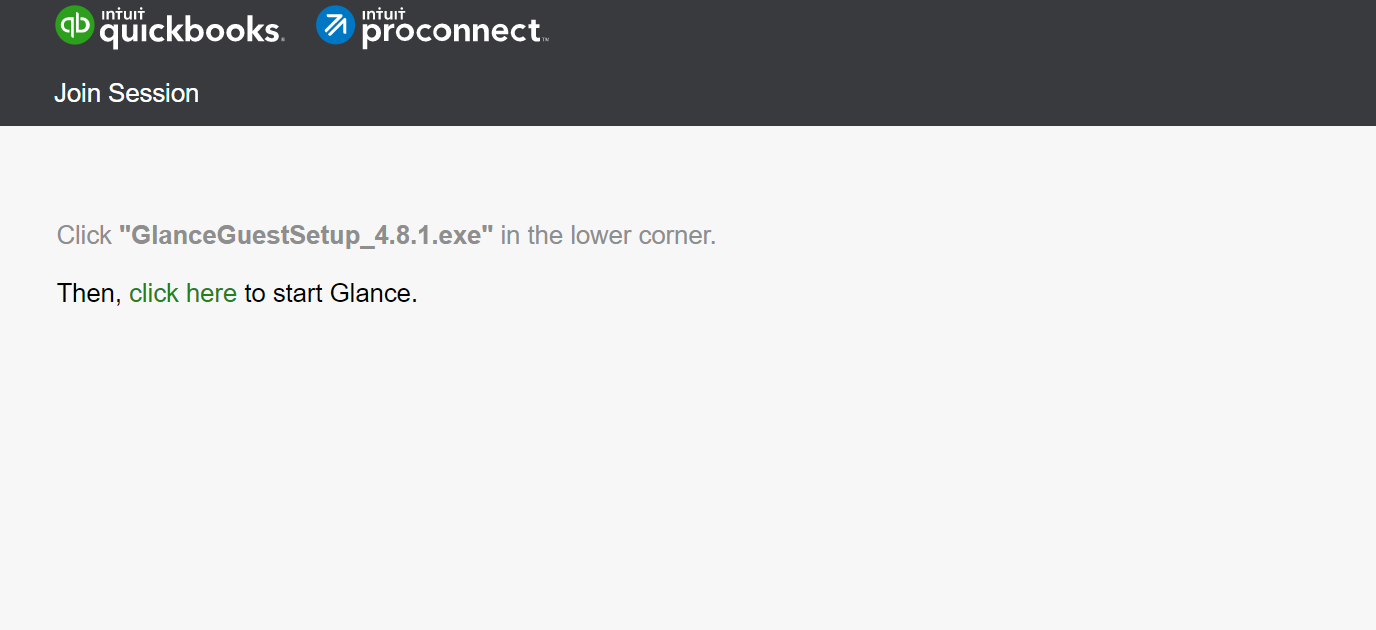 ---
Troubleshooting issues with www.Glance.Intuit.con 
If you've experienced issues downloading the software:
Try refreshing the glance.intuitu.com web page
Try opening the site from a different browsers
Be sure to check that any VPNs are turned off before you try downloading and using the software again
---
Can This Service Be Used On Mobile?
Those of you who may be interested in using these screen sharing feature on mobile will be glad to hear that there's a mobile app for it. This is ideal for letting you remotely connect with others for remote access, even if you don't have access to a desktop.
It's also a feature that companies can make good use out of as it lets them see their customers' screen when using their phone. This can help greatly with improving the customer service by being able to respond and help faster. The app is available for Android and iOS devices and is simple to set up and use.
Intuit's mobile app works by enabling staff members to see a customer's mobile screen through sessions that are initiated by both the customer and staff member.
---
What is the Glance Network?
The Glance Network is a remote screen sharing software system that was launched in 2000 with the goal of helping companies provide their customers with faster and easier support. The technology available allows for screen sharing, Co-browsing, mobile app sharing, and agent videos.
Companies have chosen to use this software is because it allows them to hold consultations with their customers digitally without having to be face to face. The agent videos let companies connect with customers in a more natural setting for a better human interaction. Therefore, members of your team may have an easier time closing deals and helping customers as the communication feels more natural.
Companies can use Glances' call center to see the screens of other staff members which can be useful when it comes to hosting remote meetings between multiple people.
While there are many features available with Glance that are great for companies, people looking to join secure remote access sessions can greatly benefit from the features it offers.
---
What is Glance Guest?
GlanceGuest is the application that allows people to share their desktop screens with you. When the software has been downloaded, you have the ability to also share your screen with the other person.
---
Glance Screen Share makes it easy and quick for you to see someone else's desktop screen. All it requires is downloading the software, signing in, and that's it. One of the reasons as to why it's so great for companies to help customers is because they don't need to download or install anything in order to see your screen.
This makes it less daunting and allows your agents to speed up the process of guiding customers through anything that they're having trouble with. 
---
How Does GlanceGuest Cobrowse Work? 
Cobrowser is a feature that enables members of your company to see each other's screens. This is super helpful for whenever there's confusion or problems as staff members who are working remotely can simply see each other's screens.
As a result, finding out what a problem is or coming up with a solution can be made much quicker and hassle free. You can cut down on the wasted time of team members being on the phone trying to describe something. Instead, the screens can be shared among each other.
It implements JavaScript to let you see what's on someone else's browser. Its recommended to implement the Cobrowse JavaScript tag to all of the pages that you plan to use in the session. 
---
Is there a Glance Networks Chrome Extension?
The GlanceGuest Extension is available on the Chrome Web Store. At this time there are more than 500,000 users who have downloaded the app from Google Chrome.
---
Glance Integrations
Glance can be configured with ServiceNow, Salesforce, and Dynamics 365. These are applications that many companies across the world make good use out of. You can also create single sign ins and make login keys. 
---
Where Can I Get More Info & Customer Service?