If you're interested in receiving support remotely while on your desktop from your IT technician, the LogMeIn123.com website, could be a simple and secure solution to turn to. The Log Me In 123 support.me services on offer allows technicians to get down to the cause of the tech issues your are experiencing by letting them taking over your computer remotely. This cool feature can reduce delays and have you back up and running in no time.
So, let's take a look at this remote support service to help you feel more confident about using them in the future if they're ever needed.
Our Guide to Support.me & LogMeIn123 Remote Support Services
---
What is Support.me?
Support.me is the same as LogMeIn 123. They are simply another alternative that you can use to type into your browser to be taken to the same page for support. It may be easier to remember which can be handy if you're looking for remote support but can't remember the name of Log Me In 123.
---
What is LogMeIn123?
123LogMeIn is a remote support service that allows you to experience support from your IT technician for technical issues that you may be having on your computer. This service grants access for a technician to have control over your desktop, no matter what your location is.
The company has released their next generation applications LogMeIn Central and LogMeIn Pro which provide a much improved user experience.
As long as you have a steady internet connection, the technician will be able to do their work and should be able to solve your problem. It's a handy service to keep in mind for those times where you've experiencing a tech issue that you're stumped on how to fix.
The fact that you can get help from any location means that you can get a quick fix and continue working on that project with minimal delays. Since the technician can get directly onto your computer, they're able to access everything they need to and make the necessary changes much faster.
[Related: www.glance.intuit.com remote support]
---
How To Set Up Log Me In Remote Support?
You'll be glad to hear that setting up Log Me In support is simple. Start off by ringing the support team to let them know the issue you're having. They'll then let you know whether they think your issue warrants having a remote connect session.
If you opt for support you'll need to do the following:
Go to logmein123.com and you'll be redirected to logmeinrescue.com where you will see a section where you can type in a six digit code and begin your support.me download.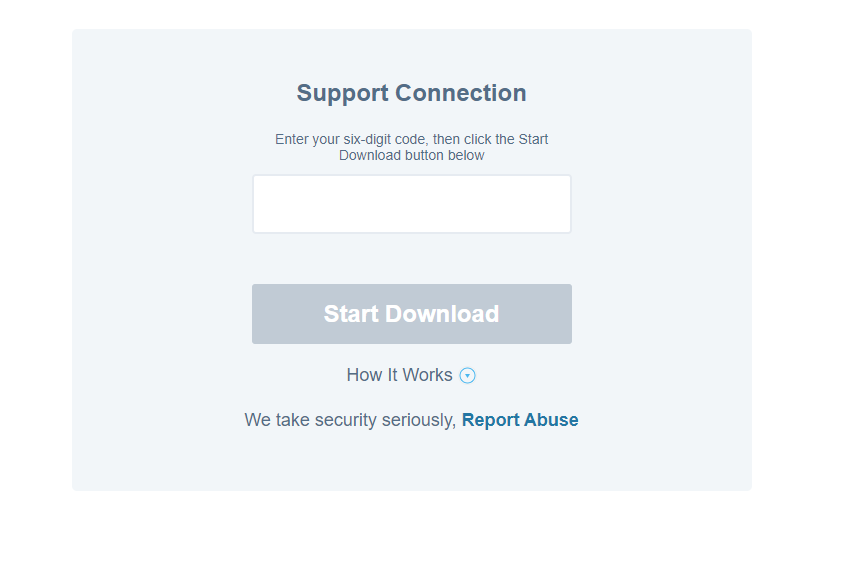 The IT technician who's working with you will provide you with your 6 digit code.
Type in the six digit code that you've been given and click on "Start Download".
A download file will appear on the screen. Click on "Save File" to begin the download.
You'll see a warning pop up to notify you which is simply for security purposes. Click on "Run".
A box will then come up on your screen asking for you to give permission to continue to the next step. When you click "Yes", you may notice a firewall notification pops up. This will depend on the virus protection software that you have.
If your firewall pops up with a message trying to block the connection between your desktop and the logme123 site, be sure to click "Unblock".
After this step, you will be setup with an IT technician from www.LogMeIn.com. A chat window will pop up on your browser which you can use to send messages to your technician. You're also provided with the option to contact them via the phone too.
The IT technician will be able to have total access to your desktop. Your computer should remain on and you can watch as the technician tries to figure out what the issue is. You'll see the mouse moving around and clicking around to find the problem.
Make sure that the internet browser you use to login to the remote session remains open throughout the entire time that the technician has access to your computer.
When your technician has finished, you'll get a notification letting you know that the session has ended. This lets you know that you have total control
---
What LogmeIn123 Scams Should I Watch Out For?
Be extra cautious for potential scam related to remote support and they often involve malicious programs that can be accidentally downloaded. The last thing you want is to give a scammer remote access to your computer where they will have access to any personal information you have save on your computer.
There have been numerous scams with people pretending to be from LogMeIn who try to get you to grant them access to your computer. If anyone online is reaching out to you to help out vial email or any other way, be sure to avoid them.
The IT technicians from Log Me In 123 are only able to have access because you've contacted them with an issue and given them access through secure channels. Always  be safe and begin every remote session from the official Logmein123.com rescue website!
---
Is 123rescue a Scam?
No, 123rescue.com is not a scam. It comes from the official company and is the enterprise version of the logmein.com service for individuals allowing medium and large enterprise businesses to provide support to both employees and customers.
Be sure to carefully research www.123-rescue.com. We were unable to verify whether it is a legitimate company pr a scam but it surely isn't associated with 123rescue.com.  
---
How To Contact Log Me In 123?
You can get in contact with an IT technician from LogMeIn 123 on the phone if you're in Canada or the US by ringing 866-478-1805.
For those of you who are outside of the US, you can visit their contact center for support.
---
Further Log Me In 123 Support.me Resources
https://secure.logmeinrescue.com/Customer/Code.aspx
www.support.me
http://help.logmein.com/SelfServiceContact
https://www.reddit.com/r/microsoft/comments/5ra7zq/123rescue_microsoft_support_scam/