What can Merchant Services Center do for you? This service is associated with Quickbooks, an accounting software package. Small and medium-sized businesses often use their services to help keep their accounting information balanced and organized; it keeps track of essential business functions. 
These services can allow you to accept credit card payments for your business, search for payment activity and transactions completed in the past, set up alerts to be sent to your email, and download transaction information.
If you are new to this helpful software read on below for our review of the services and what it can do for you!
---
Our www.MerchantCenter.Intuit.con Guide
Merchant Center services allows you to change your account information, process credit transactions, view transactions, specifically eCheck and Credit Card payments, for your business. This site can save you time in having to organize these records yourself. If you need to quickly find a specific transaction, you can be seamlessly linked to your already existing Quickbooks account to review and modify this information.
You can find the details related to transactions completed in the past using a search function. You can download this information, export it to Excel using the service, and even use it to order paper copies of the transaction information older than 13 months. You can also access these services anywhere, as it is a web-based service and not software-based. You can manage and change your account information as well.
---
Step-by-Step Login Instructions for the MerchantCenter.Intuit.com
Step 1: Type www.MerchantCenter.Intuit.com in your preferred web browser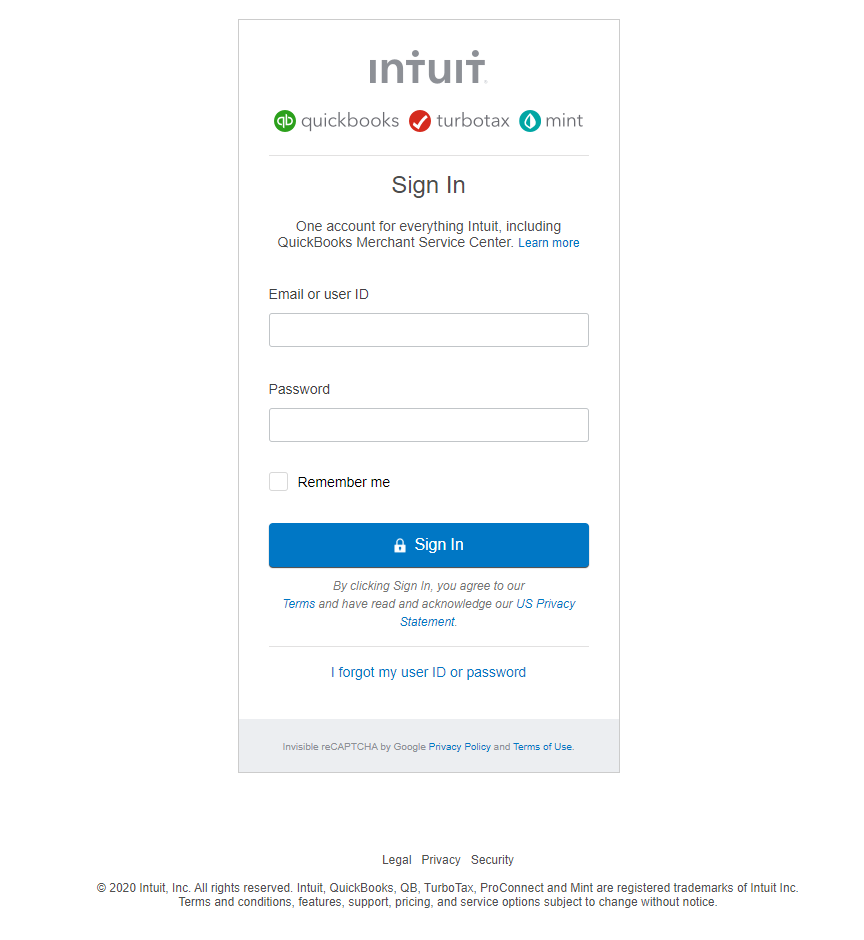 Step 2: Enter your email associated with your user account, or your User ID and password to access the center.
Step 3: Click the "Sign In" button to log in.
You may need to make sure your Quickbook Payments associated account is activated before accessing all the services provided by the merchant services. To do this, you will need to log in from the Quickbooks Desktop program.
---
Instructions for Creating a Merchant Center Account
Step 1: Go to https://accounts.intuit.com/index.html to create a new account.
Step 2: Click the "Create an Account" button under the sign-in box to provide an email to login.
Step 3: Provide your preferred email, phone number (not required but recommended), and preferred password.
Step 4: Click the blue "Create an Account" button.
Step 5: Follow the instructions sent in the verification email after creating your account.
---
Related Intuit Services
---
About Intuit
Intuit is an American-based business established in 1983; its primary focus is providing accounting program assistance to small to medium-sized companies. The company's most popular and well-known products are TurboTax (tax preparation application and program), Mint (a personal finance app), and Quickbooks (an accounting program).
Intuit is a large company that does most of its business, primarily in the United States. There are a little under 10,000 employees working for the company, which makes it a large-sized company, and they are considered among the best companies to work for based on employee surveys reviewed by Fortune magazine. 
Many customers report they are satisfied with their services provided through the company they have focused on responding to customer requests and satisfaction in recent years.
Contact Information
Customer Service: 1 (800) 446-8848
Mail: Intuit Corporate Headquarters 2632 Marine Way Mountain View, CA 94043