Protecting your identity and your credit is critical in today's world. We've all seen the stories of individuals who had their identity is stolen and their credit ruined. Can you imagine being denied a home or auto loan after years of building your good credit?
Identity theft protection services help you avoid that heartbreak by monitoring your credit report activity and helping you keep your personal information safe. If you want one less thing to worry about when it comes to buying a home, getting a loan, or saving for the future? TransUnion, one of the 3 major creditreporting agencies, knows just what to offer to avoid this heartbreaking disappointment!
Just read our review below to decide if My True Identity is for you!
---
What Is MyTrueIdentity.com?
This site helps you to monitor your credit and keep your personal information safe with these key features:
Credit monitoring with alerts telling you of any changes to your credit report

TransUnion report and score

National score comparison

TransUnion lock

Access to identity protection support if needed
TransUnion's MyTrueIdentity allows you to rest easy, knowing that you'll be notified of any activity on your file. You can even lock your file so that no applications can be approved without unlocking it. And, if you are the victim of fraud, this program will support you.  
In addition to monitoring, this site program offers you a way to manage your credit and see the impact your borrowing decisions will have on your score. Are you thinking of buying a car or applying for a newcard? My True Identity's tools allow you to see the factors that affect your score so that you can see the impact of those decisions before you make them.
Do you want to improve your credit? Visit this homepage because it allows you to see the factors that may have lowered your score so that you can focus your efforts there. You can finally take control of your situation!
---
Step-By-Step www.

MyTrueIdentity.com

Sign Up & Log In Instructions
Please note, to sign up, you must have an activation code. You may have received this code in a letter, email, or from the resources page. Have this 12-character code available before you begin the sign up process. 
Step 1: Go to MyTrueIdentity.com using your preferred internet browser and reliable internet connection.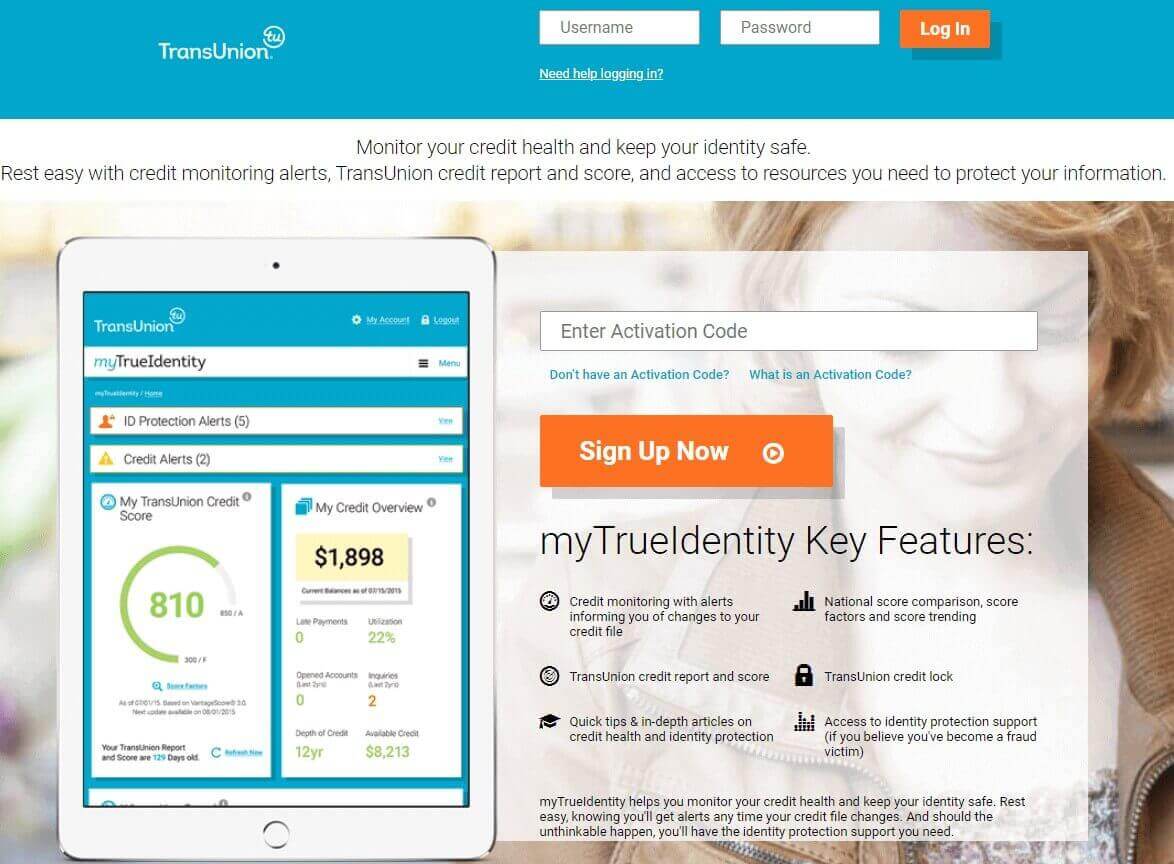 Step 2:  Enter your activation code in the appropriate box and click on the orange "Sign Up Now" box. 
Note: If you do not have a code, you can contact your TransUnion provider. 
Step 3: Enter your information, including first and last name, home address, email, and phone number. You also have to enter your date of birth and the last four digits of your social security number before you can click the "Submit & Continue to Step 2" box. 
Step 4: Follow the prompts to create your account. 
Step 5: Answer the questions verifying your identity and follow any other requests to complete setting up your account. 
Note: Once you have registered online, you can also download their services app on your phone to manage your account.
After you created your account, you can now sign in at any time to monitor your score and other vital features. 
To sign in, go to the homepage and enter your username and password into the upper-righthand corner. Click the orange "Log In" button. If you need some help with your username or password, click the white "Need help logging in?" link. 
---
More Information About My True Identity
On the homepage, you can read more about the privacy policy as well as the terms and conditions. There is also a white FAQ link. If you click on it, you can browse Frequently Asked Questions like "What if I find something inaccurate on my report?" This portal can help you with a plethora of common questions regarding your credit.
---
About TransUnion
TransUnion is a primary credit reporting agency. It collects information from over a billion consumers throughout 30 countries. The company was created in 1968 as a holding company for Union Tank Car Company but quickly moved into the credit report business in 1969. Leveraging technology at every turn, TransUnion has become one of the significant credit reporting business members for both consumers and businesses. 
Contact Information
Mail: P.O. Box 740241, Atlanta, GA 30374

Phone: 1-800-685-1111

Website: https://www.transunion.com/customer-support/contact-us-consumers