Who doesn't love a good beer? It's one of the best beverages out there, and the MyBeerRebate website special offers helps to sweeten the deal. You can get a rebate on hundreds of different brands and types of beer to help cut your costs, making the enjoyment even better.
Read on below to learn more about the special deals offered and get to saving more of your hard earned cash!
---
Our Guide to Start Saving with the MyBeerRebate Program
The following information is required to submit your claim:
The specific My Beer Rebate offer number

Information about the purchase date

Zip code of the location where your purchase was made

A Valid email address

You must 21 year of age or older
---
How to Complete Your Rebate
Go to the submission form located on www.mybeerrebate.com

You are met with a submission form right away. Here you are required to have scans or digital receipts of your UPC and product receipts

Submit your claim information, as well as any other requested documents

Ensure everything you're submitting is entirely accurate

Finalize your submission by clicking the "Submit" button

The website

 will supply you with a tracking number; use this to track your rebate's progress
You may submit multiple claims. In many instances, depending on the specific promotion you may select a quantity for the number of items purchased.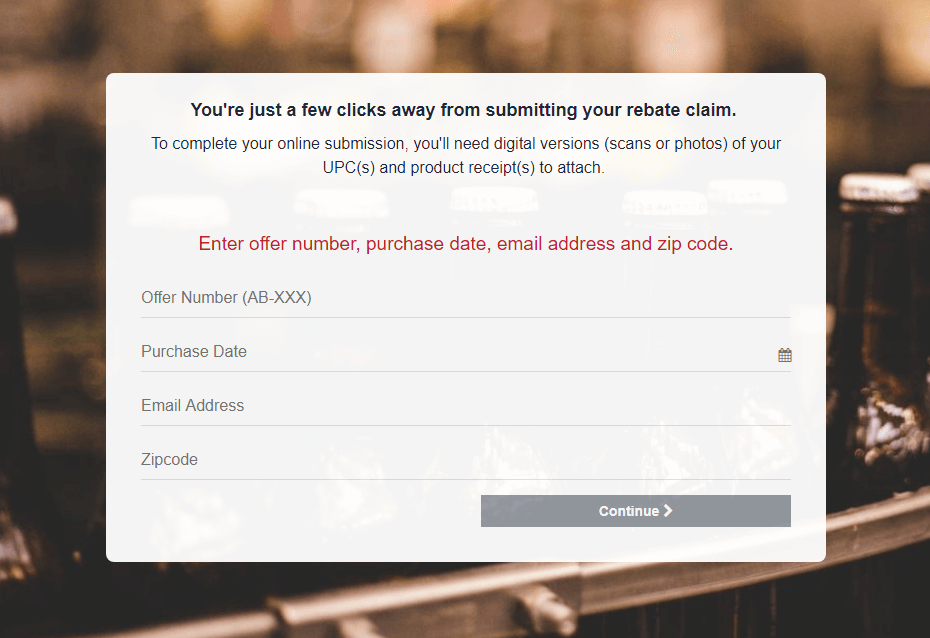 Rebates Take Time
Receipt of your cash back takes time and can vary between 6 and 8 weeks. Occasionally, the company may process rebates faster, depending on current demand.
This information is also available through their FAQ page.
Submitting multiple claims may create problems with your expected delivery time frame. If you file multiple rebates within a short time frame, they will be processed one by one and not grouped together.
This could either mean that when they ship, they will a) be delayed until all rebates from your email address have been officially processed or b) ship immediately and leave you with a volley of deliveries over the course of one or more weeks.
---
Receiving Your Rebate
So you filed a Budweiser rebate, but now what do you do? Depending on your claim, your reward may be shipped to your home. In rare occurrences, a signature may be required upon delivery.
Use your tracking number to follow the progress closely. Keep in mind the six to eight-week time frame—you may notice different stages of your rebate taking weeks before moving on to the next step, which is totally normal.
If 8 weeks have passed since submitting for your deals, contact the websites customer service. You may chat with them directly through their website for near-immediate assistance.
Customer service representatives are available from 7:00 AM to 11:00 PM every Monday – Friday.