If you've recently eaten at a Hardee's or Carl's Jr and are looking to fill out the their customer survey and get free stuff then you can visit either www.TellHappyStar.com or https://www.carlsjrandhardeessurvey.com to provide your opinion on your recent dining experience.
After completing the survey you will be provided with a code that you can use to redeem the offer that is printed on the back of your original receipt. As of this writing you have the option of a free small fries, small Hash Rounds or a free small drink with the purchase of 1 regular price menu item. There are a few other requirements which we will cover below in our tutorial of the Tell Happy Star Survey.
---
Our Carl's JR & Hardee Survey Guide
To be eligible to fill out the survey and get your free menu item you will need the following:
You must be a resident of the United States
You must be 18 years of age or older
You must be able to understand either English or Spanish
You much have the original receipt from your recent visit to a Carl's Jr. or Hardee's restaurant within the last 7 days
Click here for more details on this survey and sweepstakes official rules
---
Step-by-Step Carl's Jr & Hardee's Survey Instructions
Images of the survey website are shown below along with step-by-step instructions for filling out the Happy Star sweepstakes survey.
Step 1: Firstly you will need to visit TellHappyStar.com or carlsjrandhardeessurvey.com.



Step 2: On the login page of the survey site the primary language that initially comes up is English, if Spanish is your primary language click Español just below the start button as seen below.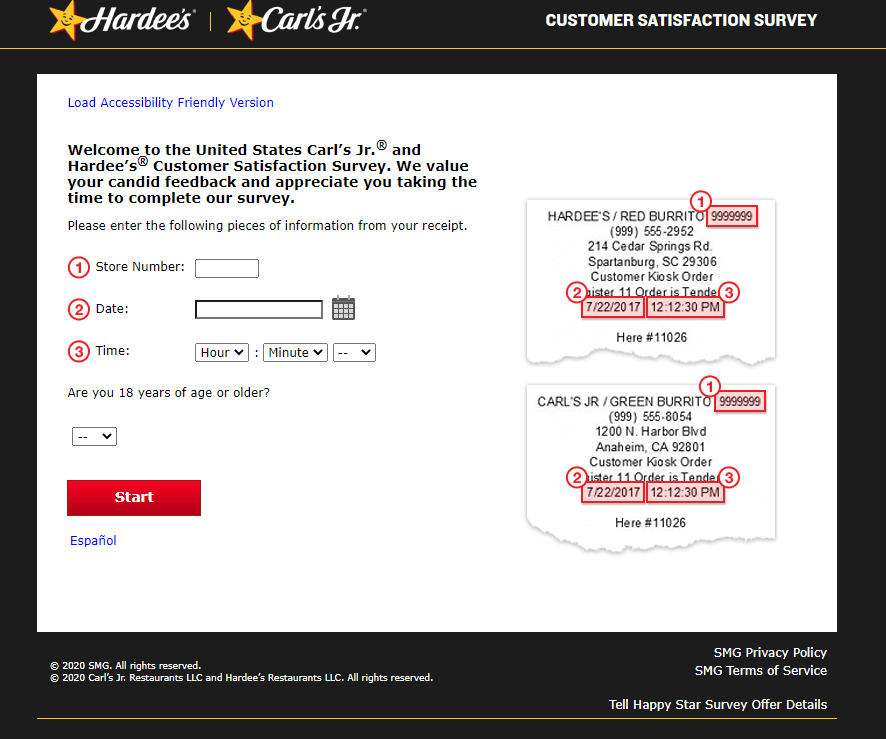 Step 3: For this step you can refer to the image above where you will need to enter information from your receipt. Refer to the guide on the right in the image above to find the location of your store number, date and time you visited the store.
*On this screen you can also view the Survey Offer Details, privacy policy and the company's terms of service for the sweepstakes.
Step 4: After filling out your receipt info and reading the survey terms click "start" to advance to the next screen
Step 5: On this step you will begin the actual Tell Happy Star Survey. Answer the questions truthfully as they will have no bearing on your eligibility for your free menu item. Hardee's and Carl's Jr want truthful answers so they know where they can further improve their customer service and ultimately customer satisfaction!
Step 6: After completing the survey you will receive the code that you will need along with your original receipt (copies of receipts are not accepted) in order to get your free food item.
---
Other Surveys Worth Checking Out
---
About Hardee's

Hardee's is a fast food burger and fry joint that was first started in 1960 in Greenville, NC. The company was started from humbling beginnings by Wilber Hardee and grew throughout the years as one of the most popular fast food burger restaurants in the United States through the 70s, 80s and 90s. Currently the company is owned by CKE restaurants and has over 1,800 restaurants across the United State and locations in 14 different countries.
---
About Carl's Jr

Carl's is fast food burger and fry restaurant that was founded over 80 years ago. The company started as a small hot dog stand in California in the 1940's before opening their first two locations in Anaheim California in the 1950's.
The company grew to be a west coast favorite for decades and today has over 1,000 stores nationwide and restaurant locations in 28 countries.
---
Resources