Founded back in 2001, Vonage quickly rose to the ranks of top home VoIP providers due to its affordable cost and excellent features. Users are said to be able to choose from a myriad of calling plans depending on their requirements. Domestic, international, and even small business plans allow users to utilize many features, all via the internet.
Vonage is considered one of the top five best in VoIP for 2020, but do their services and features really hold up to scrutiny? Check out our complete review as we answer the question "What Is Vonage?" and many other questions along with going into detail about the features it provides, its cost, pros, cons, setup and much more below!
Our Vonage Review
---
What Is Vonage?
It is a communications services company specializing in voice over internet protocol. Their name, which was derived from voice-over-net-age, has become synonymous with quality VoIP services in America, Canada, and the United Kingdom. This review is about their residential service but the company is also very well known for Vonage Business, a premier small business VoIP phone service.
Instead of utilizing a one plan fits all approach, the company has created a variety of different plans to suit their customer's needs. These plans are separated into two main categories: home and business. The lowest rate for home phone plans is just $9.99 a month; however to know the cost for a business plan you must get a quote based your specific needs.
---
Vonage Facts
The company is one of the largest internet telephone service providers in the United States with approximately 2.4 million subscribers. They provide phone service to their subscribers by way of VoIP (Voice Over Internet Protocol) which means that all calls are routed through broadband Internet connections. The beauty of this is that the Vonage coverage map extends to anywhere with high speed Internet in the countries they provide their services.
The company is known as "the broadband phone company" by many and is a leader in the quickly growing industry. Besides the United States they also provides services in both Canada and the United Kingdom. It first became popular for its relatively cheap price in comparison to traditional land line phone service in the areas of local, long distance, and international calling. Since the company was established there have been a cluster of new VoIP providers, some of which are now offering lower prices. Vonage is now considered to be priced very averagely when compared to other VoIP providers but still way ahead of traditional landline services.  It also more than makes up for its average price with its excellent tech support, customer service reputation and high quality service.
Why Consider This VoIP Services?
To save money is the simplest of answers. If you're looking to switch to a VoIP provider, it's essential you understand the facts. Knowing the features, pros and cons of each provider can help ensure that you make an informed decision and choose the best provider based on your needs, wants, internet speeds, and a lot more. If you aren't informed you may end up with a VoIP service you are not happy with and nobody wants that!
---
Service Plans & Cost
They offer a bunch of different plans that vary quite a bit in price and the services they provide. Their plans have also changed quite a bit over the last several years as more VoIP companies keep popping up they have been forced to adapt in order to stay competitive within the industry. To start, their plans are divided into two categories, one being international plans and the other being domestic plans. Obviously, the international plans have international minutes built into the cost while domestic plans are for those that make mostly domestic calls. It is a lot like satellite providers in that they offer month-to-month service at the then going rate but allow for a significant discount for part of the time if you decide to sign up for a 12-month contract. Prices can range from around $12.99 a month all the way up to $39.99 for the most expensive plans (before taxes). For more information see details below.
Domestic Plans
Currently they offer two different domestic plans. These plans run anywhere from 400 minutes to unlimited minutes and calls to both the U.S. and Canada are included. Along with the minutes allotment users also get unlimited calling to other Vonage numbers, special low rates on international calls to over 60 countries, just $0.05 per minute for additional minutes, and Vonage extensions to make calls from your mobile phone at no extra charge.
The most basic plan offered by the company is the U.S & Canada 400. It costs $12.99 per month regardless of whether you sign a contract or not. It comes with the base features listed above and 400 total minutes per month. These calls are limited to the United States, Puerto Rico, and Canada. It does provide unlimited minute to other Vonage numbers and calls beyond your allotment are just $0.05 per minute.
The second and final domestic residential plan is the Vonage Anywhere plan. This plan is regularly $24.99 each month but when agreeing to a 12 month contract it is just $9.99 for the first year. It comes with all of the features of the other residential plans including free calls to other Vonage users, use of the Vonage extensions app, and low rates for international calling. This plan, as you can guess, comes with unlimited calling to all United States, Puerto Rico, and Canadian numbers.
International Plans
Currently Vonage offers four different international plans. All Vonage international calling plans offered by the company come with unlimited calls to the United States, Canada, and Puerto Rico. Along with this users also get free calls to other vonage users, Vonage extensions which allows you to make calls from your mobile phones, and free activation.The four plans they offer are Vonage World, World Mexico Sin Limites, Mexico Freedom and Vonage 3000 To Globe Philippines.
The World plan comes with the standard features listed above plus unlimited international calling to land lines in over 60 countries and mobile phones in 10 countries. The normal price is $27.99 per month but costs only $9.99 per month for the first six months when you sign a 12 month agreement.
Next up is the Mexico Freedom plan. It is made for those that make domestic calls and calls exclusively to Mexico. It costs $29.99 per month with a 1-year agreement. It doesn't appear that a month-to-month option is available for this plan. This plan comes with unlimited calling to Mexico landline and cell phones and also provides family in Mexico free calling back using the Vonage access numbers. It comes with unlimited calling to the USA, Canada and Puerto Rico as well but no other countries are included for free.
Thirdly, is the World Mexico Sin Limites plan. It is specifically designed for those that make a lot of calls to friends and family back in Mexico but other international calls too. It costs just $34.99 for a 1-year contract or $39.99 on month-to-month. This gives its users the same World Plan perks of unlimited calling to the United States, Canada, and unlimited international calling to land lines in over 60 countries and mobile devices in 10 countries. The addition to this one is that it provides users with unlimited calling to anywhere in Mexico at no additional charge. The special perk with this is that your family in Mexico can call you for free through the Vonage access numbers.
The final world plan offered is Vonage 3000 To Globe Philippines plan. This service is not offer with an annual contract for 14.99 for the first 3 months and 29.99 thereafter and also for just $29.99 for month-to-month service. It comes with the exact same features as the world plan along with 3000 minutes for calling to any number in the Philippines.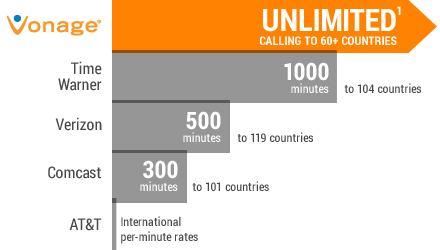 Pay As You Go Plans
They do provide a pay-as-you-go option but only for international calls on the Vonage Extensions app. You can purchase their prepaid Vonage calling card calling card and make calls to anywhere in the world with either your iPhone or Android smartphone. Just add credits to the card and make the calls directly from the Extensions app. Once your call is terminated the app automatically updates your balance. If you use the app often you can setup auto recharge so that once your balance gets low more money will automatically be added to your card.
Add-On Features That Can Be Utilized For An Extra Fee
Several add-on features are offered for an extra fee. One being the ability to get a virtual number. A virtual number allows you to get a number in any area code, thus allowing your family or customers to call that local number and not be charged for a long distance phone call. These are also great if you are a nationwide company looking to do business in local areas. You can get unlimited virtual numbers for $5-$10 per month for each number.
You can also add a dedicated fax line for just an additional $9.99 per month. Additional calling lines are $9.99 for the first three months with the price rising thereafter. Toll free 1-800 numbers are also available for $4.99 per month which includes 100 minutes and 4.9¢ for additional minutes. Finally, you can pay an extra $9.99 per month and get the Vonage softphone which provides you with an additional 500 minutes per month of calling directly from your computer. This is great for travelers as you can make calls from anywhere as long as you have your computer and an internet connection. Users can also add on extra extension numbers for a price of $4.99 per month.
---
How Much Can Vonage Save Me?
Your savings will depend totally on how much you currently pay for your home phone plan and how much you normally call to long distance and internationally. If you are with a VoIP provider already you're unlikely to save very much if any money. And if you're with a provider like Ooma it will cost your more to switch over to Vonage. This company's phone service comes at flat rates ranging from $12.99 for the most basic plan that includes local and long distance calling up to $39.99 for the most expensive plan that includes local, long distance and international calling to specific countries on a month-to-month contract.
Overall, we've see it save people from $50 at the most basic level to upwards of several hundred dollars per month for those that were paying expensive long distance and international rates.
---
Features
Vonage Extensions App – Use the free Vonage mobile app on your smartphone or tablet to receive home calls at your Vonage number, via your mobile device, while away from home. To download the Vonage app just visit the Apple iOS app store or the Android play store.
Selective Call Block – Enjoy being able to block unwanted numbers easily and as frequently as you need.
Voicemail Plus – Not only can you access your voicemail from any phone, but you can also have the audio recordings sent to your email if needed.
Call Forwarding – Forward calls through your online account or through any phone. Your callers won't even know it's being forwarded and you can turn it on or off easily.
Virtual Number – If you don't want to use your old number, you can get a new virtual number set up in whatever area code you wish.
Add A Line – With any Vonage calling plans you can easily add a second line so you can keep your professional and home life separate.
Call Waiting – Easily see who is calling even if you're already on the phone.
Three-Way Calling – Enjoy group conversations with friends, family or clients.
Simul Ring – With this you can set up to five different numbers to automatically ring when someone calls your Vonage number. Now you will never miss a call, and even better, nobody will even know that their call is being forwarded.
Vonage Fax – Regular lines also have the ability to send faxes but the company highly recommends that you get a dedicated Vonage fax line from them in order to ensure better faxing services.
---
Customer Service
As a whole most customers seem to be satisfied with the company's quality of customer service. Since the company offers high quality service most customer never even have to contact support, which helps the company do a good job with the few that do have issues. Despite their high quality of service they still have had a number complaints but this is to be expected with any company that has millions of subscribers. As a percentage their rate of complaints is very low and the old adage that you can't satisfy everyone is clearly true here. In fact, in a lot of cases issues where often a result of customer errors rather than because of something the company did. We found that they have better customer service than most companies of their size, and some of the best service in the VoIP industry. They do provide both online and phone support which allows you the convenience to choose your preferred method for help.
---
Vonage Install & Setup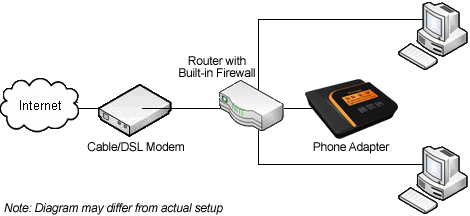 The adapter now used by the company is called the Vonage Box and setup is super simple. All you need is an internet connection, a regular telephone, and the box. They provide step-by-step instructions, however the icons labeling the various ports on the box make the installation intuitive and hardly requires any of the provided instructions. You'll find an internet port, an Ethernet port, two phone ports, and a power port.
Step 1 – To set up this box with an existing modem at home simply unplug your modem and leave that connected to the line that supplies it with an internet connection.
Step 2 – Then remove the Ethernet cable from your modem that connects your modem to your router or computer and put that in the Ethernet port on the Vonage box.
Step 3 – Next, plug the modem back in and then plug the Vonage box in.
Step 4 – Once the LED lights for the phone on the box light up and turn blue, you can then plug in your phone cord to the corresponding port on the Vonage box.
Step 5 – The remaining setup requires you to go online for activation and for account access. The instructions will show you how to signin online and will direct you to the next steps.
*The box supports up to two phone lines and works with any cordless phone system so you can make calls all throughout your house. The box normally costs $79.99 but with the frequent "Vonage Specials" is almost always offered for free to new customers.
---
Vonage vs. magicJack vs. NetTalk vs BasicTalk
Vonage is definitely the top provider among the 4 listed with NetTalk coming in as the cheapest services. Vonage comes with better customer service, support and a better user interface but you pay for it. Basic Talk on the other hand is something of an odd ball, actually piggy-backing on the Vonage network. With that being said it may just make sense to go with Vonage so you can get direct access to their customer service.
magicJack is the clear leader among cheap mainstream home providers. It really comes down to what you're looking for, cheap (magicJack or NetTalk) or full service (Vonage)?
---
Vonage Alternatives
Some great alternatives to Vonage include magicJack, NetTalk, BasicTalk among many budget residential VoIP providers.
---
What We Like
Great International Calling Rates – The fact that calls from Canada to the USA and vice versa count as domestic calls makes it even cheaper to call friends and clients in different countries.
Great Online Tracking – If you're wondering about your plan or how much you've spent/used for the month, you can easily check your online account by going to the Vonage login page and logging in. The tracking options on there make understanding your current usage versus allowance easy, and you can always upgrade with the click of a button if you need.
Easy To Transport – The Vonage router can be taken anywhere in the world meaning that your calling service will come right with you and work flawlessly (providing you have high speed internet access).
Anonymous Call Blocking – A newer feature to the service includes anonymous call blocking. A great feature for those who are tired of spam calls from various companies.
Excellent Call Quality – The calls for both long distance and local calls were exceptionally clear and rivaled that of a traditional hard lined phone.
---
What We Don't Like
Caller ID Does Not Provide Name – A minor gripe about the service is that you don't know the name of who is calling even if it's registered. Instead you get a number and if you don't know the numbers of your contacts then you end up wondering why you have caller ID in the first place.
New Number Changes – If you end up changing services or plans you may end up getting a whole new number. Fortunately you can pay them a one-time fee to use your old house number or pre-existing phone number.
---
FAQs
How Does The Service Work?
For their service to work you must have a broadband Internet connection. Once that is in place it can work in two different ways. The first option is for subscribers to get an analog telephone adapter from the company and use it to connect their regular phone to their computer. This allows subscribers to use their regular phone just as they did with a traditional land line. The other option is to get the softphone application which is a computer program that allows you to make phone calls directly through your computer. Both of these options are fairly easy to use and make for an easy transition from your old school land line
Do I Need A Computer To Use It?
No computer is need. Other VoIP services often require a computer but theirs is unique in the fact that all setup and use can be done quickly and easily without the need for a computer at any point.  Again, all you need is a high speed internet connection, a regular telephone, and the Vonage Box. You will need to use a computer to access your account online if you want to make any changes to your plan over the web. All of these changes can also be made by calling their customer support number too.
How Well Does It Work?
Currently there are over 2.4 million subscribers so it is logical to think that it works pretty well. From what we have seen up to this point that is indeed true. VoIP has come a long way in the last several years with call quality improving greatly. Of course, with any company that has over 2 million customers you are bound to have those that complain. When issues do arise it is generally a result of a slow or faulty internet connection. A poorly running computer can also cause problems with the service.
In most cases the problem is not with the service itself, but if you do have issues most problems can be solved in-house by calling the Vonage support phone number. From all of the info we have gathered we have determined that for most customers it works extremely well and we highly recommend it as an alternative to a traditional land line. It's definitely not the cheapest VoIP service out there either but remember that you get what you pay for. With them you pay a bit of premium which guarantees you good call quality and great customer support for billing related issues and awesome technical support for technical issues.
Will I Still Be Able To Receive Calls If My Power Goes Out?
Yes! When setting up service be sure to provide your network availability number and in the event that your power is out all of your calls with be forwarded to that number.
What Is The Company's Refund Policy?
They offer a 30-day money back guarantee for all new subscribers for their first line of service. It is important to note that in order to get the refund you must return all equipment in good and working condition within 14 days of canceling your service. You are also responsible for all shipping charges for sending the equipment back if you decide to cancel.
Which Countries Can I Make Free Calls To With My Unlimited International Plan?
Countries and territories with free calls included
Andorra
Argentina
Australia
Austria
Bahrain
Belgium
Brazil
Brunei(m)
Bulgaria
Canada(m)
Chile
China(m)
Colombia
Croatia
Cyprus
Czech Republic
Denmark
Dominican Republic
Estonia
Finland
France
Georgia
Germany
Greece
Guadeloupe
Guam(m)
Hong Kong(m)
Hungary
Iceland
India(m)
Indonesia
Iraq
Ireland
Israel
Italy
Japan
Latvia
Luxembourg
Macau(m)
Malaysia(m)
Malta
Mexico
Monaco
Netherlands
New Zealand
Norway
Panama
Peru
Poland
Portugal
Puerto Rico(m)
Romania
Russia
Saipan(m)
San Marino(m)
Singapore(m)
Slovakia
Slovenia
South Africa
South Korea -(m)
Spain
Sweden
Switzerland
Taiwan
Thailand(m)
Turkey
US Virgin Islands(m)
United Kingdom
United States(m)
Zambia
(m) = Calls to cell phones are included
Can I Keep My Old Number If I Make The Switch?
Yes, in most cases new customers can keep their old phone number. It does however take about 7-10 days to process a transfer. In rare cases you may not be able to keep your number and if this is the case you will have the option to get a new number. If you don't want to switch number you may not be able to use their service.
---
Final Thoughts On Vonage
Vonage provides excellent VoIP telephone service, in fact, some of the best in the industry. With prices that are substantially below that of traditional land line companies they have been able to build a large customer base of very satisfied customers. Although lower than land line companies their prices are higher than a lot of other VoIP competitors such as magicJack. When you get this telephone sevice you are paying a premium for a well known VoIP brand that has a proven track record of providing great service. If you are all about saving as much money as possible you're probably better off looking elsewhere.
However, if you are just looking to save as compared to your land line service and want a highly reputable company then Vonage is a great choice. Go ahead and give it a try and if you don't like it you can always return it since it comes with a 30-day money back guarantee.