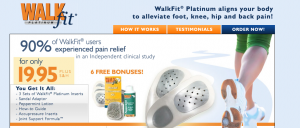 Are you a person who feels imprisoned by their lower body pain? Would you love to take up walking, but you find that your lower body pain prevents you from getting off the couch?
Are you confined to your bed?
Do you experience anguish because your friends and family members can partake in activities around town, vacation, and indulge in all sorts of activities, while you sit on the sidelines?
Or, do you find that certain career fields are out of your reach for employment, because you can't walk or stand on your feet for long periods of time?
Did you know that there's an orthodic insert that you can slip into your shoes that will help to get rid of your pain, by properly distributing the weight of your body? It's called the Walk Fit Platinum, and it's helped many people just like you through the years.
Product Overview
The Walk Fit Platinum orthodics are the latest generation of the Walk Fit orthodic products, which have been on the market for over a decade. Their purpose is to allow people the ability to get rid of their lower-body pain while walking. In many cases, people experience sharp pains and aches due to the poor distribution of their weight.
Typical shoes, even athletic shoes, can do a poor job of distributing a person's weight, especially when it comes to the force a person applies to their feet as they strike the ground running, or walking. Over the years, all of that wear and tear on the feet and lower body can cause pain, and the misalignment of the spinal chord.
Poor weight distribution from the feet can also cause condition such as sciatica, which is a pinching of the sciatic nerve in the lower back. This produces pain from the lower spine down through the legs.
Purpose
The purpose of the Walk Fit Platinum orthodics is to alleviate your pain while offering you a comfortable, extended walking experience.
The manufactures specify how the orthodic inserts work:
(The inserts) cups (your) foot with durable support to relieve discomfort!
WalkFit® Platinum distributes your weight evenly across your foot to help prevent collapsing, pressure points, stress and rubbing. This reduces painful burning, bunions, corns, and calluses.

It also eases impact by evenly distributing the force of each step! And, it flexes and cushions to help absorb destructive shock waves from traveling up through your entire body every time your foot hits the ground!
Size
The inserts are sized according to your gender, and your current shoe size. When ordering, first indicate whether you're ordering for a man, or woman. Then, find your shoe size, or the shoe size of the person you're ordering inserts for. That's it!
How To Use
The Walk Fit Platinum orthodics are easy to use-simply select your proper size, then insert them inside of your walking shoes. Note that the product comes with a sandal insert. The insert is perfect for those times when you'll wear walking sandals for an extended period of time, such as a day at the beach, or while you're walking outdoors on a sunny day.
Of course, the sandal inserts are perfect to wear while you're walking outdoors at certain vacation destinations.
Additional Supplies Needed
You won't require any additional items, but it might be nice to purchase brand new walking shoes. This will ensure that the fit of your shoe properly supports you, and the insert will do a better job of alleviating your lower body pain.
In addition, you might find that the peppermint lotion that's included in the package will help to cool and soothe your feet and legs, while also moisturizing the skin on your lower body, and your lower back.
Of course, if you're suffering from a chronic condition, or if you've been diagnosed with a chronic or serious condition, then consult with your doctor or podiatrist before using this product.
Who Needs Walk Fit Platinum Orthodics?
Walk Fit Platinum orthodic inserts are perfect for you if:
You experience sharp pains when you walk
You notice aches down your lower back
Your ankles become too sore from walking or standing for long period of time
You work in an industry that requires you to stand or walk for extended periods of time
You've stopped a fitness program due to pain
You stay at home because you're controlled by lower-body pain
You want to take vacations, but the pain produced by walking stops you in your tracks
You'd love to walk your dogs, but you're not able to walk or run
You need to improve your cardiovascular health
How Is This Product Different Typical Shoe Inserts?
There are plenty of shoe inserts on the market. All of them are marketed as being able to provide a cushion for your feet, and many of these are cheap. However, few if any are specifically designed to address nerve and pain points along your feet, your legs, your knees, your hips, and even, your lower back!
Many people would engage in walking more, if only it didn't hurt so much. When they purchase a product like the Walk Fit Platinum orthodics, they'll take steps to alleviate their pain, and get back to enjoying a walking routine again.
But, the inserts aren't just for those who are looking to revamp a walking program-the inserts are also great for anyone who works on their feet for hours at a time. Many people stand on their feet and walk miles as part of their job descriptions.
This includes kitchen staff, hospitality industry employees, medics, nurses, doctors, firemen, police offers, and others. All of these professionals and others can vastly benefit from using an orthodic insert that's designed to help them to stand properly, and alleviate their pain.
Price
The price of the Walk Fit Platinum insert package comes to $19.95, plus $9.95 shipping and handling. Your Walk Fit Platinum orthodics include:
3 Set of arch inserts
A sandal adaptor insert
Cooling peppermint lotion
Acupressure inserts
Joint support formula
There is a 30 day money-back guarantee on the product, less shipping and handling. This means that if you're not happy with the product, you can return the product within the first 30 days of ordering and receive a refund, minus the shipping and handling charges.