Watch Joe Biden trump Trump on the chessboard, or make the Don win beautifully – either way, you're set to get hours of fun with this board game. The Battle for the White House 2020 Chess Set Board Game is fun for the entire family.
Our Review of the 2020 Battle for the White House Chess Set
Below you can learn more about the iconic set. If you follow politics, especially during the year of an election, you will love this legendary game an that is a collectible piece of history. Do you love playing chess, too? That's a win-win. Keep reading for pros, cons, FAQs, and more.

Are you tired of being a pawn in the game of politics? Let's reverse that – make these political giants your pawns. With the most dramatic presidential election in history coming up in November 2020, this game is a great way to commemorate all the figures at play. Whether you love a strategic gameor have never touched a chess piece in your life, this is a great- maybe the most tremendous – collector's item to buy this year. Million of people worldwide enjoy playing chess, and now you can join them. 
---
Main Features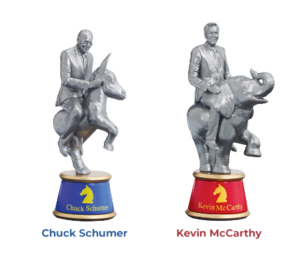 This limited edition board and set comes as a full 32 piece set with beautifully sculpted pieces in the likeness of our current political leaders, like Donald Trump, Mike Pence, Barack Obama, and Ruth Bader Ginsburg, along with many others. 
There are two empty podium slots until the Democratic presidential nominees are announced, but once that happens, you'll receive your figurines in the mail to replace the podiums. 
The game works like regular chess; Donald Trump and Mike Pence are the Republican royalty chess pieces, while two Democratic pieces are blank. The other Democratic and Republican pieces will ride donkeys and elephants as knights, former presidents will serve as rooks, and Supreme Court Justices will serve as bishops. Donkeys and elephants will serve as pawns – so let the battle begin! 
[Related: Trumpy Bear Review]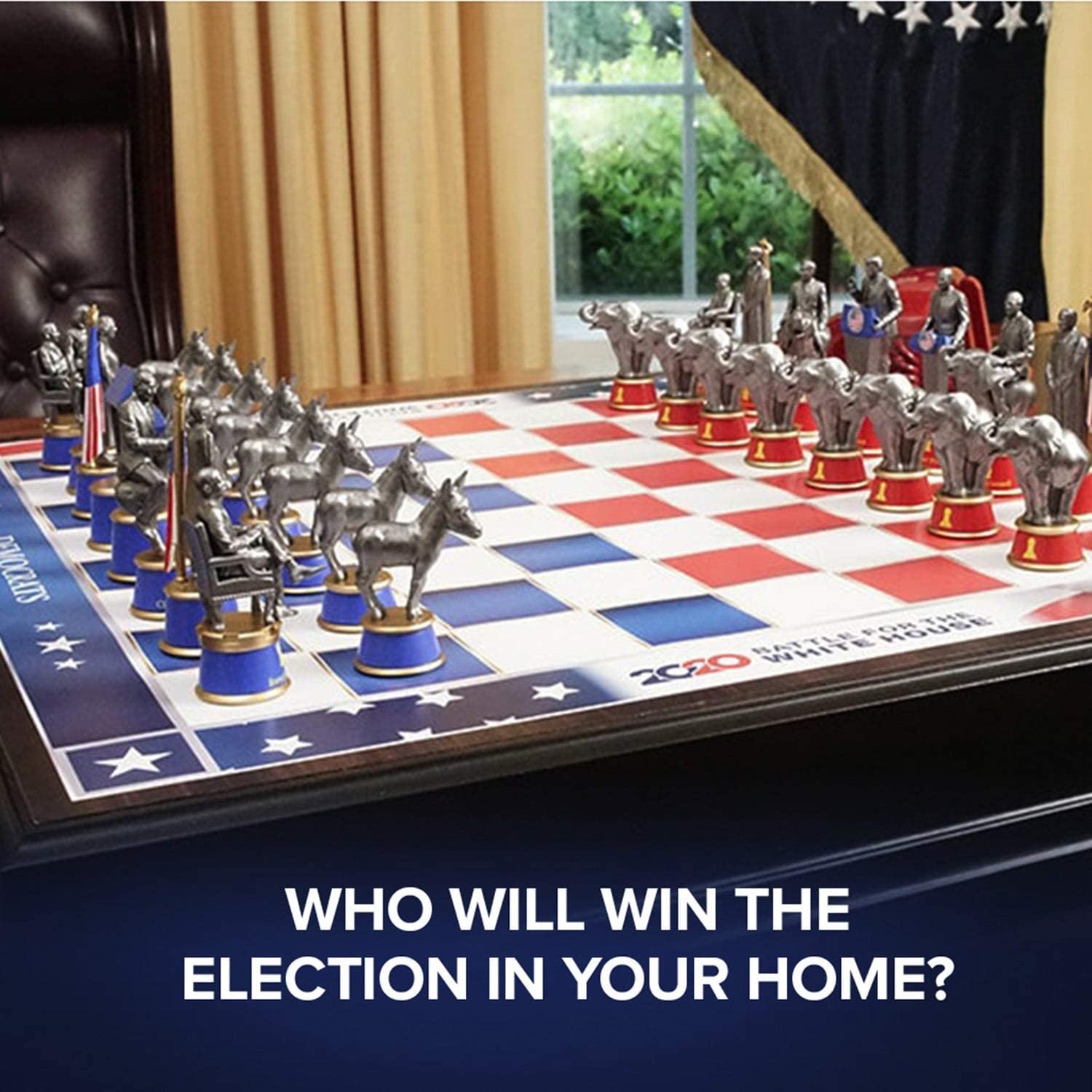 Each piece is colorized in blues and reds to represent their political affiliation, and each purchase will receive a serial number and a numbered certificate of authenticity. 
---
Pros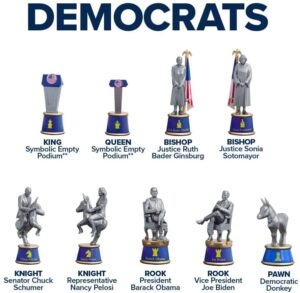 This game is a limited edition set to commemorate a historic election during a year with unprecedented events: wildfires, murder hornets, and a pandemic! This set can be passed on from generation to generation with stories told about each political figure. Donald Trump was indicted! That's going down in history books, and children will enjoy having a tangible representation of the story while hearing it.
Though the standard purchase comes with a cardboard set, you can upgrade that to a mahogany board for display purposes. You can also opt for your pieces to be a gold shade rather than silver because we know the Don loves gold! 
---
Cons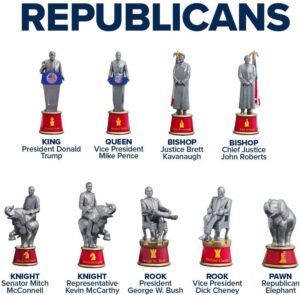 Though the upgrades listed above are lovely, they can be pricey. The upgrade for the board cost one buyer $150, and shipping can take several months. 
The pieces are plastic, not pewter, which makes them feel shoddy and causes some of them to bend upon pulling them out of the casing. The board itself felt flimsy as well, and some said it was not worth the cost.
Another issue is that this board game has not been endorsed by politicians or political parties, which makes it liable to legal problems. As customers, that does not create legal issues, but it does mean it could stop them from producing and selling the board game. 
Customer service seems to be challenging to reach with this company, and many buyers have complained about the shipping time or the return process. Customers were either charged high return shipping rates and received very slow or no responses from customer service. They were also charged restocking fees, and some never received the refunds they were promised after ending their calls with customer service.
---
Official Commercial
---
FAQs
How much does it cost?
The 2020 White House Battle Election Chess Board & Pieces can be purchased for $39.99 plus $9.99 shipping and handling from the original site.
You also have the option to double the offer and get a second game for another $19.99. If you are outside of the US, it will cost an extra $10 for shipping.
---
Where can I buy it?
You can buy it from the official site which includes a certificated of authenticity.
---
How long does it take to ship?
The seller says it can take about two weeks to ship, though many customers have indicated that their item took several months to arrive. You should also allow at least 48 hours before trying to track the package.

---
What is the return policy?
This company guarantees your satisfaction 100% so returns are accepted. You have to return the product within 30 days for an quick refund, which does include shipping and handling fees. You will have to pay return shipping, and they recommend a tracked and insured method. You might have to pay a restocking fee of 10%. Exceptions do apply to some returns.
---
How can I contact customer service?
The 2020 Election White House Battle Chess site offers several ways to contact customer service. You can write a letter to the following address: Telebrands Customer Care, 79 Two Bridges Road, Fairfield, NJ 07004. Another option is to call 1-855-789-4109 Monday through Friday 7 am to 12 am EST or Saturday and Sunday 8 am- 8 pm EST.
---
A Bit of Extra Advice

It is essential to check other sites for cheaper alternatives before buying directly from the original site because of their shipping and customer service issues. If you do not mind receiving a mediocre quality set because of the novelty of its concept, this is a great game to have. 
If you purchase the set, it would be beneficial to others making the same decision if you leave a review explaining your experience, as people tend to review either very good or bad experiences. 
Preserve your certificate of authenticity if you ever decide to sell your set – this will help with its value!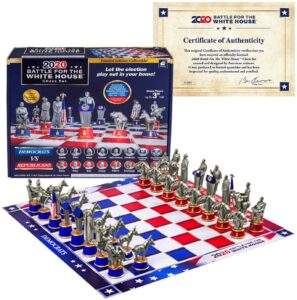 ---
Conclusions to the 2020 Presidential Election Battle Chess Pieces & Board Set

There are dozens of chess boards on the market, but none captures the irony of politics in this manner. Whether you're a Republican, a Democrat, or something in between, this collectible is a new set sure to spark some conversations.
If you like chess, and politics, you will enjoy having this historical toy, despite its sub-par quality and expensive price tag.
Maybe your match playing the 2020 Battle for the White House set will predict the future — have fun!