Have you seen the Trumpy Bear ad and are wondering whether it's a real thing or not? If so, you're in the right place to learn more!
People became aware of this stuffed animal a couple of years ago and it left everyone a little confused as to whether it was a genuine product or something that had been made for satire. Well, this infamous teddy made a resurgence recently and it has sparked the conversation even further.
Below, you can find more details about what exactly this teddy is and more about the website that it's available on.
They've designed the teddy to look like the President of the U.S. and it has lead to people buying it to either support the president or ridicule him. Regardless of what your intentions are with this product, you can discover more about what it has to offer and how to purchase it in our review below.
---
Our Trumpy Bear Review
If you're wondering what Trumpy Bear is then we're hear to tell you! This item is a stuffed animal toy that includes plush materials that are super soft. Therefore, it has the traditional feeling of a regular teddy bear. However, it has been designed to look like President Trump. They've achieved this by putting hair on top of the teddy that looks just how Trump has hair styled. In addition to this, they've designed it with cuffs, a tie, and a collar.
The overall size of the Trumpybear is 22″ in height. It also comes with a cape that has been made with the design and colors of the flag of the USA. There's a unique feature in the back of the bear's neck that includes a zip that you can easily open and close. This space can be used for keeping the flag stored when you're not using it.
Furthermore, you can put it around the teddy and zip it up to keep it secure and have the the stuffed bear look like it's wearing a cape. It's a total of 28 x 30″ which means you can also utilize it as a blanket to have over the bear.
People have been wondering what the Certificate of Authenticity means when purchasing this teddy. It's essentially a way for customers to be given the reassurance that they've got the real deal. This is because there are some fake versions of this bear being sold. So, if you have the Certificate of Authenticity provided with the stuffed teddy, it means that you've got the real thing.
[Related: 2020 Battle for the White House Chess Set]
---
Trump Bear Review Official Commercial
---
Other Images of Product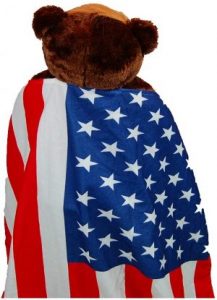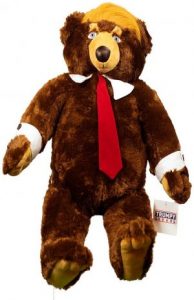 ---
Buying Guide
After reading through our TrumpyBear Reviews, you may be more curious about where you can find it and what the ordering process is. If so, you can check out these sections to discover more about the website that sells these teddies and some of the common queries that people have been having.
Is Trumpy Bear Made in China?
Some customers aren't exactly sure of where the product is made. All that they know is that it's shipped out from Texas, which can lead people to questions such as, who makes Trumpy bear?
This teddy is manufactured in China which is pretty ironic with the current state of affairs between the country and Donald Trump.
---
Is Trumpy Bear a Joke?
After watching the commercial, many people wrote off the items as being a complete joke. However, it's 100% real, regardless of whether you see it as a joke or not!
If you take a look at the Snopes site, you'll see that this is actually a real product, whether you'd like to believe it or not. Some people weren't sure of how authentic the item was after seeing the various Reddit posts. However, Snopes is a website that you can use to debunk fake news or myths.
---
Where Can I Buy a Trumpy Bear?
You can buy the Trumpy Bear on the official site as well as at Walmart. Regardless of where you go to buy the item, they've all been made with the same designs. If you wanted to be 100% certain that you're buying and authentic version we strongly recommend purchasing it directly from the manufacturers official site.
As we mentioned before, if it comes with a Certification of Authenticity, then you can feel more confident in knowing that it's real. However, if there's no certificate, then it could be a fake.
When purchasing the item through their site, you're provided with the option to pay for it in full or in 2 equal installments. If you select the 2 installments option, you'll need to pay the first half upfront and the other half at a specified time.
Once you've placed your order and had confirmation, you can expect it to arrive within 14 days. You should also keep in mind that they charge you $6.95 for regular delivery and expedited delivery costs $10.
A 30 day money back guarantee is available which lets you send the item back for a full refund, aside from the cost of delivery. Only customers within the U.S. are able to receive orders from the site.
---
Customer Service Details
An email is available where you can send a message to service@sellontv.com if you had any inquiries.
You could also choose to call them on 800–536–5327 where you can speak to someone working in their customer service department.
---
Conclusions Regarding the Trump Bear
If you've been interested in this As Seen On TV product, we hope that we've provided you with all the details that you need to know. You can buy this teddy as a way to support or show your vote against the current presidency. Either way, you can use the info found throughout our review and buyers guide to help you uncover some of the misconceptions about this product, how tell you have a real one, and where to find it.