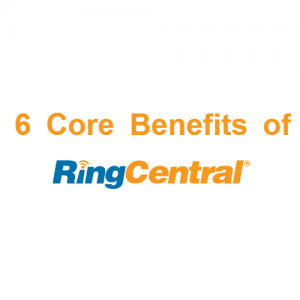 The move towards cloud communications is not new, but it's a trend that has taken the business world by storm. So much so that companies that still run on a traditional PBX are quickly being left on the ground as their competitors soar skyward toward the cloud. But, despite the tangible benefit of not having to deal with and manage bulky on-site hardware, what are the real reasons your company should consider migrating to the cloud sooner rather than later?
Well, RingCentral is a leading global cloud based business VoIP provider, and by looking at how their solution can not only improve your business communications and collaboration but also streamline work processes and amplify productivity, we can find the answer to that question.
Simplifies communications
The problem with traditional PBX is that its technology is decades old, developed before anyone had even begun to think about modern communication tools. That means that IT departments have no choice but to bundle individual solutions, such as team messaging and conferencing, on top of an outdated system. This makes for an IT management nightmare with multiple disparate tools to manage, potentially across various locations, not to mention the high cost and complexity of financing all of these different products.
The beauty of a unified cloud communications solution is that it brings together every mode of communication into one easy-to-use platform for one monthly cost. With RingCentral Office specifically, you get all-inclusive voice, team messaging, video conferencing, and more, in one cost-effective solution that is easy to set up and manage.
Makes going mobile easy
It's no surprise that the workplace is increasingly mobile. The face of the traditional workplace is changing, and to keep up, businesses need to think mobile first when it comes to communications and workflow. Thanks to the internet and a rise in modern communications tools, remote working and doing business across borders has never been easier.
Whether you're a company of 1 or 1,000, everyone can benefit from having their communications easily accessible when on the go. RingCentral offers mobile apps that allow users to securely access their communications from anywhere, on any device. Teams can connect with each other, customers, or partners via phone or team messaging, or even join a meeting with just one click on their mobile device or desktop. Making connections and communicating effectively with remote workers and distant customers comes a lot more naturally when you have the right solution.
Seamlessly integrates with workflow
Today's mobile workers use multiple devices—including desktops and smartphones—to communicate in a vast variety of ways, such as voice calls, SMS, conferencing, email, and chat. On top of that, employees are working with a range of business apps that create even more communications channels. These devices and applications can't be easily integrated with a traditional PBX system. Communication data remains segregated from business-app data, obscuring a comprehensive view of the information flow. Furthermore, most of these modes of communication require employees to enter data manually to log a conversation. As well as making things more laborious, this log information is isolated from other systems and is often lost or forgotten.
RingCentral allows you to integrate applications and communications into one seamless experience for users. For example, cloud-based phone dialing, audio conferencing, messaging, and other features can be added to Microsoft Office 365, Google Cloud and other services, enabling users to connect using multiple means of communication without even leaving their business apps. Plus—great news for your developers—RingCentral offers an open platform, giving businesses the ability to innovate and build custom apps according to their unique needs.
Gives you peace of mind
Things in life don't always go to plan. It's no different in the business world. We saw this become a reality during the recent natural disasters, when businesses that took decades to build had the ground swept from underneath them in minutes. Finding products and services that you can trust to help you through the bad times, as well as the good, is not an easy feat.
Reliability is at the core of RingCentral's promise. Its products were built from the ground up to deliver carrier-grade reliability for your business communications. Thanks to a widely distributed, redundant network, it can route calls dynamically around broken links, while redundant data centers and production environments are there to ensure continuity during outages. RingCentral relentlessly focuses on delivering quality of service with smart call routing and 24/7/365 monitoring of quality metrics across all modes of communications. This means you can concentrate on doing what you do best, safe in the knowledge that RingCentral has your back.
Prioritizes security
If your company is using disparate communications tools, you'll know that the security of your business data is a constant worry. By moving your communications to the cloud, you may think that this will put you at even more risk of a data breach, but that's just not the case. In fact, it's quite the opposite.
RingCentral's enterprise-grade security is architect-ed to protect your data and your communications. Communications are encrypted between all endpoints, no matter what device you are using. Its redundant network and infrastructure is protected with multiple layers of physical and logical security, and its data centers are audited regularly to ensure compliance with SSAE 16, PCI-DSS level 3, and ISO 27001 standards. RingCentral also carries out analytics-based, automated fraud detection and mitigation, giving you the peace of mind to get back to doing business.
Guarantees quality of service
Moving your communications to the cloud can be a daunting prospect. That's why you will want to make sure your chosen cloud communications provider has the right experience and offers the support you need to make the transition as straightforward as possible.
RingCentral has a global private backbone that allows for single reliable connectivity, independent of a local broadband provider, whether you have a domestic or global presence. With our Direct Connect, you can receive OTT internet access through a variety of vendors of your choice. The RingCentral solutions bring you end-to-end quality of service for state-of-the-art technology like Opus and HD audio and video. A dedicated professional services team provides a variety of services and can help plan, design, integrate, and implement your communications infrastructure. As part of this service, RingCentral offers on-site deployment to ensure a no-downtime, worry-free transition to its cloud communications solution.
As you can see, there are many benefits to enjoy when moving from a traditional PBX to a unified cloud communications solution, aside from getting rid of that bulky on-site hardware. With RingCentral, you can be safe in the knowledge that you're getting a solution that's reliable, secure, cost-effective and easy to set up, use, and manage. What more could you ask for? To learn more about how a cloud solution can help solve your enterprise's communications integration problems, see RingCentral's support page.