RingCentral is a business VoIP provider that was first established in 1999 and offers
VoIP solutions
for businesses of all sizes for 1-1000 or even larger. They offer a number of different plans designed to meet the specific needs of all businesses, small and large, which allows these businesses to save money not only on their phone bill but also by increasing efficiency and productivity. There are various pricing levels available, including Standard, Premium, and Enterprise.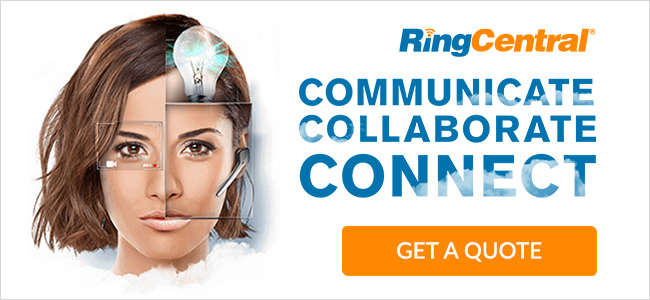 Our RingCentral Reviews
---
What is RingCentral?
When you sign up for RingCentral you will get VoIP phone services that work through a high-speed internet connection. There is no annual contract required for this service, so businesses are not obligated to keep paying for a year or more and can cancel their subscription anytime they want. RingCentral customers also have the option to change their plan/services at any time without incurring any fees whatsoever. This VoIP provider offers unlimited calling and internet faxing for the U.S. and Canada, provided that you adhere to all of the rules and stipulations laid out in their reasonable use policy. RingCentral offers IP PBX service, allowing administrators to simply register an account and configure the features they want using the Web portal.
Businesses that sign up with simply plug their IP phones and PCs into their routers and then install the Ring Central App on employees' smartphones. Each endpoint communicates with this provider's cloud platform to provide voice, text, faxing, audio and HD conferencing..
every office location. This makes for a very integrated and efficient communications solution that all businesses, regardless of industry or size, can definitely appreciate. These services can easily be managed through the cloud, providing businesses with full control and user-friendly web interface filled with dropdown menus and check boxes.
---
Service Plans
There are a number of different plans that businesses can take advantage of with RingCentral, so it is important to take an adequate amount of time to see what there is to choose from before making a final decision of any kind.
The essentials service plan is the cheapest plan and costs just $19.99 per month per user and offers a number of features, including:
Mobile apps for iPhone, iPad, and Android
Unlimited calling
100 toll-free minutes
Unlimited conferencing, and Business SMS
Online meetings for desktop and mobile
US-based support
US-based implementation
Integrations with Microsoft Office and Outlook, Google, Box, and Dropbox
4 people per meeting for multipoint mobile and desktop HD video conferencing as well as online meetings for mobile and desktop
The Standard service plan costs $24.99 per month per user and offers a number of features, including:
Mobile apps for iPhone, iPad, and Android
Unlimited calling
1000 toll-free calling minutes
Un-metered conferencing, internet faxing, and Business SMS
Online meetings for mobile and desktop and multipoint mobile and desktop HD video conferencing for up to 4 people per meeting
US-based support
US-based implementation
Integrations with Microsoft Office and Outlook, Google, Box, and Dropbox
4 people per meeting for multipoint mobile and desktop HD video conferencing as well as online meetings for mobile and desktop
The Premium service package costs $34.99 per month per user and offers all of the features of the standard package and a few more, including:
Inbound caller ID name
HD Sound quality
Auto attendant
Call recording
Integrate Desk.com, Salesforce or Zendesk
Single Sign-On
Voicemail-to-text
2,500 minutes of toll-free minutes
50 people per meeting for multi-point mobile and desktop HD video conferencing as well as online meetings for mobile and desktop.
The Ultimate package costs $49.99 per month per user and offers everything the premium package does plus 10,000 toll-free minutes as well as up to 75 people per meeting for multipoint mobile and desktop HD video conferencing as well as online meetings for mobile and desktop.
Businesses that are interested in RingCentral's services can choose to take advantage of a free 30-day trial of any of the three packages they offer.
---
How much money can I save with RingCentral?
There are numerous plan options available, ranging from $24.99 to $44.99, but even the most expensive option is still significantly cheaper than what you could expect from a traditional commercial phone service. By switching to RingCentral you can potentially save as much as $50 or $60 per month. This is similar to the savings you can get by switching to Vonage's Business phone service.
---
Service Features
You will find that there are many different useful features that RingCentral offers businesses, including toll-free numbers, local numbers, international numbers, and directory listings. The Cloud PBX option that this provider offers can also be highly beneficial for all different kinds of businesses. Some of these cloud solutions include a hosted PBX, auto-receptionist, IVR, user templates, music while on hold, extensions, call monitoring and much more.
A few of the basic phone services and devices that the company has to offer businesses include secure VoIP services, caller ID control, RingOut, RingMe, desk phones, conference phones, analog adapter, and a desktop app. There are many different devices for businesses to choose from to meet their specific needs.
There is also numerous voicemail services, including voicemail-to-email, visual voicemail, and multiple greetings. The business SMS features that offered can also be a real asset to businesses. Some of these features include unlimited texts, mobile devices, and texting features. In such a technology age when more and more businesses are starting to rely on SMS as an efficient way of communicating, these features are certainly worth considering.
The integration aspect of Ring Central is also worth taking a close look at. This provider allows businesses to integrate their cloud-based phone systems with the apps they use to communicate more efficiently than ever before. This provider offers seamless integration with Box, Desk.com, Google, Office 365, Oracle Sales Cloud, Outlook, Salesforce, and Zendesk.
There is a Ring Central mobile app for both iPhones and Android phones. This app allows you to use and manage your business's entire phone system in the palm of your hand. Whether you are sitting at your desk or you're on-the-go, your smartphone will be enabled for texts, calls, faxes, conferencing, voicemail, and various notifications.
The desktop app is truly a comprehensive communications solution that offers a number of useful features, including HD voice, secure voice, access to your company directory, and the ability to plug in a headset and use Ring Central for Desktop to make calls, send texts, and fax from the computer. The intuitive interface of this desktop app is just one of the many great things about it, making it extremely easy for employees to use so there is no confusion whatsoever. Messages always sync up with your account instantly so you can always stay current on all communications. You will also have the ability to screen incoming calls, ignore calls, and send callers to voicemail with RingCentral's desktop app.
---
Customer Service
The company offers customers as well as those who are simply interested in their services an FAQs page with lots of helpful articles that cover a wide range of topics. There is also a forum and blog that offer a lot of useful and interesting information for those who pay for this service. If you have a problem with your service or a question that you need answered, you can contact a customer service representative via email, phone, or live chat.
The Learning Center on RingCentral's website provides customers with a number of PDF resource documents, including an Admin QuickStart Guide, IT Buyer's Guide, RingCentral for Zendesk User Guide, A Mobile App Guide, and many more. If you ever find that you want more information but don't want to bother calling a representative, you will most likely be able to find the information you need in one of these guides.
The company also offers Dedicated Onsite Deployment (DOD), which is a program for businesses that want to integrate this VoIP communications system into their business as smoothly and seamlessly as possible. A Professional Services consultant visits businesses that participate in this program and stay there until the system has been successfully deployed.
---
Service Setup Process
You will find that actually implementing RingCentral's cloud phone service into your business is a very simple and straightforward process. With the help of an implementation specialist you will be able to set up these services to run smoothly throughout your entire office. Your account representative will assist you in determining how many users and how many UP phones your business requires. You have the option of either using your existing IP phones or renting them. You will also be able to connect your PCs and smartphones to the service you choose with free RingCentral applications.
If you so choose you will be able to get help from your account representative to transfer your business's current phone numbers or order new lines. You will be able to choose from local, toll-free, and vanity numbers that will match your business's specific needs. New desk phones can be at your place of business within days, and they are fully configured and ready to use.
When you go on the company's website you will quickly discover that there are many different devices that you will have to choose from, such as the Polycom VVX-500 for $299, as well as the Cisco SPA525G2 for $279. There are a number of different phones to choose from, and each of them are ideal for businesses that need an integrated and efficient communications system throughout their offices.
One of the best things about Ring Central VoIP is that businesses that sign up with them can manage all of their phone systems from their desktop computers or smart devices for all users spanning
---
Call Quality
There are many different things about RingCentral's VoIP services that impress me, and the quality of the calls is definitely one of them. Other providers are great but this one has the best track record when it comes to no dropped calls and completely clear quality which that makes it very easy to carry on lengthy conversations.
---
What We like
There are a lot of right things about this VoIP/cloud communications provider, such as the fact that they offer a ton of features that businesses will be sure to find extremely useful for a number of reasons. RingCentral offers businesses the ability to host conference calls with up to 1000 people as well as the ability to effectively integrate with Google, Dropbox, Salesforce, and so much more. The mobile app that this provider offers allows every single employee of a business to take full advantage of the low rates as well as the variety of features they have to offer on a smartphone or tablet. Employees will also be able to use their computers as a softphone, which is definitely a great option for businesses that value efficient and comprehensive communication.
The fact that businesses that want to sign up with RingCentral don't need to sign an annual contract of any kind is definitely a benefit to consider. A lot of traditional phone service companies require a one or even two-year contract, but that is not the case with this provider. Customers of RingCentral can cancel their service anytime they want without encountering any penalty fees at all. The VoIP plans that this company offers come with unlimited calling and internet faxing for the U.S. and Canada, provided that you follow the rules of their fair use policy.
RingCentral's VoIP communications services are extremely easy for any business to implement, and there are even professional consultation services available for companies that are going through a transition of some kind and need the help of an unbiased third party. These services can all be extremely beneficial for any business, regardless of their size or the industry they are a part of.
---
What We don't like
The fact is that there aren't a lot of bad things that can be said about this company as a VoIP provider, but their selection of phones is a bit pricey. While it may be true that these phones are designed for a business setting, they may be a bit too much for certain companies that are on a tight budget and want to just stick with their existing devices.
---
Frequently Asked Questions
Is there any kind of commitment required?
There is absolutely no commitment required to take advantage of RingCentral's cloud-based phone services. You can simply pay as you go each month and cancel your subscription at any time. Any devices you may have bought have to be returned in useable condition for a full refund within a period of 90 days from the purchase date.
Can I purchase an international number?
You will be able to get a Ring Central Global licenses for employees at international offices from supported countries. You can choose a number that you want and activation does not take very long at all.
How do I log in to my account?
Once you have signed up for the service, you will simply use your dedicated long number and password to log in on the website by clicking the "Login" button, which is located in the top right corner of the home page.
What kinds of devices can I purchase?
RingCentral offers a number of different business-class IP phones and other devices to choose from, and you can browse through them on their website.
Will I ever be charged any hidden fees?
When you sign up you will never have to worry about being charged any hidden fees whatsoever. The billing practices of this provider are straightforward in the sense that you will be charged the same flat rate each month.
---
Other top providers to consider in your search
Vonage Business – Possibly the most recognized company in the industry rivaling Ringcentral. They have excellent customer ratings.
8×8 Virtual Office – Well known provider, very large company with many accounts. Offers customized service plans to meet your businesses exact needs. See our 8×8 Review for real user ratings.
Nextiva Office – A provider that is less well known but definitely doesn't provide any less in regards to features or quality. For more info see our review.
---
Final thoughts on RingCentral
Only you can decide whether or not RingCentral has everything your business needs, but it does have quite a lot of benefits to offer, including inexpensive VoIP phone services and integrated cloud management. These services are extremely easy for businesses to implement, so you won't have to worry about needing to take a lot of time to get everything running smoothly. Businesses that need an efficient and integrated communications solution will find that this particular provider is an excellent choice for a number of reasons, including the fact that it offers quality services that are customized to meet their customers' specific needs.