See our full step-by-step VoIP support article below on how to access your "mymagicJack account". Access your account in no time and better understand the magicJack login process. We have included pictures of the login/sign-up process while accessing the Mymagicjack Login website with your own account credentials.
Don't have your login details? No problem, we address how to login to your account my magicJack account in this situation. 
Our magicJack Login guide is more thorough and complete that any other site on the web, including being even more thorough than the official magicJack website.
My Magicjack Login
Do you have a magicJack phone service? If so it is imperative that you are able to quickly and easily use the magicJack login page to access your account details and settings. Within your account are many functions which when set properly, allow you to get the most out of your MJ phone line. These functions including setting up your email address for notifications from the company and voicemail notifications when someone leave a voicemail. When your subscription runs out this is also where you renew and extend your service time. Need to change your number? You also do that here.
Other vital functions which you will need access to via your my.magicjack account include:
Upgrading to a new device
Accessing warranty information/warranty claims
Notifications about special renewal pricing for existing customers
Notifications about new device releases
Adding prepaid international minutes to your account
Logging in to your magicJack account should be simple and easy for most but there are always a few cases where people have difficulties. 
Login Steps
Step 1: 
First you will need to go to the official magicJack login page. You can reach this page by visiting the official company site and clicking on the login button. The login page will appear as seen below.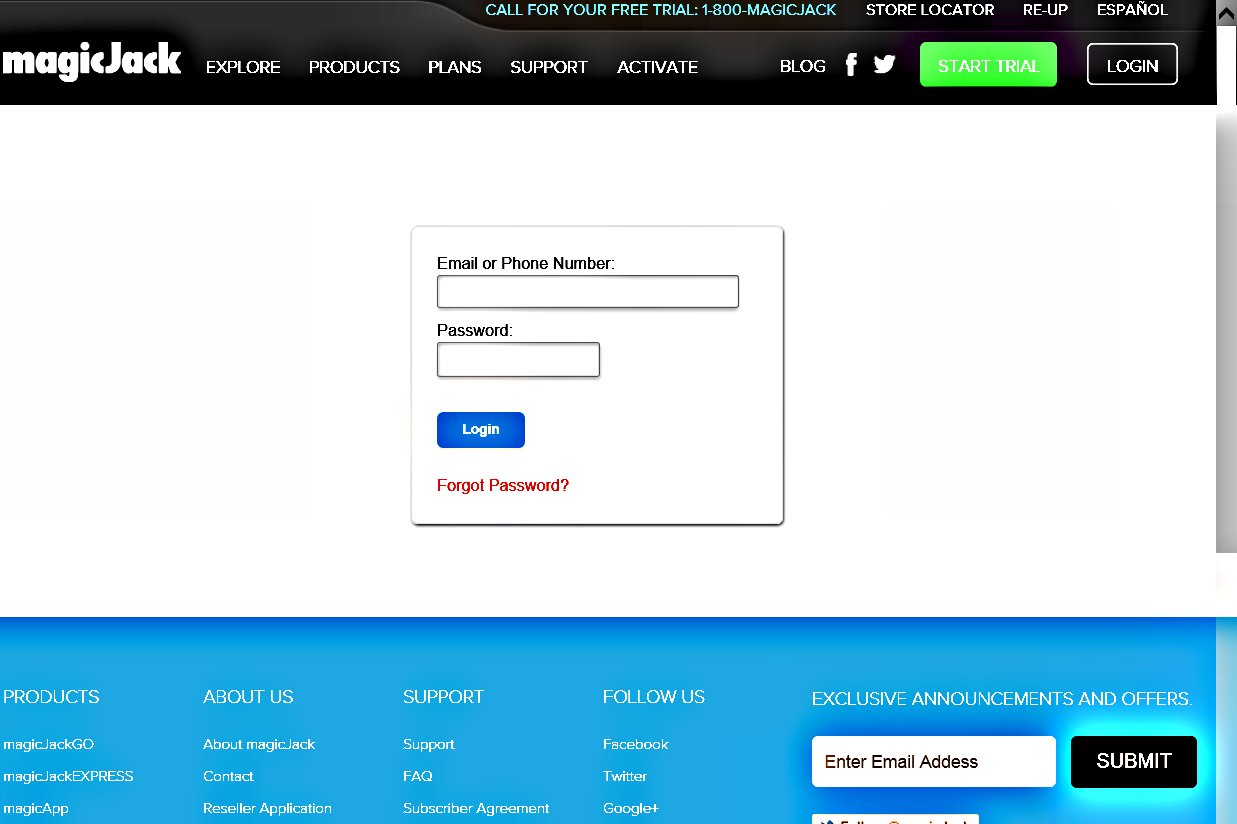 Step 2:
Once at the login page just enter either your magicJack telephone number or the email address you used when signing up for the service. After that navigate one line below and enter your password exactly as you created it (note: passwords are indeed case sensitive for an added layer of security). Once done just hit enter on your keyboard or click the login button on the website and you should gain access to your account.
Complications logging in to magicjack? 
People sometimes experience difficulties logging in for a variety of reasons, the major one being that they forget their username or password. The username should be simple because it's either the email you signed up with or your MJ phone number. If you forgot both of these you can contact magicJack support to get your username via the main menu by clicking on "support".
If you simply forgot your password just click forgot password at the my magicjack login page (see below) and you will be asked to enter your email address. Follow the prompts after and you will receive an email with directions on how to reset your password. For further support and other issues we suggest your contact official customer support.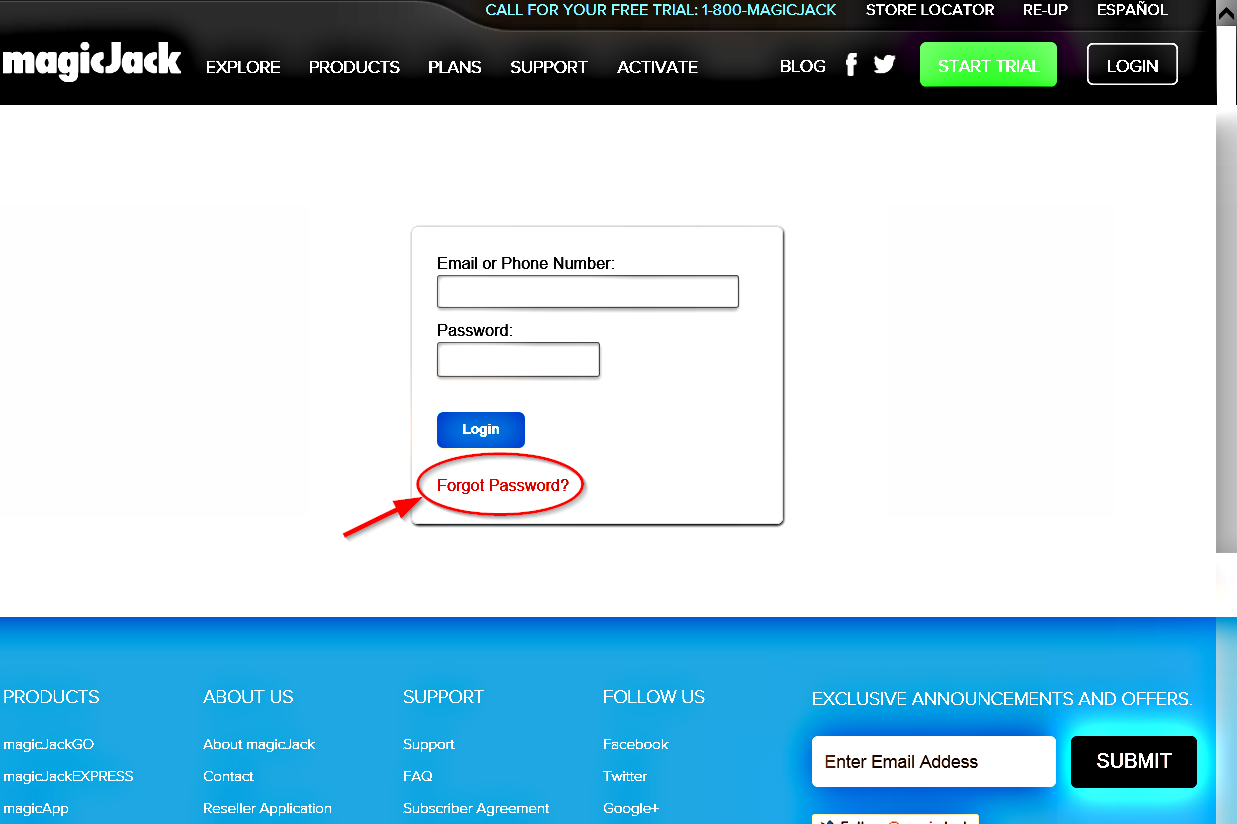 New To magicJack & No Device
If you are considering magicJack but haven't purchased a device yet you can visit the official company website and near the top you will find the "Start Trial" button. magicJack offers a 30-day free trial for all new customers so that anyone can test how well it works, that's how confident they are about their product. Follow the prompts to finish your order and you will have a magicJack shipped to your home within a few days. Once received follow the steps below for those that already have a magicJack device.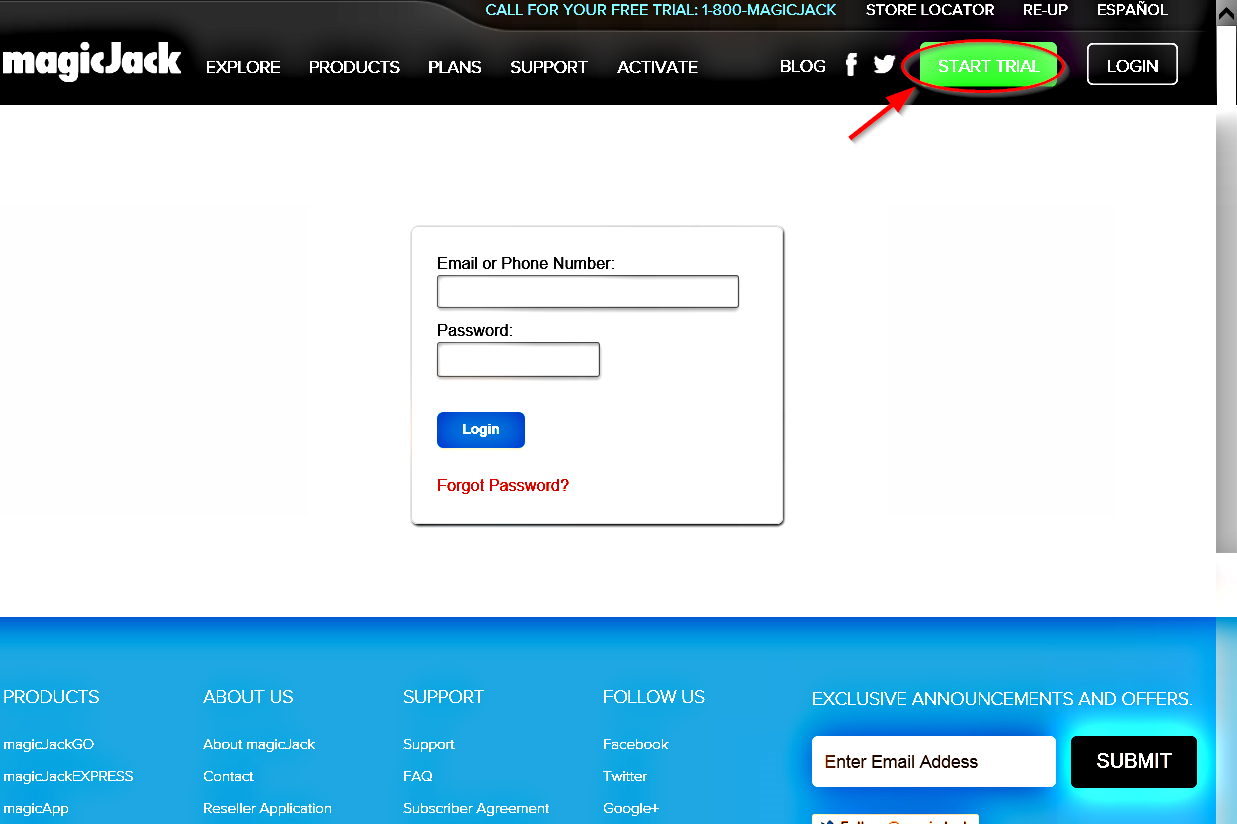 New To magicJack & Have A Device
For those that have already purchased a new magicJack device but haven't activated it with a new magicJack account it's a simple process but you need to do before 30 minutes of talk time or 48 hours, whichever comes first. 
To start the process you will want to visit the official site and near the top in the main menu bar click on 'Activate' (see below). This will redirect you to a registration page and allow you to get your device fully up and running and also get access to your My magicJack account in order to customize your functions and settings the way you want.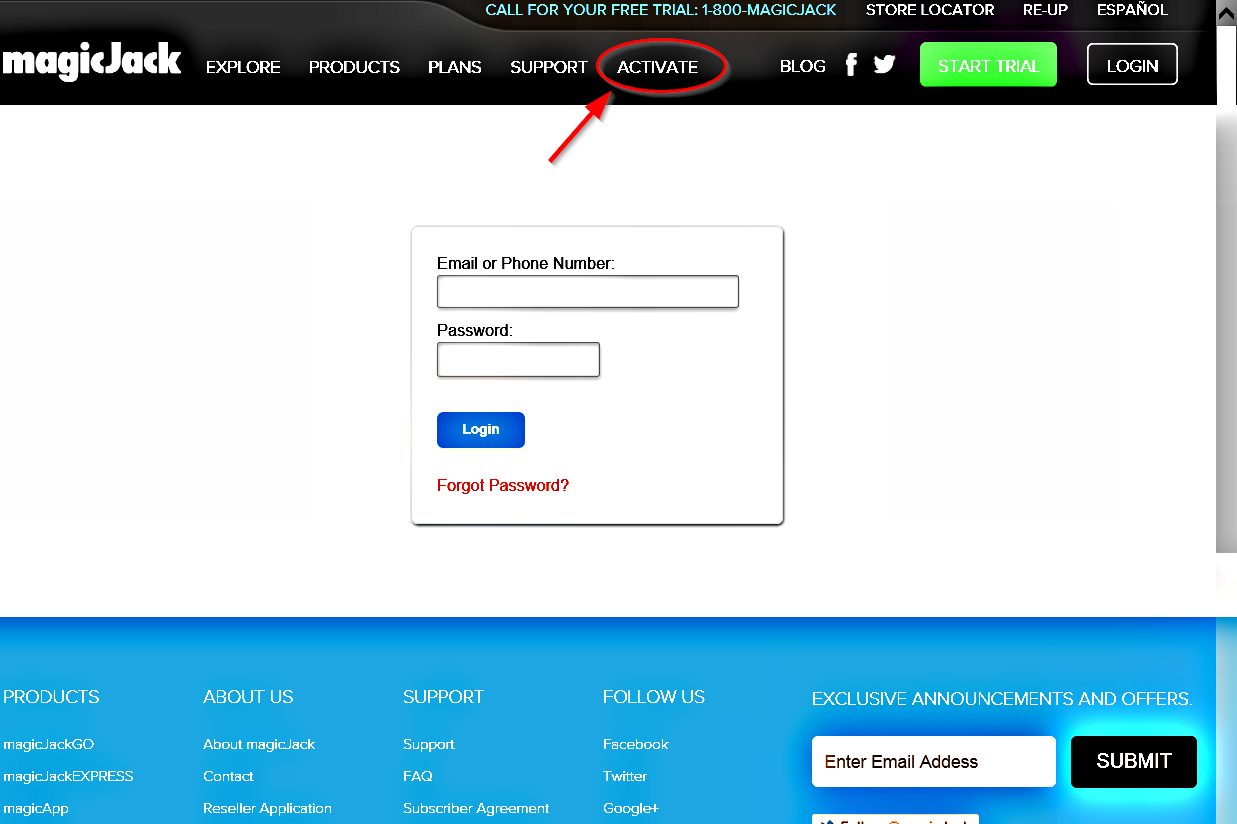 After clicking activate you will need to plug your magicJack device into any USB port on your computer. After that click the green detect device button on the registration website and it will detect your device and begin the MJREG register process for you. The required drivers will be downloaded and the website will prompt you that this is taking place. This shouldn't take longer than a few minutes and may include firmware updates being sent to your device
Once this is done it is now time to register your Jack and get an account (see image below). There will be a serious of questions including adding your billing info, email address and choosing your password, etc. Answer them as your situation applies and continue through the steps.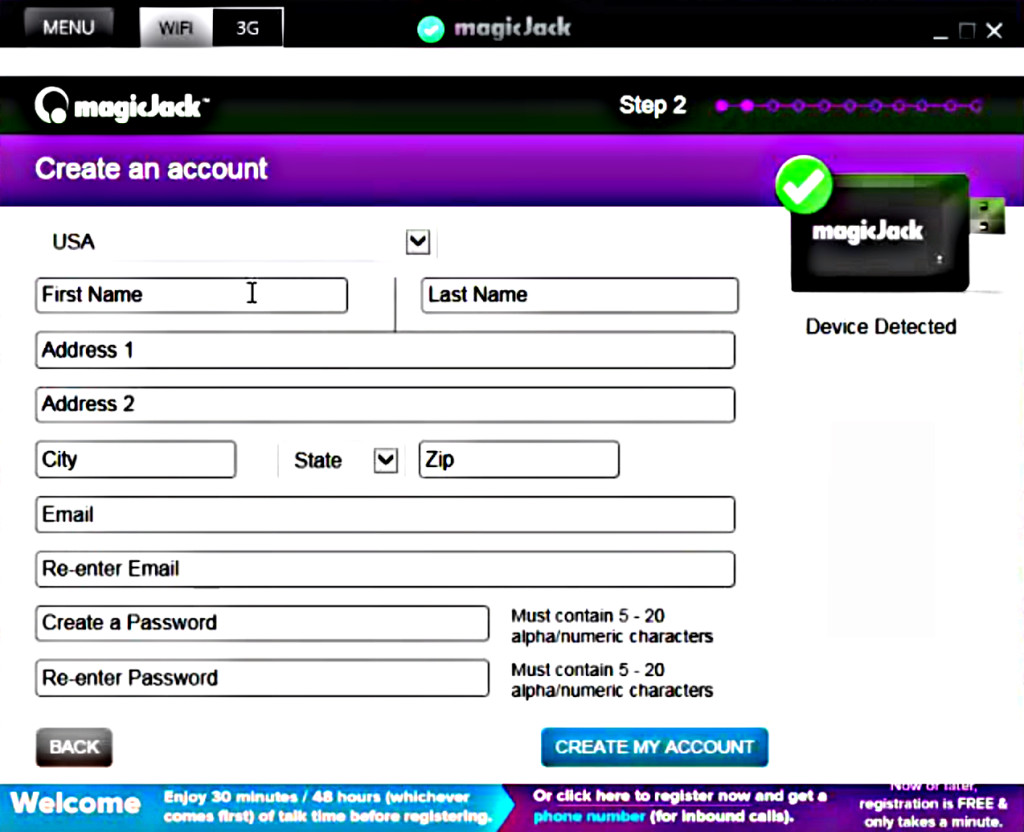 Now you're almost done. Once you have finished the last step at the registration website submit your information by clicking the blue 'create my account' button and an activation code will be sent to the email you signed up with. After getting your activation code head back over to the reg site and enter the code and click the blue 'activate my device' button to activate your device.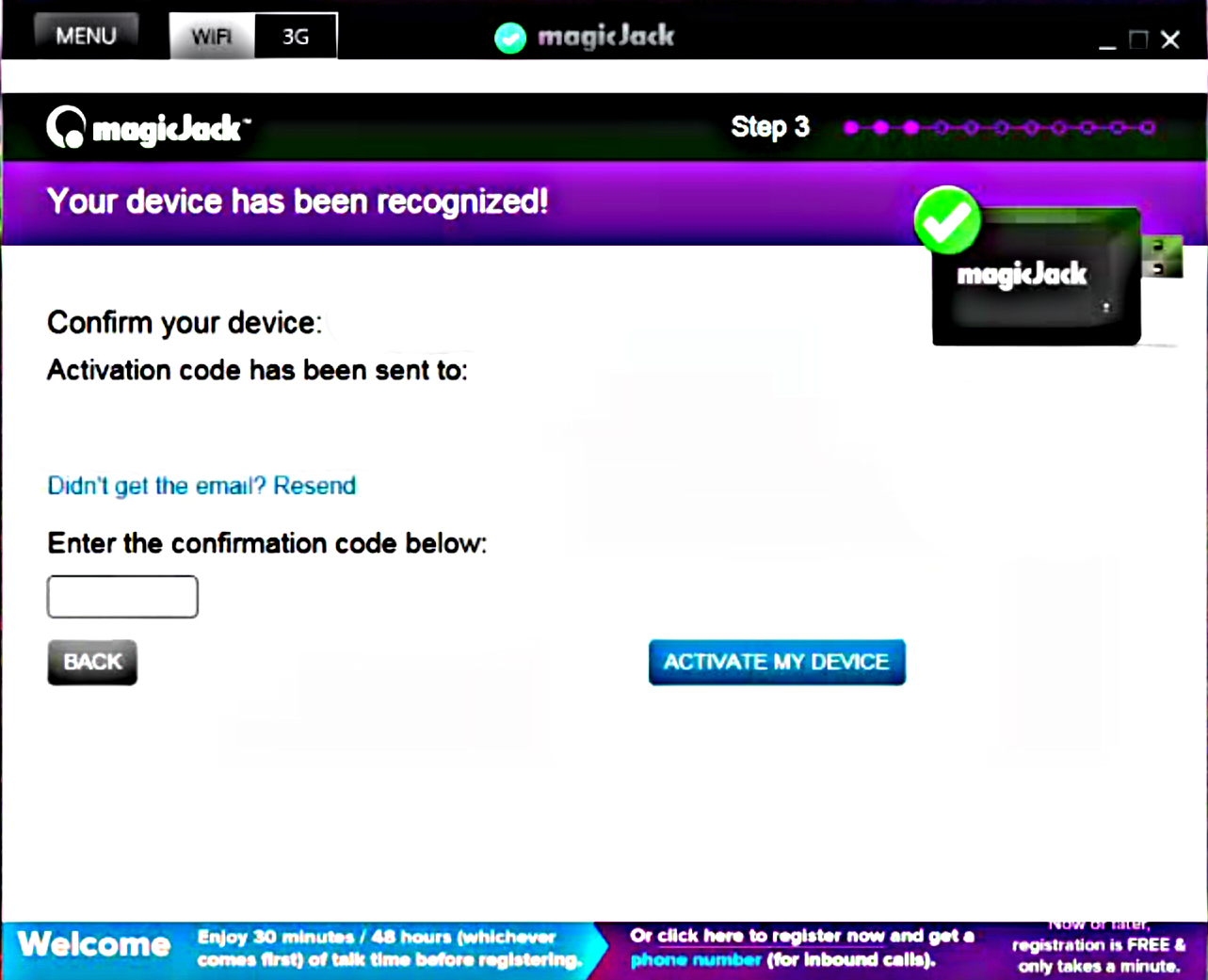 Already have magicJack but purchased a new device
If you are a previous magicJack customer and still have an active account and decided to upgrade to a new device, no need to signup for a 2nd account. You can login to your current my.magicjack account and add the new device to it in a few simple steps by following the prompts within your account. Of course you can always use the new device on a new account if you would like.
How To Access Your My MagicJack Account If You Have A Used Device?
If you were lucky enough to purchased a used Jack for less money then you may have a bit of hassle gaining access to the account if you don't know the previous account holder well. This is because you will have to have the old email address and password associated with the account in order to get access and make changes to the name, address, E911 address, email address, phone number, etc…
If you are lucky enough to have the old account holders details just navigate to the login page and sign-in via the steps provided above. Once inside the account add your email address as a secondary email to the account so you can receive important communication from magicJack when needed. Once the secondary email is added be sure to change it to the preferred email for all contact from magicJack.
We are unware of another way to access the account if you are unable to get the credentials of the old account holder. Of course you can always try the official company for help regarding this.
How To Access magicJack For Business Account?
If you have a magicJack for business account the login process is fairly simple. Just visit the main magicJack business page at https://magicjackforbusiness.com. You will then be redirected to the account login page. Once redirected there, though the interface will be slightly different you can follow most of the steps above to retrieve or reset your password, find your username or troubleshoot gaining access to your account.
If you have any questions about the magicJack account login steps above please feel free to leave a comment below and we will try to help.