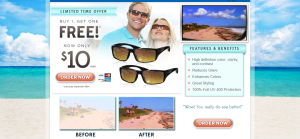 Here's a few things to consider the next time you start shopping for a pair of sunglasses:
1. Those expensive sunglasses you crave might be marked up 300% from their actual retail value. That means that you're paying 3 times the amount of money that you should be!
2. You're not buying anything unique when you purchase branded sunglasses. Did you know that there's a manufacturing company based out of Italy that produces just about all of the branded sunglasses on the market? Also, they own the three major eyeglass retailers in the States!
Why waste your hard-earned money on something supposedly special when you can buy HD Vision Ultras for less than the cost of dinner at a chain restaurant? Read more to learn why you should.
Product Overview
There's all sorts of sunglasses on the market that promise to help you to experience all sorts of emotions, such as coolness, style, class, and privacy. But, at the end of the day, you'll need a pair of shades to perform the most important primary function: Protecting your eye health from the harmful effects of the sun's UV rays.
Wouldn't you feel better knowing that your shades are providing you with 100% UV 400 protection? And, certainly, you'd appreciate eye protection from the sun's glare while you're driving, especially if you're transporting your loved ones inside your vehicle.
And, wouldn't it be a bonus to experience wearing a pair of shades that actually enhance the colors that you see, while providing you with style? You can experience everything that you want in a pair of shades, along with everything that you need, when you purchase the HD Vision Ultras!
Purpose
The same manufacturers who produce the HD Vision Ultras also produces the HD Vision car visor. Think of the visor as serving the same eye-protection function inside of your car. In fact, we posted some useful safety information pertaining to sun glare, and driving. You can read information about the visor here, but here's the information we posted, courtesy of AAA:
AAA wrote this on their blog regarding the harmful affects of the sun's glare, along with recommended tips on how to protect your line of vision, and your personal safety:
Driving on a beautiful sunny day can provide stunning scenery, but it can also create a hazard if the driver's view is compromised by a glaring sun.

Just after sunrise and before sunset the sun can shine directly into drivers' eyes, leaving many motorists driving with a glare. This glare can make it much harder to see the road ahead and potential hazards creating an added risk to drivers. When sun glare is an issue slow down and use extra caution especially while driving through school zones.

So how can you protect yourself? AAA offers these tips for motorists when driving into the sun:

– Invest in polarized sunglasses – they can help reduce glare.

– Utilize your sun visor – it can help to block out the sun.
– Leave more following room – when the sun is in your eyes it can be hard to see what the car ahead is doing. This is one more time when it pays to leave more room between you and the next vehicle.

– Drive with your headlights on to increase your visibility to other drivers

And, SmartMotorist published an article that delves deeper into the dangers of driving while being exposed to the sun's glare:

Driving off into the sunset might be romantic in the movies, but on city streets and highways, the glare from the setting sun can be deadly.

Sun glare was blamed for at least two pedestrian fatalities in San Francisco in past weeks, one as recently as Oct. 2, when Caroline Drewes, 80, a beloved former Examiner reporter and one of the first female journalists in San Francisco to cover non-society news, was hit by a car as she was walking with her dog across Jackson Street in Pacific Heights.

The driver never saw her in the crosswalk, he told police. The setting sun was directly in his eyes as he crested the hill at Lyon Street about 6:30 p.m.

Although glare can be dangerous year-round, whether in urban areas or remote deserts, it is an especially big problem in San Francisco at this time of year and in early spring, when several factors conspire against pedestrians and drivers during the worst traffic hours of the day: rush hour.

Nationwide, glare is the official cause of only a fraction of fatal crashes across the country – 195 in 56,793 – according to the National Highway Traffic Safety Administration of the U.S. Department of Transportation.

Glare is even more dangerous than the much more publicized peril of driving in fog. While most drivers will slow down in foggy conditions, they'll continue to drive at their normal rate in sunny conditions that cause glare.

Drivers are blinded by the sunlight as it hits their windshield. But there is also "veiled glare," which is indirect sunlight that comes in at an angle, or reflects off glass towers and other cars. Like a veil, you can see through it, but not very clearly.
As you read earlier, an organization like AAA says that you should invest in polarized sunglasses in order to not only protect the health of your eyes, but also, you'll need to protect your line of vision while driving. The good news is, you don't have to invest a large chunk of change into protecting your eyesight.
You can simply pay $10.00 (plus shipping) and start taking steps to protect your physical health and well-being, as soon as they arrive in the mail!
How Is This Product Different Other Sunglasses?
The HD Vision Visors are specifically designed to keep those dangerous UV sun rays out of your eyes. The time to start protecting your eyes isn't when you've been diagnosed with a serious condition, such as glaucoma, or melanomas around the skin of your eyes.
The time to start protecting your eyes is now!
Price
The cost of the HD Vision Ultras is only $10.00, plus $5.99 shipping and handling. According to the site:
Through this special offer, you'll receive your very own HD Vision™ Ultras for the low price of $10 plus $5.99 S&H! PLUS, we'll include a second pair of HD Vision™ Ultras in the same color and all you pay is an additional $5.99 shipping and handling!

This offer is covered by our 30-Day Money Back Guarantee less S&H.

Sales tax will be applied to orders from CA, NJ and NV.