The Riddex pest control system is a line of plug-in electronic and ultrasonic devices that help you get rid of ants, bugs, mice, roaches, rats and other pest from your home without having to hire an expensive exterminator or use harsh chemicals that are toxic to your children and pets. It is one of several competing pest repellent devices of it's kind on the market and is actually very popular. Despite the ever present As Seen On TV Products skeptics Riddex has been proven to work well for many people and is not to be confused with the pest reject product which is from a different company. As far as how well it works, we do not assess that here at YouReviewIt. We recommend that you read real user reviews left on our website for Riddex and other products we've reviewed.
---
Riddex Pulse Review
How Does Riddex Work?
Riddex is an insect and pest repelling aid that protects up to 2000 sq. ft. or one level of a typical house, apartment or condo. All you have to do is plug it in and it goes to work, sending out ultra-sonic waves that bother bugs and rodents causing them to scamper away. The latest versions uses a special patented technology that utilizes the electrical wiring in your home to spread a stronger signal even further and get rid of more bugs and rodents. This is a great cruelty-free option to get rid of pests in your home and keep your kids and larger pets safe.
---
How Much Does The Riddex System Cost?
Riddex has gone through several versions and iterations in a relatively short period of time, most of which look and function in a very similar manner. The branding has continually evolved in order to better market the product while the technology has also improved. The versions we know of to date are the Riddex Pulse, Riddex Sonic, Riddex Sonic Plus, Riddex Plus, Riddex Quad, Riddex Pro and Riddex Power Plus. The number of various versions seems a bit curious but it appears that this is their marketing strategy to further promote the product. Since price vary from time-to-time we suggest you visit your local retailer or check online for current pricing.
---
Riddex Commercial
---
Riddex Instructions
The instructions for Riddex are pretty simple. Just plugin it in and check the light to be sure it's functioning.
Green Light – This indicates Riddex is on and functioning properly. If working correctly it should remain a solid green light at all times.
Red Light – This indicates whether the device cycle is on or off.  This light will blink for 3 minutes and turn off for 3 minutes and should repeat this continuously as long as the device is plugged in and working properly.
Blue Light – This is the night light and can be turned on/off by you as you choose.
---
Where to buy Riddex?
You can buy this bug and pest repeller device online with a special deal or you can get it at major retailers such as Home Depot, Lowes, Wal-mart, Target or even Bed Bath & Beyond. This is just a short-list of brick and mortar retailers as it is extremely popular and sold at far too many retail locations.
---
Is Riddex safe for my pet?
Riddex is safe for larger pets such a dogs and cats but can be a problem from smaller ones that are similar is size to rats. Some examples of pets it likely won't be safe for a hamsters, gerbils, and guinea pigs. We suggest you contact the company about any small pets you make have such as snakes, spiders, fish or any others we are missing. The bottom line is you shouldn't get this product unless you confirm directly with the manufacturer on whether it will bother your pet or not.
---
Our Reviews
We are in the process of creating overviews for each and every device in their product line. See the ones we have written about listed on this page. For more details see the reviews left by real users at the bottom this page.
---
A note about fake Riddex products
If you are considering purchasing one of these pest control devices we strongly recommend that you only buy it from official distribution channels because the Internet is full of cheap Chinese knockoffs (something we suspect is contributing to some of the bad reviews). The reality is that these counterfeit products likely don't do anything at all and may even cause harm. Be careful and only buy from trusted sources!
---
Riddex Pulse Product Overview
Your first line of defense is to purchase roach and rodent traps at your local store. These render limited results, and they certainly don't address the colonies of pests that are traveling through or breeding inside of your walls.
Your next line of defense might be to call a pest exterminator. A pest control company would be happy to send a representative out to your home on a periodic basis-that's if you're willing to pay extensive fees, as most of them charge an alarming amount starting at around $100 per room!
Keep in mind that you'll need to schedule visits with your pest control rep on a regular basis, so you could wind up spending thousands of dollars per year just to keep your pest issue under control. Even if you sign up for a periodic inspection and chemical application contract, you'll still spend untold amounts of money on an issue that never seems to end!
And, you'll need to attempt to find a pest control company that only applies non-toxic chemicals–it's very common for the pest control agents to carelessly spray chemicals around your kid's toys, the areas of the baseboards where your animals like to rest upon, around your kitchen appliances, and other areas where you or anyone else living inside your home could become exposed to the toxins.
Or, you could take a third line of defense that doesn't involve repeated visits from strangers, or the application of poisons around your home. That third line of defense involves simply plugging in a unit that gives off a pulse that the pests can't stand!
That third option is the Riddex plugin pest repeller.
You won't have to cope with harmful fumes. You won't have to worry about your children or your pets being exposed to dangerous chemicals. And, you won't have to worry about nasty pests, especially rodents, dying inside of the walls of your home, giving off a horrible aroma.
---
Purpose
The purpose of Riddex Pulse is to offer home owners an option of effectively getting rid of the nasty pests that have invaded their home, without the need to spend ridiculous amounts of money, or without the need to expose members of the home to toxic chemicals.
Riddex Pulse is a simple system to use. You simply plug it inside of an electrical socket, and it gives off FCC-approved pulses that works by driving away roaches and rodents. This is different from other pest control products, because the device won't actually kill the pests.
What it will do is make it impossible for pests to want to inhabit your home.
The pulse is sent all throughout the space of your home, even through your walls. The best news is, the pulsing noises that drive pests crazy will have no effect on you-the noises are imperceptible to humans and domestic pets such as cats and dogs.
Disclaimer: Since the device is designed to have a negative affect on rodents, then this will also affect pets such as hamsters, gerbils, and in many cases, rabbits. Of course, if your child is keeping a mouse as a pet, then this device will affect the pat mouse, too.
---
Size
The Riddex Pulse device fits in the palm of your hand. It's a little larger than a nightlight, and as a matter of fact, the Riddex Pulse device is equipped with a LED nightlight, helping to serve two functions around your home.
---
How To Use
Essentially, you'll use the device by plugging into an electrical socket in your home. Try to find an electrical socket that's centrally located in the space of your house, or apartment. If you live in an especially large space, then you'll want to plug in two (or more) of the devices.
However, if you'll be using multiple devices, then make sure to plug them in sockets located on opposite ends of the house.
---
Additional Supplies Needed
The manufacturer suggests that you purchase extra pest traps for the first week or two of using the Riddex device, because you'll notice an increase of activity-the increase in pest activity lets you know that the device is working, and is driving the nasty pests away from the walls and crevices of your home.
It's important to leave the device plugged in past this increase in activity. Within a week or two, the activity should die down, as the pests flee your home.
---
Who Needs Riddex Pulse?
Riddex Pulse is the pest-eviction tool you'll need for your home space if:
You're sickened by the sight of rodent droppings in your kitchen
You can see roach eggs and the carcasses left around your home
You're scared of those scratching noises inside your walls, especially at night, or during the winter months
You're afraid that you might serve your guests a side of roach with their next meal
You refuse to pay for expensive, toxic pest control treatment
---
How Is This Product Different?
The main difference in how this product is different from other pest control systems is in the way that it eliminates your pests. While it doesn't kill the pests, it is proven to drive them away, and keep them away. What's more, you won't be exposed to toxic chemicals, or frequent visits from the pest control guy.
---
Riddex Pulse Pricing
The price for the Riddex Pulse digital pest control device is $29.95, plus $8.95 for processing and handling. If you'd like to order a second device, then you can take advantage of the buy one, get one free offer – simply add another $8.95 processing and handling fee to your order.
According to the website:
Tax will apply to FL & CA orders.

30-Day Money Back Guarantee (Less S&H).

CA & FL residents add sales tax to your order total. We cannot accept orders from Colorado. Applicable taxes apply in Canada. There is an additional $5.00 S&H for Canadian orders and $9.95 S&H for orders in AK, HI, PR, VI & Guam.
Mice, rats, bug and roaches, they're are disgusting and nobody wants them in their homes. Easy, call an exterminator and they'll come solve the issue… Not so fast though, the methods exterminators use to get rid of these pest are typically very expensive and often are done with harsh chemicals that can be very dangerous to you, your children and even your pets.
There's got to be a better way.
I introduce to you the Pulse, you should read our Riddex Pulse User Reviews below and consider giving this alternative Pest Control System a try!
---
---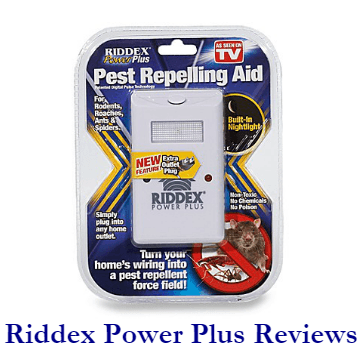 Riddex Power Plus Product Overview
Pest control is something that homeowners hate thinking about and dealing with. Unfortunately, it's also an issue that many homeowners can't avoid, especially if they live in certain regions of the country.
The problem is, most forms of pest control involve some stranger from the pest control company entering your home in order to apply toxic chemicals along your baseboard, in your attic, in your air vents, and around your plumbing.
Not only are these methods often ineffective, they're also very expensive and intrusive! It's not uncommon for a pest control company to charge up to $100 per room in order to treat for pests. And, the pest control spray only takes care of external areas-it does nothing to get rid of any pests that are hiding or traveling through your walls or your floorboards!
This is why you need a product that literally takes care of the actual issue of pest infestation, permanently. You also need a product that protects your health not only be getting rid of the pests, but by also keeping your home free of toxic chemical application, and its related fumes. This is where Riddex Plus comes in.
---
Purpose
There are two purposes in using the Riddex Power Plus pest control system:
Getting rid of pests without the need for chemical pest control
Using an effective product that will get rid of nasty pests throughout your home
Roaches and rodents are not only nasty to look at, they also breed disease. They're also embarrassing to have around-your house guest might assume that you keep an unsanitary home, when in reality, your home might be victim to a traveling wave of rodents, or roaches.
Or, perhaps the previous owner or tenant of your current home might have initiated a pest problem, and now you've inherited the problem! No matter why you're experiencing an issue with nasty pest, the problem needs to be dealt with immediately!
---
Size
The device is a pluggable palm-sized, solitary unit.
---
How To Use
Simply start getting rid of rats and roaches by plugging in the unit. It will start to send out electrofrequency on its own, and this will disturb rodents and roaches in a way that drives the away from your home. Note that you might see an increase of both as the device starts to work.
---
Additional Supplies Needed
When you first start using the Riddex pest control system, you'll notice an increase in rodent and roach activity. This is because the pests are being driven out of hiding, and they'll look for other areas of your home to hide. Therefore, it might seem as if the product isn't working, but in reality, it's driving the pests away.
So, you might want to purchase more traps and baits while you're going through the initial pest control phase with Riddex Plus. After a week or so, you should notice that pest activity dies down. Also, one unit covers up to 2000 sq ft. If you need to protect more space, then you should purchase and plug in an extra unit.
If you do plug in more than one unit, then be sure to plug them in on opposite ends of your home. This prevents too much electromagnetic disturbance in one side of your home.
---
Who Should Use Riddex Power Plus?
You'll rush to purchase this pest control plug-in if:
You've noticed rodent droppings in your cabinets and on your counters
You've caught red, beady eyes glaring at you in the middle of the night
You're disgusted by the sight of roach eggs being left around your home
You've been horrified and humiliated by a surprise roach appearance in front of your house guests
You can't afford the high cost of professional pest control application
You know that pest control sprays are poisonous, no matter what the company tries to tell you
You resent the pest control man spraying poison around your food and your kid's toys
You don't want to be assaulted by toxic fumes
You'd love a pest control product that's portable and effective
---
How Is This Product Different From Other Electronic Pest Control Products?
When the first electronic pest control models were produced, there were marketed as producing an ultra-sonic product. The Riddex Plus electronic unit isn't an ultra-sonic unit. It's designed to disturb electric frequencies that run through your home's wiring. As you might already know, roaches are attracted to your electric outlets, so any change in the frequency that bothers them will keep them away.
Also, as mice travel between your walls and frames, they often gnaw on your wiring. The frequency disturbance is designed to bother rodents, so mice will flee away after being introduced to the change in the frequency.
However, you shouldn't worry that you'll be affected by the change in frequency in any way. Here's a FCC summary about the product:
This device complies with part 15 of the FCC Rules. Operation is subject to the following conditions: (1) This device may not cause harmful interference, and (2) this device must accept interference received, including interference that may cause undesired operation.
In short, this means that the product will not affect your ability to use electronic products (such as computers, equipment, telephonics). Your household pets will not be affected by the change in frequency.
However, note that your pet gerbils, rabbits, and hamsters will be affected by the frequency change. You might want to consider this before purchasing the product, but if getting rid of pests in an environmentally-safe method outweighs keeping a rodent or rabbit as a pet, then purchasing and using it will be worth your while.
---
Riddex Power Plus Pricing
The price of the Riddex plug-in system changes often online and there is a possibility shipping and handling charges depending on where you purchase from.
---
Where Can I Buy Riddex Plus Power
At the time of this writing the Riddex Plus can be purchased at many retailers including Wal-Mart, Target, Home Depot and the majority of nationwide hardware stores such as Ace Hardware. Per usual though it may be a better option to purchase it online since they often run a buy 1 get 1 free offer.
---
The Riddex Plus Bottomline
Per usual we suggest that you defer to the REAL user reviews listed below to ultimately make your buying decision. We can only speak from our experience and that is (fortunately) not one with annoying pests in our home. The company has several devices to consider including the Riddex Pulse so it's best you do your research before deciding which one to buy. As with all products like this be sure to read the fine print regarding returns and exchanges.