Lint. Fur. Dust. No one likes them, and especially not on their clothes. This is why you might be looking for a rolling object remover such as Schticky. Read below to learn how your Schticky purchase could eliminate the need to buy a typical masking tape felt lint/fur/dust remover.
---
Schticky Review
What Is Schticky?
This product is a new riff on an old problem. The problem is the appearance of nasty looking lint balls on your clothes. Ask anyone, and they'll say that lint balls freak them out! And, as much as most people love their domestic pets, one thing they can't stand about their domestic pets is the way that the pets have a tendency to shed their fur, especially long-haired cats.
Fur balls cause many people allergy symptoms. They'll start to experience watery eyes, runny noses, and they'll start to hack, and wheeze. Even if you don't experience these symptoms, there's a good chance that your children or your house guests might.
And, even if no one suffers from allergy symptoms when they come to your home, the sight of animal fur all over your clothes and your furniture makes people believe that you don't clean your home very well. They might start to believe that your home and your pets are dirty. Worse, they might prevent you from visiting their homes or riding in their cars because they don't want your animal's fur all over their interiors!
If your job is to look presentable at all times, then carrying around a lint/dust/fur removing tool is a must! Professionals such as sales people must look their best at all times, and whether or not they can land sales (and close deals) often depends upon how sharp they look, and how well they can represent their companies. However, if you're in sales, then you might not like the idea of investing in a masking tape tool every few weeks. And, you might find felt or velvet lint removing tools to be a pain to deal with, because they're very challenging to clean.
Schticky will help to alleviate all of these concerns. You don't have to remove the padding like you would a masking tape device. You can remove the gunk a lot easier than you would be able to with a velvet or felt removal system. You can rinse it and use it, time and again.
---
Official Schticky Commercial
---
Purpose
The purpose of this product is to help keep your clothes, your carpeting and your upholstery looking their best. You use it to remove unsightly gunk like lint, fur, and dust. You can even use it on your floors to remove small dust particles, small crumbs, and food particles.
---
Size
The Schticky comes in a standard lint roller size. The product also comes with a smaller, more narrow roller called the Schticky Buddy or Littel Schticky, along with a Big Schticky (as pictured above). The small one is perfect for carrying in your car's glove compartment or inside of your carrying case. You'd use this for those last-minute touch-up moments. The big one is great for cleaning up large messes such as cereal spills or cat liter messes.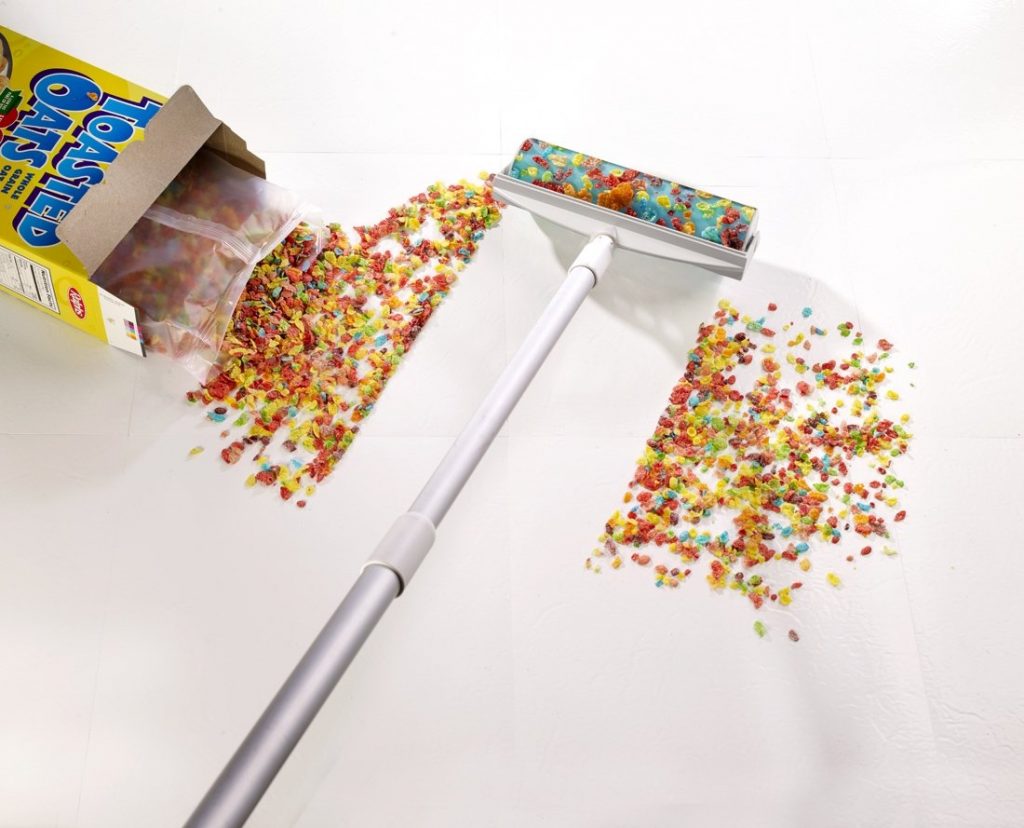 ---
How To Use Schticky?
Using Schticky is easy! Simply remove it from its packaging, roll it over the area that you need to clean, and rinse the roller under water when you're done cleaning up. When it dries, then you're ready to use it again to clean up gunk!
---
Additional Supplies Needed
You won't need to purchase any additional supplies in order to use Schticky, but you will want to stock up on this useful tool.
---
Who Needs Schticky?
The Schticky lint removal system is just what you've been looking to arrive on the market if:
You need to perform general house cleaning
You want to prepare for house guests who have lint, dust, or fur allergies
You want to remove lint or fur from your old clothes
You're a traveling business person who wants to look sharp
You're a sales rep who works on the sales floor
You're a sales rep who works on the road
You're a stage performer who doesn't want lint or fur to show under the lights
You're a real estate agent who works with home staging professionals
You're an interior designer who wants to put finishing touches on home furnishings
You don't own a vacuum
You're too weak to pick up a vacuum
Vacuuming lint or fur might be too impractical for the task
You're tired of wasting money on paper or felt lint removers
You like the idea of being able to rinse away the lint, dust, or fur
No matter why you want to get rid of bothersome lint or fur on your clothes, or if you want to pick up crumbs off of the floor, this is the device you'll want to purchase.
---
How Is Schticky Different From Traditional Lint Rollers?
There are usually two types of rollers on the market. One is made out of heavy-grade masking tape material, and one is made out of velveteen material. Both are designed to pick up gunk, and they do a pretty good job, but neither is really built to last.
The heavy-duty masking tape model is highly disposable. Once you've peeled away all the tape, then that's it! There are models where you can keep the handle and purchase another roll of tape, but there are also models where you have to throw away the entire roller and start over again.
Velveteen models are very hard to clean because of their soft material. You have to pick and pick away at the material, and you rinsing the material ruins its grain. And, the velveteen material can't pick up material like finely-ground dust, or crumbs. You'll have to use masking tape for those jobs, and you probably won't experience the results that you're hoping for.
So, as you can see, the Schticky device is the best deal for your money.
---
How Much Does Schticky Cost?
The price for the Schticky varies from time to time so we suggest you check online for the current pricing!