Are you a person who feels imprisoned by your foot, arch and lower body pain? Would you love to take up more exercise to lose weight or just be healthier but you find that your pain prevents you from doing so?
Do you experience anguish because your friends and family members can partake in activities around town or on vacation and indulge in all sorts of activities, while you have to sit on the sidelines?
Or, do you find that certain career fields are out of your reach for employment, because you can't walk or stand on your feet for long periods of time?
Did you know that there's an affordable orthotic insert that you can slip into your shoes that will help to get rid of your pain an avoid having to see expensive doctors.  It's called the WalkFit Platinum Orthotic Insert and it's helped many people through the years (over 10 million sold) including myself and my dad and it may be worth a try for your issues. Read on as our Walkfit Platinum review will cover everything you need to know about the product including what they are, what you get when you purchase the Walkfit Platinum orthotics, how much they cost, how to best use them, real reviews from real customers and much more!
---
WalkFitPlatinum.com Review
What are Walk Fit Platinum Orthotics?
The WalkFit Platinum orthotics are the latest generation of the Walk Fit orthotic products. Their products have been on the market for over a decade and have stood the test of time as a an affordable solution to help with peoples foot, arch and lower-body pain that comes with standing and walking. In many cases, people experience pain and aches due to weak arches that have broken down over the years or possibly even for their entire life from poorly shaped feet.
Typical shoes, even athletic shoes, often do a poor job of supporting someones arches, especially when it comes to the force a person applies to their feet as they strike the ground walking. The bottom line if you're experiencing foot and arch pain is that you have 3 options.
Option 1: You can pay hundreds of dollars for a visit to a podiatrist who will then may fit you with expensive custom orthotics
Option 2: You can work with a physical therapist to do drills and improve your foot strength over 6-12 months. This is very expensive and time consuming with multiple visits needed.
Option 3: You can try a non-custom orthotic such as the WalkFit Platinum for much less.
---
Walkfit Commercial
---
Who are they for?
Any who wants to relieve mild-to-moderate foot, arch or lower-body pain that holds them back from being more active, walking or standing. The purpose of Walk Fit Platinum orthotic insoles is to alleviate your pain while offering you a comfortable, extended walking or standing experience. If this is you and you're not sure where to turn then you should probably give them a shot.
Features & Benefits per manufacturer
Aligns back and shoulders
Relieves lower back pain
Balances hips for easier movement
Reduces stress on knee joints
Cradles feet for improve stability
---
Who they aren't for? (from our experience anyway)
They aren't intended specifically for long distance running (at least for me they weren't great for running). Sure if you're just looking to get a few short runs in each week they will probably work for you but if you are a long distance runner you'll likely need a more robust custom orthotic from your local podiatrist. Or an intensive strengthening plan from a Physical therapist that has experience working with competitive runners. If you deal with chronic and serious plantar fasciitis they might not be the best solution for you though they can help someone with light-to-moderate plantar issues.
---
What is included with my purchase?
The WalkFit Inserts pack includes the following:
Walkfit Orthotic Insert
3 Adjustable Arch Supports (so you can customize the arch height for your foot type)
Acupressure Massage Insert
Free Sandal Adapter
Free Soothing Peppermint Lotion
Free Lifetime Replacement Warranty
Unconditional 30-day Money Back Guarantee (less shipping)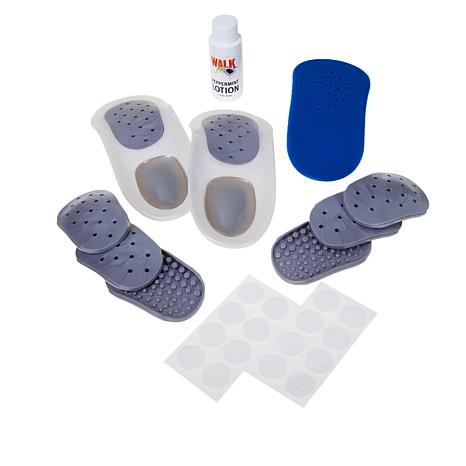 ---
What sizes are available and what size do I need based on my shoe size?
These orthotic inserts come in U.S shoe sizes and include shoe sizes that should fit about 98% of the population. When picking your size they are based on your shoe size so just pick the same as your shoe size. Sizes available range from 6 – 14.5 including each 1/2 size for men and they range from 5 – 12.5 also including each 1/2 size for women.
---
How to use
The WalkFit Platinum insoles are easy to setup and use. Follow the steps and suggestions listed below for optimal benefit.
Step 1: Select your arch size from the 3 available. They come in low, medium and high with the low already inserted. You may find that you need to start with the lowest one for the first week or two and gradually build up. Just go with what feels best
Step 2: Remove your shoes and insert them in your shoe arch side up
Step 3: Put your shoe on and begin to enjoy pain free walking and standing. Your feet may be sore in different spots for the first week or two until they adjust to the new foot position
Note: The product comes with a sandal insert. The insert is perfect for those times when you'll wear walking sandals for an extended period of time, such as a day at the beach or while you're walking outdoors on a sunny day.
---
Tips to get the best results
It could take 2-3 weeks for your feet to adjust and they may actually be more sore in spots during this adjustment phase. When you first start wearing them it is suggested that you start on the low or medium arch. If you're feet are feeling good after 2-3 weeks you can then go up to the medium or high arch and may see even further improvement. For some people the low will be enough while for others they will need to work up to the high for the best results.
Once your feet are fully adjusted you should notice greatly reduce pain and discomfort. Heck, you should barely even notice that you're wearing the Walk fit inserts by this point.
Don't use these with tight fitting shoes. Most shoes should be fine but oddly tight ones could cause issues. It is recommended that you use them with a normal-to-loose fitting shoe.
The height of each insert is located on the back of each one. In order to switch them out all you need to do is bend the top of your orthotic back and then lift out the inserts. Then place the new arch support size in position and press down firmly on all edges to make sure it is securely in place. For the best results try each of the levels to see which one feels the most comfortable.
Start out slowly, wearing them for only 1 hour at a time and adding 1 hour each day until you are wearing them all the time. Since all orthotics change the position of your feet if you start out too fast you're going to end up with SORE feet. You have to start slow. If you are feeling any unusual pain in the buildup process simply remove them from your shoes for the rest of the day and try again tomorrow, being careful not to increase the usage time or arch height from the previous day.
Note: If you're suffering from a chronic condition, or if you've been diagnosed with a chronic or serious condition, then consult with your doctor or podiatrist before using this product.
---
How do these inserts work to reduce pain?
The answers is pretty simple here. These insoles adjust your foot to proper positioning by providing stability and support for weak arches that collapse when you walk or stand. Collapsing arches result in a whole host of problems from sore feet, to sore ankles and even lower back pain.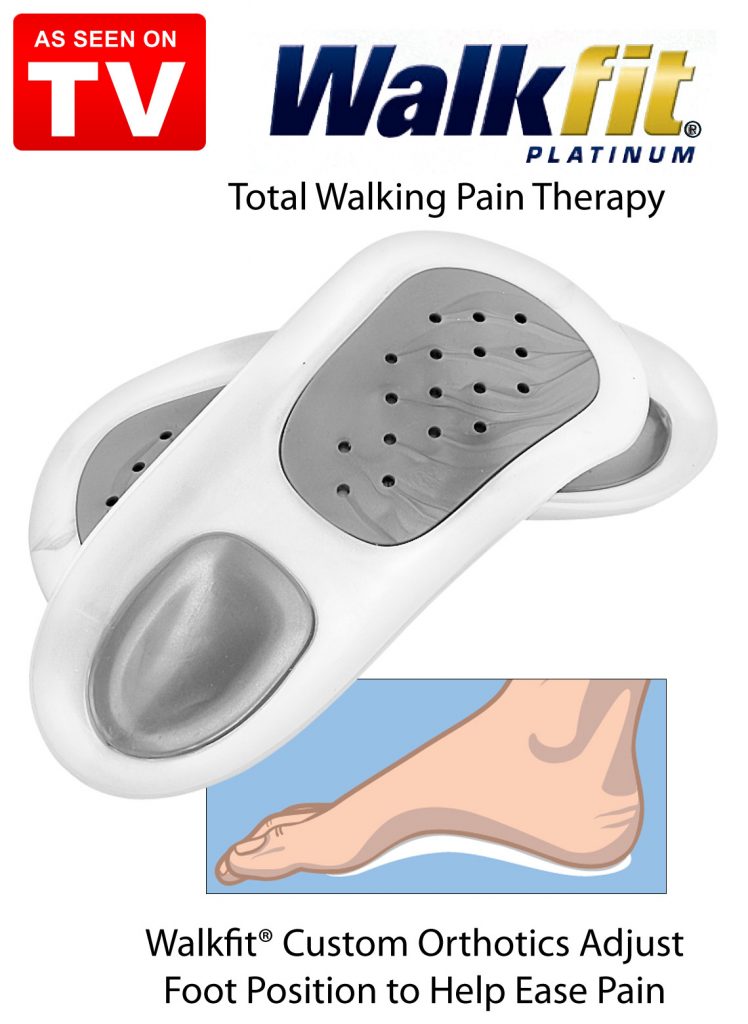 ---
Do they actually work?
Based on our experience the answer is YES and NO. It's not typical of us at YouReviewIt.com to give our input on whether products work or not (we typically like to leave the actual review part to real customers) but I'll go ahead and give you a run down of my experience and my fathers as well.
My Experience: I'm a competitive runner, doing anywhere from 70-100 miles per week so when I was telling my dad about my Achilles and arch pain he suggested I try these since they had worked well to fix his foot pain while walking. He just so happened to have 2 pairs of them so I obliged and he quickly got them for me. I tried them on and they helped my arches when standing and/or walking but didn't really do much for my Achilles, which I didn't expect since it was chronic tendonitis I had dealt with for several years. As far as running in them, they weren't great, they were fine for a few miles but not for someone that goes on 7-10 mile runs each day. I continued to wear them while walking and they did make my feet feel better but there was definitely an adjustment phase with them. Eventually the soreness went away but I moved on to semi-custom orthotics that my Chiropractor fitted me with and I've been running and wearing them ever since.
My Dads Experience: For my dad however they worked great since he was like most normal people and just looking for something to better support his arches while walking, standing and maybe the occasional short jog. The truth with over-the-counter orthotics is that they are going to work for some people but not for others. We encourage you to read the reviews left but real customers for both the performance of these inserts and the company behind them.
---
Do I need anything else to get the most benefit out of these?
These don't require any additional items, but it might be nice to purchase a new pair of walking shoes fitted by a professional at a shoe store. This will ensure that the fit of your shoe properly supports your foot type so the insert will do a better job of alleviating your pain.
In addition, you might find that the peppermint lotion that's included in the package will help to cool and soothe your feet and legs, while also moisturizing the skin on your feet.
---
Who Needs Walk Fit Platinum Orthotics?
Our look at these revealed that they are perfect for you if:
You experience any type of foot pain when you walk or stand
You notice aches down your lower back
Your arches or lower legs become sore from walking or standing for long period of time
You work in an industry that requires you to stand or walk for extended periods of time
You'd love to walk your dogs, but you're not able to because of pain
---
How Is This Product Different Than Typical Shoe Inserts?
The biggest difference between these and other orthotics is that these ones are affordable and you can get them without having to see a doctor. There are comparable ones on the market but they cost as much as $250. They are also one of the only arch adjustable orthotics on the market and one of only a few that come with an unconditional money back guarantee so if you aren't happy with them you can return them (for any reason) for a full refund minus shipping costs. They even come with a lifetime warranty so you can get new ones if they wear out, no questions asked. No other orthotic offers this!
Another added bonus is that they come with sandal adapters so you can wear them with your sandals during the summer. We are unaware of any inserts that are compatible with sandals.
Finally, these also come with several special bonuses including free premium peppermint lotion and free acupressure massage inserts.
---
How Much Do The WalkFit Platinum Orthotics Cost?
In our review of the details we found the price of the WalkFit Platinum insert package varies from time to time so it's best you check online to see what the current price is. Just to recap your purchase includes all of the following:
Orthotic insert shell
3 Set of arch inserts
We do want to mentioned that in our WalkFit Platinum reviews process we checked and the Walkfit Platinum LLC company has an A grade with the Better Business Bureau so it really should be safe to order through the official website. There are a few negative complaints but they have resolved all complaints and that is why they have achieved the best grade available from the BBB.
---
Where To Buy The WalkFit Platinum Inserts?
You are probably wondering if you can buy the WalkFit Platinum in stores and if so you are also likely wondering which stores sell them. The answer is indeed yes, you can buy them in stores! From our research you can get them at Target and Wal-Mart among various other retailers. Buying them online however may be a best way to go as you don't get the free bonuses at retailers which often includes the free sandal adapter, free lotion and free lifetime warranty. At times the bonus includes an extra set for only an extra shipping and handling charge.
---
Pros
Sold over 10 million sets and used by approximately 5 million people
Very affordable
30-day money back guarantee
Lifetime guarantee
---
Cons
Tricky billing tactics where shipping and handling cost can add up quickly
Not custom, doesn't necessarily work for everyone
---
Walkfit FAQs
How do I contact Walk Fit customer service?
Contacting support is easy. Just call the Walkfit customer service phone number at (800) 819-6294 or at send an email to: customerservice@walkfit.com.
What is the company's return policy?
The return policy is simple. If you are unhappy with the inserts for any reason at all just return them within 30 days of your purchase for a full refund (less shipping & handling). Please return them via the United States Postal Service to 8950 Toronto Avenue, Rancho Cucamonga, CA 91730. When you return them you need to include all of your original order information including full name and address, daytime phone number and email address.
How long does shipping take?
Orders can be slow in times of high demand but they typically ship within a few days via UPS and are received within 5-7 days. The company does reserve the right to take up to 30 days to ship your order to you. The 30-day return period shouldn't start until you actually receive your order but you may want to confirm this with the company.
What are the terms of the lifetime warranty?
You can return your complete Walkfit set for a new one for any reason, at anytime, no questions asked. You will have to pay $5.95 shipping for the new ones to be shipped out.
How do I make a warranty claim?
If for any reason you think your orthotics have worn out an aren't as effective as they originally were just return them to 8950 Toronto Avenue, Rancho Cucamonga, CA 91730 along with an explanation that you're exercising the lifetime warranty. Be sure to include $5.95 shipping and processing and Walkfit will replace them for FREE, FOREVER!
---
WalkFit Platinum Bottom Line
While my dad loved these orthotics and they helped immensely with his aching feet. I tried them out and they did help my arch to a some degree but being a runner who does over 10 miles per day and 70 miles per week I needed something a little bit more robust. If you are considering buying them we suggest you take a look at the REAL WalkFit user ratings we have listed below to get an idea of if they are for you. Be sure to be careful of add-on shipping charges for free items as the majority of complaints about the brand appear to be billing related.
Remember they come with a 30-day risk free money back guarantee so if you buy and decide they aren't for you simply send 'em back.
Cheers and best of luck with your sore feet. We truly hope you find a solution that meets your needs.